9 Reasons To Already Be Excited For 'Ghostbusters'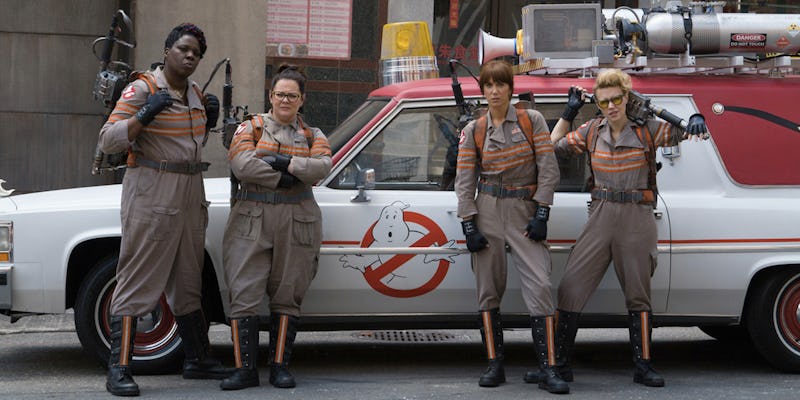 The moment an all-female Ghostbusters reboot was confirmed will go down in history as one of the most exciting moments in modern comedy cinema. The idea of remaking a classic film with women as the ghost-busting protagonists was met with a mix of feminist cheers and sexist vitriol, but the Ghostbusters reboot quickly became one of the most anticipated films of 2016 after director Paul Feig announced an all-star cast of funny ladies: Melissa McCarthy, Leslie Jones, Kate McKinnon, and Kristen Wiig. In the time since, fans have gotten glimpses of what this new incarnation of Ghostbusters will look like, thanks to behind-the-scenes photos and the rare paparazzi shot. However, official photos and information have only recently started being released, and insight into the film is still limited.
Recently, though, a handful of character posters introduced audiences to the new generation of kick-ass, ghost hunting ladies, and now the very first photos from Ghostbusters have been released. The reboot won't hit theaters until July 15, but there are plenty of reasons to be excited for Ghostbusters already, such as:
1. Melissa McCarthy Is Playing Abby Yates
Melissa McCarthy looks ready to take down some ghosts with her red plaid shirt and cool jacket in this newly released still. In the film, McCarthy plays Abby Yates, a paranormal researcher and scientist.
2. Kristen Wiig Will Be Erin Gilbert
Kristen Wiig plays Erin Gilbert, a particle physicist who likes to fight ghosts (because, duh).
3. Kate McKinnon Takes On Jillian Holtzmann
As Jillian Holtzmann, McKinnon not only rocks the world's most awesome pair of yellow-tinted glasses, she also gets to play a nuclear engineer and munitions expert. So, yeah, she ain't afraid of no ghost.
4. And Leslie Jones Is Gonna Be Patty Tolan
If none of the other ladies convinced you, take a look at Leslie Jones as Patty Tolan, a ghost tracker with fiercely colorful hair.
5. Chris Hemsworth (With Glasses!) Has A Role
Thor himself Chris Hemsworth is playing the Ghostbusters' secretary in the reboot, completing the gender-swap. This newly released still gives fans a first look at a nerdy Hemsworth (well, as nerdy as he gets), and it could not be better. I mean, the actor is pretty attractive in a cape and armor, but in that vest and those specs? Damn.
6. There Will Be Original Ghostbusters Cameos
Many actors from the original Ghostbusters will return to the franchise for brief cameos. While it's unclear whether or not stars like Bill Murray, Ernie Hudson, Dan Aykroyd and Sigourney Weaver are reprising their roles or simply indulging in fun, walk-on parts, their involvement has been confirmed, which is good enough for me.
7. And Plenty Of Feminism
I'd be excited for a movie starring just one of the four comedian powerhouses they got to star in the new Ghostbusters, so a film with all four is like a gift from the Hollywood gods. Also, the fact that the filmmakers are so apologetically feminist is pretty awesome, too.
8. Jones Will Finally Have Her Breakout
Ever since Jones showed up on Saturday Night Live in 2014, all I've wanted is more. After stealing a few scenes in movies like Top Five and Trainwreck, Jones is finally going to to take the lead, and I cannot wait.
9. McKinnon Will Get To Be A Star
Like Jones, McKinnon is one of the best performers on SNL right now, and she is also making her big blockbuster debut in Ghostbusters. I'm excited for Wiig and McCarthy too, but they both have led big-screen comedies before, so it's McKinnon in the film that I'm rooting for the most.
Based on the images, the new Ghostbusters looks nothing short of amazing.
Images: Sony Pictures Entertainment (6); nbcsnl/tumblr (2); Giphy