Alexandra Bracken & Susan Dennard's YA Tour Diary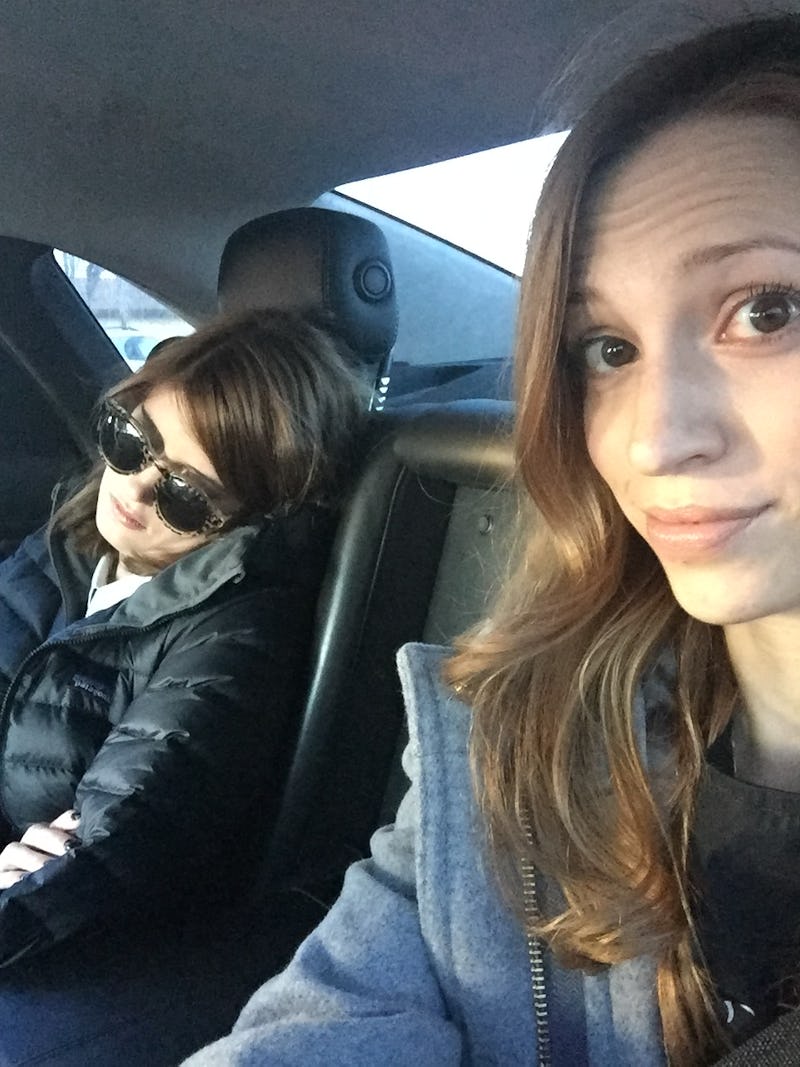 For all you young adult lit fans out there (I'm raising my hand), these two need no introduction. Alexandra Bracken's Passenger and Susan Dennard's Truthwitch were two of the mostly hotly anticipated YA novels of the year, never mind just the month of January. And, of course, when we are talking books and authors, two is always better than one. So Bracken and Dennard teamed up to tour across the country and meet the fans of their killer fantasy books — and show just how important friendship is, in life and in touring.
Luckily Bracken and Dennard teamed up with Bustle to showcase some of their diary entries from the road (thankfully including pictures), and let us all know their top nine tips for travelling on a book tour.
If you haven't yet read Passenger (Hyperion) or Truthwitch (Tor Teen), first of all, hit up the library or your favorite local bookstore STAT. Second, here's a little of what you can expect: Passenger is a time-travel epic adventure, moving from a ship at sea to across time in New York, Paris, 1940s London, 1685 Angkor, and elsewhere, as teenage violinist Ella untangles the mysteries of her family. In Truthwitch, people are born with a specific type of witchy powers. Safi is a titular Truthwitch, able to tell when someone is telling the truth or lying, but she has to hide her powers from threats. She's on the run with her BFF Iseult, and soon they're both embroiled in a war in their land for their freedom. Oh, and thank the stars, both are only the starts of new series.
Bracken and Dennard set out on tour in January, and we get a sneak peek into their travels with these nine notes below, in their own words.
1. Sleep When You Can
No joke. Signings will often run late, and flights will often be early. So take advantage of any down time you have to doze. Oh! And make sure to drink a ton of water. It sounds like a no-brainer, but you will likely be drinking a lot of caffeine to overcome what we call "Tour Brain" (lethargy, forgetfulness, tongue-twistedness, and other charming symptoms) which will only dehydrate you more.
2. Expect Delays and Put Your Face on Before You Go to the Airport
You know, just in case you don't have time to do so after you land/before your event. Airplane bathroom lighting? Not awesome. Even less awesome? Having a line of people glaring at you for taking longer than a few minutes in there. Trust us: We were super glad we'd prepped pre-airport when we encountered this security line from hell.
Note: We never did figure out why there was a backup.
3. Sharing a Hotel Room Is a Great Way to Cut Costs and Get Some Quality Friend Time In
Make sure to discuss your "rules" for sharing spaces up front, to avoid any awkwardness later. If one or both of you are introverts like us, make sure you build in some alone time to recharge your soul — bring sneakers to go walk on the treadmill in the gym or outside, work in a coffee shop or in the lobby, etc. And, at the very least, find some jams you both love to play when getting ready or unwinding.
For us, it was ENYA. Enya for chatting, Enya for celebrating, Enya for dancing, Enya for unwinding, Enya for singing to each other when loopy. All Enya all the time.
3. Laundromats Are a Girl's Best Friend
Particularly if the tour is long and you can't fit anything else in your already enormous suitcase. Make sure you have cash or coins on hand in case the machines are older!
4. Bring An Extra Carry-On
Speaking of mondo suitcases, carry an extra carry-on bag so you can move stuff into it when your suitcase inevitably grows after each stop. Or else, make sure one traveler packs lighter and has extra space for overflow.
Like Sam and Frodo getting themselves to Mordor, you need someone to help carry your burden. Or in this case, swag and presents. We were shocked (and delighted) by all the presents readers brought, and packing turned into a complicated game of Tetris and weight-estimation.
5. Room service is great, but don't forget to see the city you're in and sample the local food scene! It's great to ask for suggestions before you arrive, to give yourself time to pursue menus and the different neighborhoods without feeling pressured to make a choice on the spot.
6. Practice Special Skills Prior to Tour
So that when called upon, you can liven up the party. Or don't practice since, you know, being put on the spot and then flushing so hot your face hurts is fun. Haha, fun!
7. You And Your Partner Are In This Together
Be prepared to stand watch over your partner's crap things while she hits the ladies room during the aforementioned gnarly security lines (see No. 2).
Also be ready to poke your partner away in case she falls asleep in the Uber car (see No. 1).
And make sure you both do sweeps of your hotel room before leaving.
8. Good News Is Best Received Together
In case your legs stop functioning and your partner must peel you off the floor.
9. Have Fun!
The most important rule of the road, though, is to have fun. Seriously. Enjoy the journey, enjoy the events, enjoy the readers, and yes! Even enjoy the travel (as best you can). Drink lots of water and bring some heavy duty moisturizer. It's an incredible honor to get to travel cross-country and meet fans, so make sure you relish every second of it!
Images: Courtesy of Alexandra Bracken and Susan Dennard