'The Bachelor's 7 Craziest Rose Ceremony Moments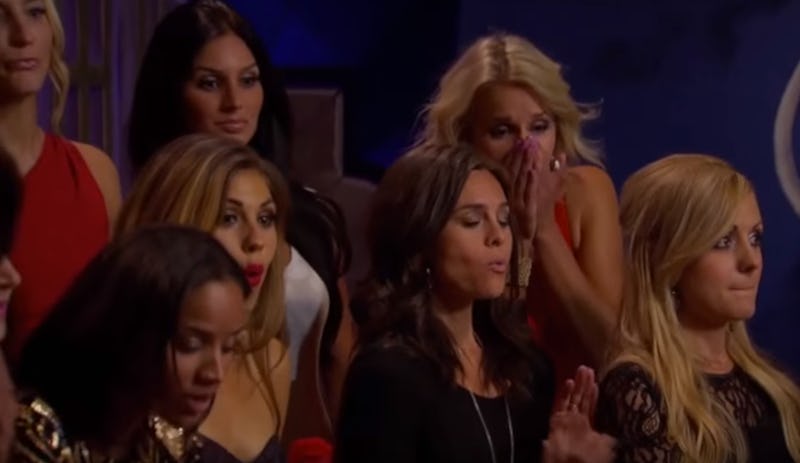 The Bachelor is already a show full of drunken revelations, dramatic rivalries, and emotional breakdowns, so it makes sense that a lot of crazy things have happened during the Bachelor's rose ceremonies, which are the climactic events of almost every show. During the ceremony, the bachelor presents roses to all of the women he wishes to remain on the show and in contest for his heart, a decision usually based in part on the episode's dates and events. Those who don't receive a rose are eliminated from the competition, much to their disappointment.
As you can probably guess, this event does not often run smoothly. Hijinks that occur during the rose ceremony often fall into three categories: the contestants get overly emotional in response to the bachelor's decision, someone makes a silly mistake, or the bachelor goes rogue and declares that he feels too bad sending anyone home, even though that's in the description of the dating reality show he wanted to star in. Here are some of the most insane rose ceremony moments in the history of The Bachelor, and if you think this behavior is unbelievable, consider for a moment that it takes place on a show in which one guy dates dozens of women to find his wife.
The Wrong Woman Tried To Take The Rose
On the previous season of The Bachelor, bachelor Chris called up Juelia to receive a rose, but Jillian accidentally stepped forward. Realizing her mistake, she tried to backtrack and fell over, making it all worse by laughing insanely. It's incredibly painful to watch, especially if, like her, you're someone in the habit of laughing in response to embarrassment.
Quitting, Swearing, Massages, Death: All In One Rose Ceremony
A lot of crazy stuff happened in a recent rose ceremony. Current bachelor Ben revealed that he'd lost two friends in a plane crash, one of the women offered to give him a massage to comfort him, others got jealous and came to attack her, and the woman cursed them out while telling them to leave her alone. Then, out of left field, mean girl Lace quit. She's the second woman to quit on this season. Eek.
The Bachelor Walked Out
This happened on Australia's Bachelor: bachelor Sam was morally conflicted about eliminating any of the remaining women, including one he'd barely talked to, so he walked out. He apparently spoke to the host and they both allegedly decided that he wouldn't have to eliminate anyone.
Another Woman Thought The Bachelor Said Her Name
It's horrible that this has happened multiple times; watching Juan Pablo say "Kat, Kat" as Kylie confidently walks up to claim her prize is just horrible, as is her pained expression. The ladies could be a little more sympathetic when this happens, I think.
The Bachelor Broke Down
This has happened in a few final rose ceremonies, in which the bachelor has a breakdown attempting to break up with one of the final contestants. Bachelor Sean got especially emotional when having to break up with Lindsay; she ended up having to console him, which must have been pretty painful.
The Bachelor And A Contestant Fought
Juan Pablo and Andi Dorfman were either the most perfect or the worst match in Bachelor history. They got in a fight in the fantasy suite, and later fought again at the rose ceremony, after which she quit the show (only to return as the next bachelorette).
A Contestant Drank A Little Too Much
I would guess that around 50% of the Bachelor contestants are fairly drunk during any given rose ceremony. It's usually hard to tell because the situation is so ridiculous to begin with, but unfortunately for Tara on the last season, everyone, including the bachelor, noticed.
Honestly, I'm pretty amazed at how many of these have gone smoothly, considering the stakes and adrenaline. Better them than me.
Image: ABC