Proof Beyoncé's New Video Is Flawless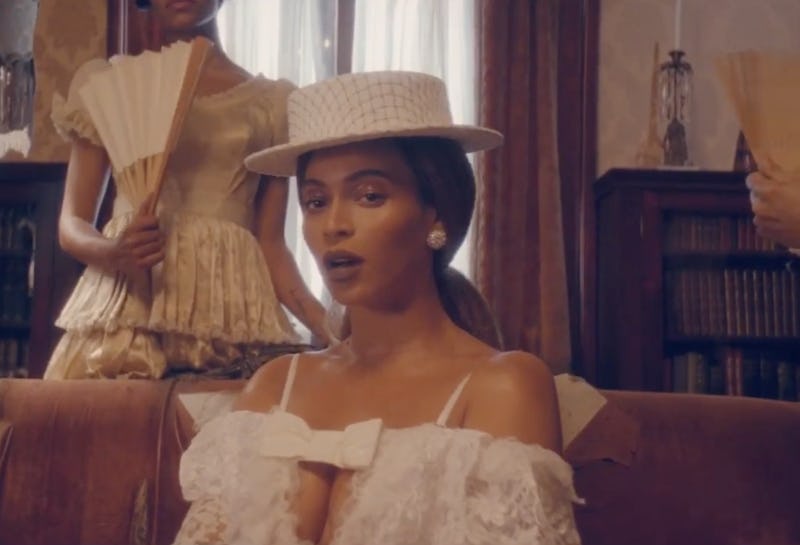 Red Alert: The queen has done it again. Beyoncé has dropped a flawless music video for her latest single "Formation." You may ask yourself: "Why does Beyoncé like to keep her fans on their toes quite like this?" The answer is because she is Beyoncé and she can do whatever she pleases. And while it has been two years since Beyoncé has released new music, I am happy to report that the "Formation" music video is solid proof that Beyoncé still slays.
Not only is Beyonce going to set the Super Bowl halftime show ablaze with her flawlessness alongside Coldplay and Bruno Mars on Sunday, but the video for "Formation" is a gorgeous display of politically-charged, unapologetically honest, badass lyricism and imagery. It's an ode to New Orleans, it brings attention to the Black Lives Matter movement, it pays tribute to her roots, and it's Bey being real. That can't be beat.
Though Beyoncé has displayed her support of movements like Black Lives Matter in the past, "Formation" proves the singer may no longer going to remain silent. In amongst the fantastical clothing and great dance moves, Beyoncé presents a powerful message in a way that only she can. Beyoncé is powerful, and she is demanding change.
Whether in the political sphere, the fashion game, or the music world — Beyoncé slays and "Formation" is just another example of her greatness.
Beyoncé Knows How To Makes An Entrance
Beyoncé enters the video on a submerged New Orleans Police car. It invokes imagery of Hurricane Katrina and sends many messages all at once, in a way only Bey can.
The HBIC Is Back
The Queen B is here and she means business.
#Flawless
Surround by chaos, but Beyoncé remains in control.
Queen B Is In The Building
This finger curl is everything.
Beyonce's History On Display
Beyoncé wants knows the world to know where she comes from and who she is.
Blue Ivy Slays
Apparently being a #GirlBoss is genetic.
The Queen's Carriage
Beyoncé can rock anything.
Break It Down, Bey
Catch the fabulousness.
The Hot Spot
Beyoncé doesn't need a fancy club with bottle service. Places are what you make of them and Beyoncé can make anywhere the hottest place on the planet.
She's Still Got It
Screw the moves like Jagger — I wanna move like Beyoncé.
Take Sh*t From No One
Listen to Beyoncé because she knows all.
Squad Goals
And Bey's squad has a bigger purpose.
Beyoncé Won't Be Silent Any Longer
When Beyoncé speaks, we all need to listen.
Hair Goals
No words, only feelings.
Black Lives Matter
This sums it up:
Beyoncé, Out
Peace.
The takeaway from "Formation" is that Beyoncé has a message for America, and we all better fall into formation for social change. Sign me up for your army, Queen B.
Images: Beyoncé/YouTube (14)