How To Recreate The Looks From Bey's "Formation"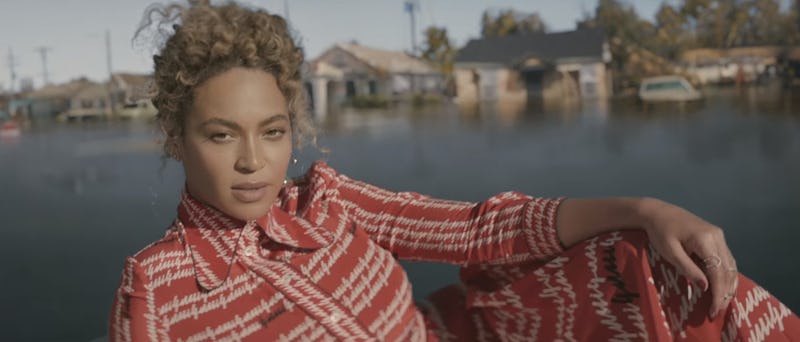 I'm pretty ecstatic that Beyoncé has kept up the trend of dropping songs and music videos without any promo or warning. The latest installment is no exception to that routine. As well as releasing an incredible song, Bey killed it with all her looks in "Formation." The video is filled with the kinds of outfits that will make you wish you had a styling team and a big budget that would allow you to sit around in gorgeous mansions sporting head to toe Givenchy. But unless Beyoncé is actually reading this — in which case, hey Bey! — then I really doubt most of us have the funds to recreate "Formation's" couture styles.
Beyoncé's fashion in this video draws from many different eras, styles, and designers. The looks are varied, contrasting, and all excellent in their own way. Some of them are pretty impossible to find, and even New York Magazine listed only "coordinated Gucci-inspired gear" as the source for one outfit. But as for the ones that are easier to recreate? I've got your back. Whether you're straight or plus size, get ready to look like Queen Bey herself. Or, more realistically, get ready to want to spend all your rent money on recreating these seven signature looks from the "Formation" video.
1. Red Shirt Dress & Boots
This look is probably one of the most casual styles we see in the whole video — if you ignore the fact that Beyoncé is on top of a sinking police car. It is definitely a style that you can recreate for a casual daytime ensemble.
Waisted Shirt Dress In Check Print, $23, Asos
This red and white shirt dress may not have the length of Beyoncé's, but it fits the look perfectly otherwise.
Button Through Shirt Dress in Stripe, $27, Asos
Great minds think alike, since the stylists at ASOS could totally tell this shirt dress is perfect when paired with boots.
Dr. Martens Classic Smooth 8-Eye Boots, $92, Amazon
I fully believe that everyone in the world should own a pair of Dr. Martens, and this is the perfect opportunity to push my belief upon you all since Beyoncé is rocking a similar boot in the video.
2. Hat, Chokers, & All-Black Everything
This look appeals to the goth in all of us and has total American Horror Story: Coven vibes to it. If Beyoncé was named the new supreme, I wouldn't be surprised in the slightest.
Black 100 Percent Wool Hat, $10, Boohoo
Pull this low over your brows to get that intense witchy vibe that Queen Bey is giving off in this look.
Silver Tone Heavy Embellished Necklace, $70, River Island
Paired with some extremely long braids, this necklace will be the perfect argument against "less is more."
Hell Bunny Black Jacquard Print Layered Net Dress, $112, Yours Clothing
It may not have the same Bardot neckline as Bey's look — although you could try layering a Bardot top underneath it — but the net skirt and vampy vibes of this dress are more than enough of a shout-out to Beyoncé's look.
Cafe Parfait Top, $30, Mod Cloth
Hell Bunny Lucine Skirt, $76, Blame Betty
When worn separately, these are all pretty average pieces for any wardrobe. Together, they make for the perfect gothy homage to Yonce.
3. Corsets & Lace
I love the sophisticated feel of this ensemble, but it's not exactly something you can rock on the street or in the club regularly (at least not with that parasol). But underwear-as-outwear is appropriate both in high fashion and fast fashion, and it's definitely one of the funnest looks to recreate from "Formation."
Overbust Bridal Corset in Cream Taffeta, $109, Burleska
Burlesque Mini Skirt, $65, Burleska
This one is a bit pricey, but it's likely as close as you're going to get to Beyoncé's look for under $200. The look is available in straight and plus sizes, so you can get the whole squad Beyoncé-ified.
4. Red Playsuit & Sheer Stripes
I'm so into this look. But if I had seen it on anyone else before Beyoncé, I probably wouldn't have been. It's proof that Queen Bey can pull off anything, and you know what? So can you!
Plunge Neck Skort Playsuit, $26, Boohoo
This may not have the same sleeves, but the Beyoncé vibe is spot on.
Lace Wrap Front Playsuit, $35, Boohoo
This playsuit comes in the perfect Beyoncé-inspired shade of red. The lace is added gorgeousness to the look.
Facet And Pearl Multi-Row Necklace, $35, Top Shop
OK, Beyoncé's pearls are probably real, but these are gorgeous nonetheless.
Sheer Pantyhose With Vertical Stripes, $16, Amazon
Sure, these may not be the same as striped stockings, but they're still really cool.
Plus Size Crochet Thigh Highs, $8, Amazon
How sexy are these? They're a little less intensely striped than Queen Bey's, but super hot nonetheless.
5. Huge Fur Coat
This look is all about Beyoncé's hair, but why not use the excuse to buy a fur coat?
Luxe Faux Fur Coat, $62, Very
Faux Fur Hooded Coat, $60, Top Shop
Regardless of whether you're a Beyoncé fan or not, you deserve a gorgeous fur coat.
6. All-White Everything
I love this lady of the manor in the summertime look, and the all-white everything trend was popular last year. So why not repeat it? Beyoncé has given you her blessing to carry this trend on for another year.
SilverMetallic Floppy Hat, $37, Accesorize
It might say "silver," but the lightness and style of this hat are likely the closest many of us will get to Beyoncé's own Chanel one.
Off Shoulder Lace Dress, $106, Asos
Bridal Lace Maxi Dress, $376, Asos
OK, this might actually be a wedding dress. But it's beautiful, and it seemed so fun when Monica, Rachel, and Phoebe sported wedding dresses for no reason.
7. Return To Old School Beyoncé
This home movie-themed part of the video gave me so many feelings about where Beyoncé's been and how she's progressed as an artist. This outfit reminded me of "Crazy In Love" Bey, dressing in casual-wear and still looking outstanding.
Laser Cut Leather Look Bralette Top, $14, Asos
Although this bralette isn't a replica for Beyoncé's bandeau, the lace-up detailing gives off the same effect.
Strappy Lace Bralette, $35, Torrid
While not an exact copy, this one is blue like Bey's and equally as cute.
Vintage Freedom Fighter Denim Jacket, $42, Shop Tunnel Vision
A good denim jacket is always going to be worth the investment regardless of whether you're recreating music video looks or not.
Girlfriend Denim Jacket In Midwash, $48, Asos
Why not get a good quality denim jacket and cherish it for the rest of your life?
Vintage Renewed Denim Remix Short Shorts, $52, Shop Tunnel Vision
How cute are these? I wish they came in size fat so we could all rock a pair.
Ripped Denim Short, $30, Boohoo
Shout-out to the girl I saw in mid January rocking denim shorts and no tights. The commitment to your brand is admirable. Follow in this stranger's example and remember that it's worth getting cold if you look gorgeous.
When it comes down to it, some of these looks will definitely be harder to seek out than others. But thanks to the Internet, you can copy Queen Bey's style with little effort.
Images: Beyonce/YouTube; Courtesy Brands