11 Things You Totally Owned From Limited Too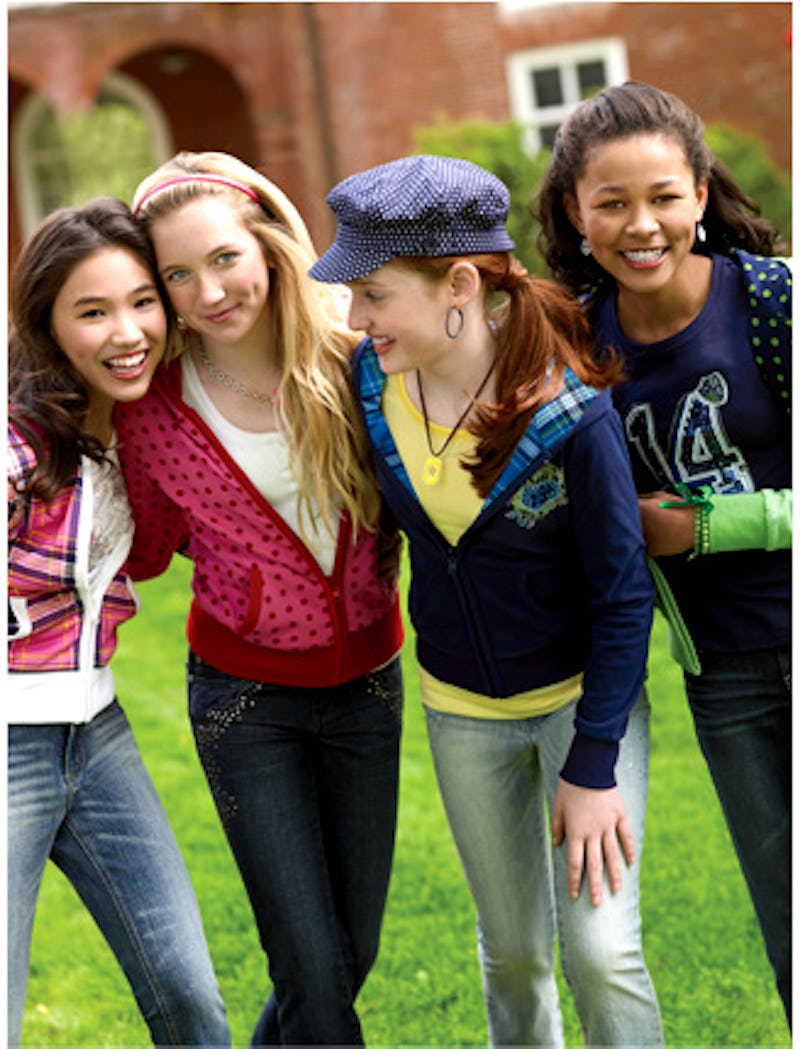 Back in the '90s, we all shared a universal love for Limited Too. You immediately high-tailed it there whenever you hit the mall, your Christmas lists were made up of their merchandise for several years, and you probably twinned with your entire fourth grade class, because everyone shopped there. No shame. But in case you've forgotten, let me remind you of some things you totally owned from Limited Too. That store not only created your entire closet, but also helped you beautify yourself, and decorate your bedroom. Forgot about that part, huh?
Limited Too was hands down the greatest store in the '90s, and it was so widely loved because it truly had something for everyone. From clothes, to accessories, to beauty products, to decor — it was a one-stop shop for all things pre-teen. It was super girlie, but also funky, innocent enough not to offend parents, but edgy enough to make you feel like you were hot stuff for shopping there. So it somehow managed to tick literally every box, and the store's appeal was not lost on anyone.
Because it's been a good 16 years since you've walked under one of those purple, neon signs, I think it's time to take a trip down memory lane. Here are 11 items you totally owned from Limited Too. As did your best friend, your neighbor, your little sister, and probably everyone single one of your classmates.
1. Tinited Sunglasses
Everyone was wearing them, from the Olsen Twins to Justin Timberlake, and Limited Too had their fingers on the pulse of that trend.
2. Tankinis
Your parents wouldn't let you wear bikinis, but one pieces were for babies.
3. Newsboy Hats
"I saw Britney Spears wearing a newsboy hat, so I went out and bought a newsboy hat..."
4. Door Signs
Modesty was not your strong suit back in the day.
5. Neon Hairbrush
And if your BFF bought the same color as you, you were throwing your friendship necklaces out the window.
6. Boom Box
Long before you could stream Spotify, this was the crowning glory of your bedroom.
7. Backpack
Or, the '90s equivalent of a designer handbag.
8. CD Case
Getting a scratch on your 'NSYNC CD was the worst. Also, this was a lot cheaper than the amount of Neopoints it was going to cost you to buy a paintbrush and turn your pets into a fairy.
9. Camo Pants
Camo Pants; $8; ebay.com
When Cadet Kelly came out, you knew just where to go to shop the look.
10. Gummi Bear Spray
Why would you want to smell like flowers when you could smell like gummy bears?
11. Inflatable Chair
Yours may have been plain, glittery, or floral, but back in the day, my bedroom totally featured a Britney Spears inflatable chair. I'm not even sorry.
Want more style tips? Check out the video below, and be sure to subscribe to Bustle's YouTube page for more hacks and tricks!
Images: eBay; Limited Too