Mick Jagger Brings Authenticity To 'Vinyl'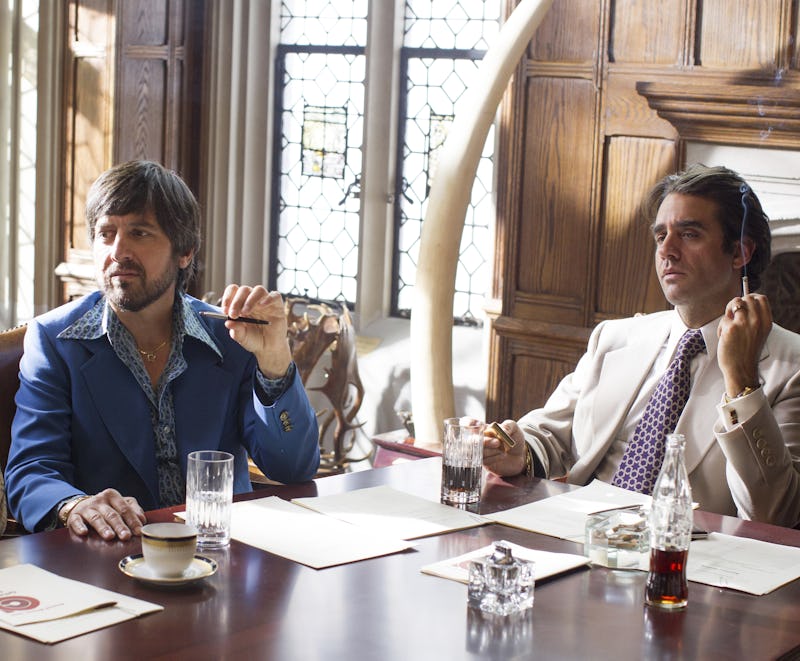 HBO has been proudly touting that its latest period drama (yes, a show about the '70s does count as a "period drama" nowadays) is from the mind of The Rolling Stones' frontman Mick Jagger. However, that doesn't mean you should expect Vinyl to be based on a true story. The series about the music industry, set when punk, disco, and hip-hop were emerging, may have been co-created by Jagger, but as he told Entertainment Weekly, "It was an idea I had for a movie originally." And based on the rock 'n' roll legend's interviews about Vinyl, his idea has always been one of fiction, but set in a real time and place that Jagger lived through — and epitomized.
"There hadn't been a tremendous amount of stuff about [a drama set at a record label], and I knew a lot of those rich, oddball characters, and I thought it was a good backdrop," Jagger told EW. As he explained to the magazine, if Vinyl had stayed in its original conceived format, it would have been a lengthy film spanning three decades of record industry history, which wasn't a guaranteed hit at the box office. Vinyl showrunner Terence Winter told USA Today, "Nobody was really interested in doing a three-hour period epic on the rock-and-roll business," which I find shocking considering plenty of movies with less interesting premises have three-hour runtimes — like for instance, The Wolf of Wall Street — although like that film you should expect epic levels of partying in Vinyl.
Perhaps The Wolf of Wall Street so readily comes to mind because besides Jagger and Winter, another hugely influential man in creating Vinyl is executive producer Martin Scorcese. And Winter worked with Scorcese on both The Wolf of Wall Street and the HBO show Boardwalk Empire. The famed director got involved in Vinyl not only because Scorcese worked with The Rolling Stones for a 2008 documentary, but also because, "Mick actually approached me, quite a few years back, with the idea of making a film about the music business," Scorcese told EW. "We kept meeting, talking about it and worked on it, and as time went by the project kept growing in scope. At a certain point, we realized that we didn't want to cut the material down, and that it needed to be not a film but a television series."
Some of the material that the famous creators didn't want to sacrifice was the opportunity to link fictitious characters with real-life music icons of the early 1970s. "It's really interesting, the combination," Jagger said to The Salt Lake Tribune. "Not only the combination of the new and old music, but the combination of real characters and the characters that Terry [Winter] created for the series." I'd have to agree with Jagger that Vinyl is a fascinating mix that includes fictional characters like Bobby Cannavale's Richie Finestra, Olivia Wilde's Devon Finestra, and Ray Romano's Zak Yankovich along with actors portraying real-life musicians like Alice Cooper, Robert Goulet, and Elvis Presley.
But just because Vinyl isn't about a specific true story, that doesn't mean Jagger's life didn't influence the series. Besides his son James being cast in the series, some moments in the show will come from Jagger's own personal experiences. In the below promotional teaser from HBO, Jagger is shown discussing his interactions with "Andy," as in Andy Warhol, who is featured in Vinyl not only because he was a prominent figure in the art and music scene, but also because Wilde's fictional character Devon was a Warhol girl back in the 1960s.
Other famous artists at that time that Jagger has been known to more than rub elbows with, like Robert Plant and Lou Reed, will also be featured in the series. As the frontman of Led Zeppelin, Robert Plant used to ride in the same party airplane as Jagger — named appropriately Starship — reserved for elite rock stars. And CNN reported that Jagger said that The Rolling Stones' song "Stray Cat Blues," was inspired by "Heroine," a song from the Reed-fronted band the Velvet Underground. Not to mention that the Velvet Underground also collaborated with Warhol (like The Rolling Stones) and that Jagger and Reed used to pal around with none other than David Bowie, as shown in the below photo shared recently on Twitter by another music icon — Brian Eno.
All of this intertwining of music royalty, along with the copious amounts of partying, that actually happened in the 1970s will be shown in Vinyl, thanks significantly to Jagger's firsthand experience So while the HBO series, which premieres Sunday, Feb. 14 at 9 p.m., isn't actually a true story, you'll be getting an insider's view of what went down in rock 'n' roll — and punk, disco, and hip-hop — history.
Image: Macall B. Polay/HBO