How Rainbow Bagels Are Made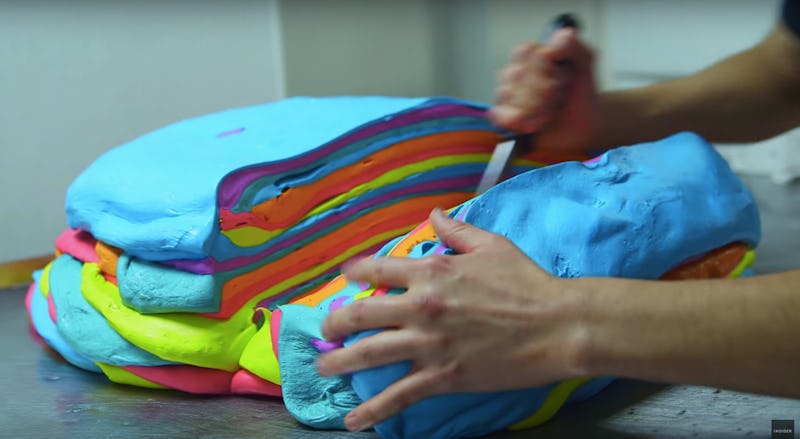 If you're a bagel lover, or a lover of all things wonderful, you'll be smitten with this video that shows how rainbow bagels are made. If you haven't been on the Internet in the past week or so, rainbow bagels are the latest craze in baked goods, and are exactly what they sound like they are. Rainbow bagels are the brainchild of Williamsburg's Bagel Store, and are a vibrant style masterpiece of bread. The rainbow bagel has had so much press and online coverage lately that when I happened to walk past the Bedford Ave location of the Bagel Store yesterday, the line was out the door and around the corner. The things people will do just for a joyful, multi-colored bagel experience. To be honest, if it wasn't so cold or I wasn't such a wimp about the cold, I might have joined the line too.
The rainbow bagel apparently tastes like Fruit Loops, and comes with funfetti cream cheese, just in case the rainbow dough wasn't entirely festive enough for you. And even though all the hype is on rainbow bagels now, Bagel Store owner Scot Rossillo has been making them for twenty years. In a video by Insider, Rossillo shows us exactly how the most Instagrammable bagel on earth is made (Hint: it's not just with California Gurls-era Katy Perry wishes and dreams):
1. The Rainbow Bagel Is A Feat Of Creativity
Rossillo says "a tremendous amount of discipline is required to make the world's most beautiful bagel." Sounds deep, and not like something you'd want to try at home. Unless, of course, you're some kind of master baker in which case, proceed (and also please contact me if you're successful).
2. First, The Dough Is Colored
Different batches of bagel dough are given bright, neon colors when they're made.
3. Then It's Shaped Into Mounds
Can I just get pink bagels forever please?
4. The Mounds Are Flattened And Layered On Top Of One Another
This is the part where the process starts looking super fun. So fun I want to get in there and make some color combos myself (yes, I'm more dynamic than just straight pink — sometimes).
5. Then It's Sliced
It kind of looks like slicing through weird rainbow flesh, and at this point I definitely would really like to get involved in all this delicious rainbow dough making.
6. And Rolled Into Bagel Shape!
The slices are rolled out into long snakes and then looped into bagel rounds. Watching the baker do it so quickly and with deft precision is kind of mesmerizing. Maybe this could be some kind of stress relief video?
7. Then Comes The Cream Cheese
After the bagels are baked, they get a schmear of funfetti cream cheese, which is made out of cake batter! The colorfulness, obviously, makes eating one entirely guilt-free.
Watch the entire video below and prepare to salivate:
Images: YouTube (8)