'Zoolander 2' Is Not Kind To Justin Bieber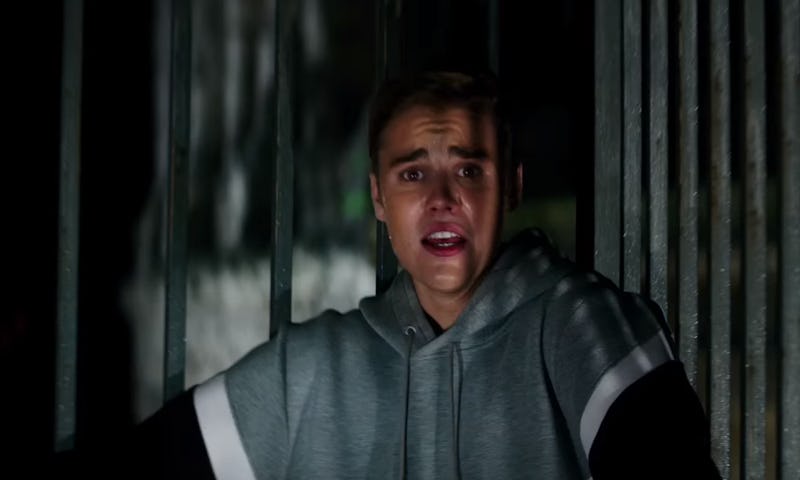 Justin Bieber's dangerously good looks land him in mortal danger in Zoolander 2. The pop star turned underwear model makes a cameo in the movie — a collaboration that was revealed in the first full-length trailer for the movie. In the trailer, Bieber is shown performing some impressive parkour while running away from a mysterious killer on a motorcycle. Unfortunately, the singer doesn't get away, and the killer shoots him and leaves Bieber bleeding in the street. In his last moments, Bieber takes a selfie and posts it on Instagram. "Peace out world," he says before making Zoolander's iconic Blue Steel. But, before you Beliebers start mourning his fictional loss, know that Justin Bieber dies in Zoolander 2 and helps kick off the entire film. Even in death, Bieber remains somewhat relevant, at least.
In Zoolander 2, Derek Zoolander, the onetime top male model, is recruited by Valentina, a law enforcement agent, to help track down a killer whose victims, all beautiful people, die after sending out a selfie of them doing Blue Steel. Or, as Valentina puts it in the trailer, "Someone's trying to kill the world's most beautiful people. All of them died with your signature look." Valentina also shows Zoolander a handful of the dying photos of these so-called "most beautiful people," including Lenny Kravitz, Demi Lovato, Usher and Miley Cyrus.
Another trailer features a different version of the assassinated "world's most beautiful people," which replaces Miley Cyrus with Madonna.
These celebrities aren't the only ones who have reason to fear for their lives in the world of Zoolander 2. According to IMDB, there are a handful of other beautiful celebrities appearing in the film who could be in danger of getting the axe. Here's a list of celebrities who might end up dead in Zoolander 2.
1. Ariana Grande
Bang Bang, indeed.
2. Macaulay Culkin
Macaulay Culkin will apparently appear in the movie, though it's unclear what the Pizza rocker will be doing.
3. Kimye
Kim Kardashian West and Kanye West are also listed among the cast list, but their fates are unknown.
4. Olivia Munn
Olivia Munn was spotted filming a cameo in Zoolander 2 with Formula 1 racer Lewis Hamilton.
5. Lewis Hamilton
Maybe Hamilton will die from a wild animal attack? (In the movie, people.)
What these celebs did to deserve death in Zoolander 2 is unknown, but it's safe to say that no one, famous or not, is safe from Blue Steel's terrible side effects.
Images: Paramount Pictures (3); Giphy (5); charles-pic/tumblr