6 Mardi Gras Party Ideas For The Office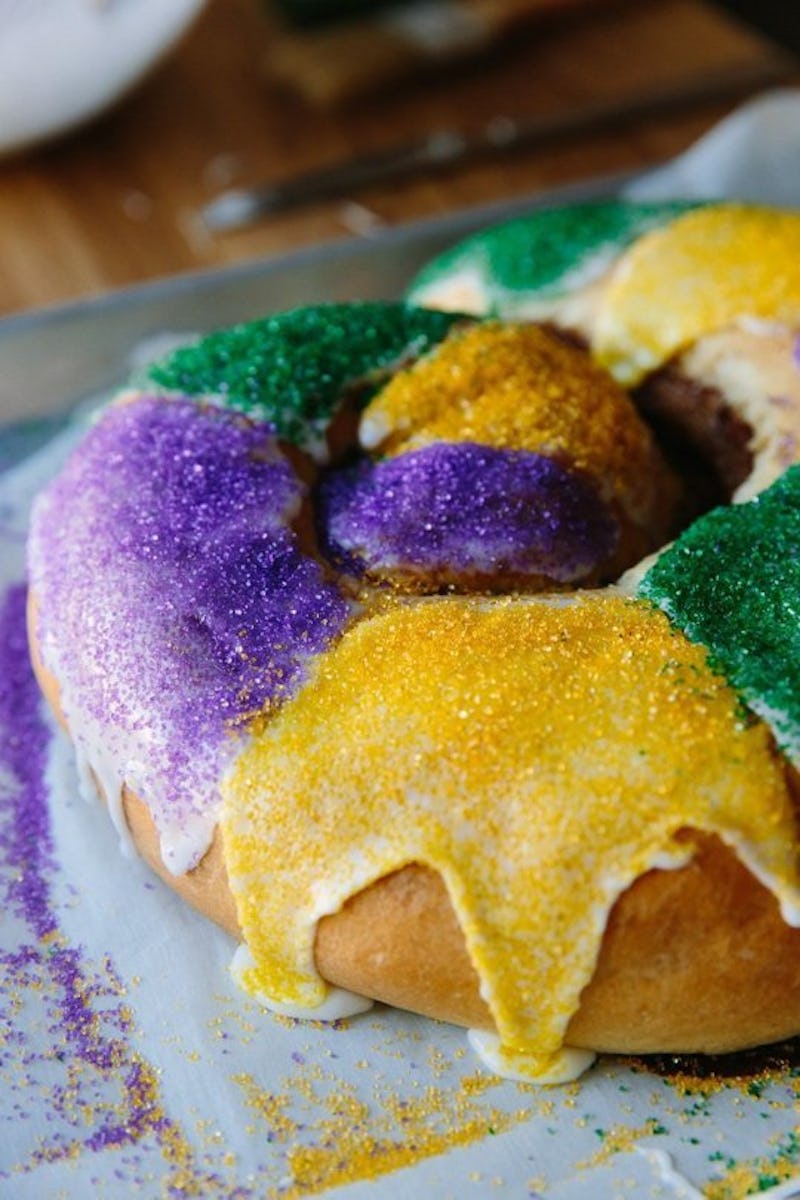 From the crawfish boils to parades, beads, and booze, Mardi Gras or "Fat Tuesday" as it's also called, is a traditionally debaucherous street fair that abuts Ash Wednesday on the calendar. In the Catholic tradition, that means Mardi Gras is a farewell to vice before a more regimented 40 days of lent. But what about Mardi Gras party ideas for the office? What if your boss thinks it's just another Tuesday? While there probably won't be any parades through your break room or protracted day-drinking sessions, it's still totally possible to observe the Cajun carnival even if you have to work.
So, how does one bring the spirit of Mardi Gras festivities to the grey land of memos and cubicles? With a splash of color, that's how! The three colors that symbolize Mardi Gras (purple, green, and gold) are actually culturally significant far beyond their appearance on strings of plastic beads. As codified by the Krewe of Rex in 1892, each color represents a theme central to Carnival Royalty. Purple symbolizes justice and what is right, green symbolizes faith, and gold, as you might imagine, is the color of power.
So, what's the best way to translate those colors and symbols into an extra festive Tuesday at the office without sneaking airplane bottles of bourbon in your purse?
1. Bring in a King Cake for breakfast
The symbolism behind the King Cake comes from the Bibles' Three Kings present at the birth of Jesus — ya know, the wise men. And wise they must have been, because a hot brioche-style bread with a sweet and spicy cinnamon filling topped with icing and colored sugar certainly sounds like a gift I would want to receive out of the blue. Your coworkers will be so excited when you show up with this recipe from The Kitchn.
2. Or drop into Smoothie King for a King Cake Smoothie
Smoothie King has been celebrating Mardi Gras for a few weeks now with this special edition King Cake Smoothie blended with cinnamon and almond flavors. If you're not exactly the baking type, this smoothie sounds like a pretty great alternative.
3. Cover everyone's work spaces in beads and sequins
Make it look like a parade just marched through the middle of the office with festive beads, sequins, confetti, and streamers. Just make sure you don't get confetti in anybody's keyboard.
4. Enjoy the smooth sounds of Leon Bridges
One of my favorite albums from last year was Leon Bridges' Coming Home, which sounds like a summer night in 1950s New Orleans when you would, hypothetically, watch fireflies from your favorite hammock while sipping an iced tea — or at least that's what it sounds like to me. Fill your playlist with New Orleans jazz and soul music.
5. Bust out your most festive makeup
Can I just wear my eye makeup like this all the time? That purple and gold is stunning.
6. Go get hurricanes for happy hour
When you're finally off the clock, take a trip to the nearest beach bum bar, or, at the very least, to a bar with a hefty cocktail menu and order some hurricanes. This dark rum cocktail with passion fruit juice is synonymous with Mardi Gras. Or, find out how to make them at home at The Kitchn.
Images: The Kitchn (2); Smoothie King