Leah Disses Lauren B. & 'Bach' Fans Are Confused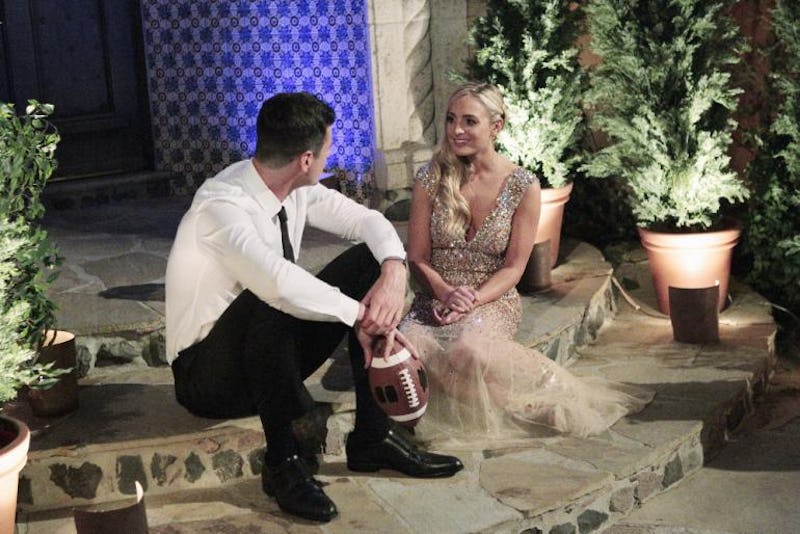 This far into the season of The Bachelor, fans pretty much know who the villains are and who's being genuine... until the tables totally turn and we get a major plot twist like Monday's episode gave us. After Leah spent most of the episode in tears about not getting enough one-on-one time with Ben Higgins for him to get to know her, it became obvious pretty quickly that she's starting to crack under the pressure... and in the process of saving herself, she threw someone else under the bus. Leah slammed Lauren B. to Ben, and the results weren't exactly what she wanted.
After a talk with Ben about how left out she's been feeling during a group date that didn't go quite how she planned, Leah needed to make a big comeback, and she chose to do it by putting someone else down. She took Ben aside and told him that Lauren is "different in the house" than she is toward Ben (a classic Bachelor line), and tried to convince him that Lauren wasn't right for him. Ben was obviously blindsided by this piece of information, and it showed. And, to be honest, so was I — and I'm sure everyone else was, too.
So far, Lauren B. has been the most low-key, harmless person when it comes to relating to Ben and everyone else still left in the competition, so it was shocking that Leah would say something like this... and pretty obvious that she was making the whole thing up, unless some pretty major things have been left out by the producers. And when Lauren talked to Ben afterwards, see seemed shocked to have been mentioned to him, too.
The icing on the cake, though, was when Lauren was being comforted by the rest of the women after her conversation with Ben and Leah walked into the room and proceeded to deny that she'd even said anything. We've seen some drama and backstabbing over the 20 seasons of this show, but even this was shocking.
Unfortunately, Leah's words came back to bite her when Ben ended up sending her packing. She learned an important Bachelor lesson a little too late: Use your time with the Bachelor to talk about your relationship, not the other women.
Image: Rick Rowell/ABC