This 'Jane The Virgin' Couple Could Be In Jeopardy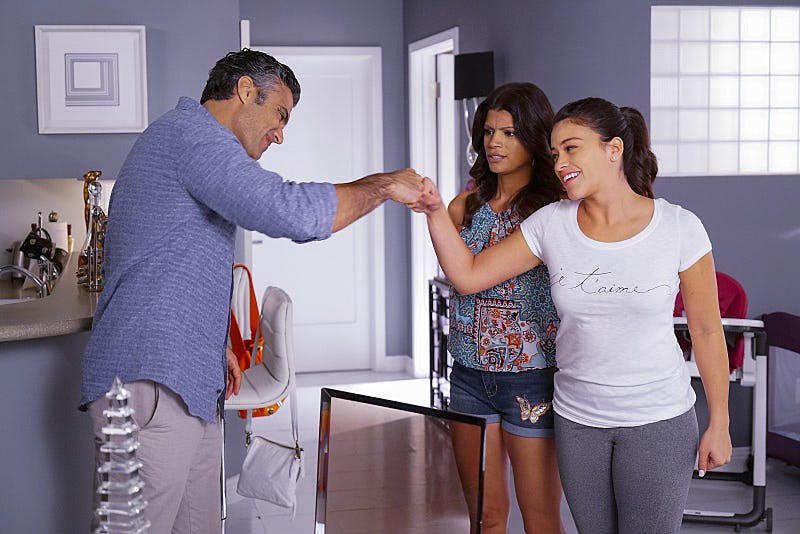 While it's true that the majority of Jane the Virgin centers around its main star, Jane, it's always nice to see the other characters get their moment in the spotlight. However, I wish this had been under happier circumstances. You see, Rogelio proposed to Xiomara on Jane the Virgin , but before you start planning a big Villanueva wedding for the very near future, it's important to note that the engagement has yet to be officially confirmed. Because right after Rogelio popped the question, Xo announced that she doesn't want to have anymore kids. And given the look that came across Rogelio's face, that decision could end up being quite the game changer for him.
It was clear right from the beginning of the episode that Xo was struggling to figure out what she really wants out of life and it seems as though her career has been put on the back burner these days since Mateo's birth. But now that she's turning the big 4-0, she wants to shift her focus back to her career, which means no more children. So when Rogelio finally got down on bended knee (after temporarily losing the diamond to Mateo's digestive system), she shared her decision with him and asked if this made him feel differently about proposing, to which he responded saying: "I don't know."
Rogelio has made it clear that he wants to have more kids, especially since he wasn't around to watch Jane grow up, so this news is bound to come as a heavy blow. But will it be enough to make him completely change his mind about spending the rest of his life with her? These two have been through so much together and care about each other so deeply, I'd hate to think of it ending so abruptly because of this. However, I can't act as though I don't admire Xo's courage for sticking up for what she wants. It is her decision, after all, and she's more than earned the right to put herself first. Let's just hope that these two crazy kids can work things out in the end. Because I really do believe that they belong together, for better and for worse.
Image: Greg Gayne/The CW