Rogelio's Telenovela Moments On 'Jane The Virgin'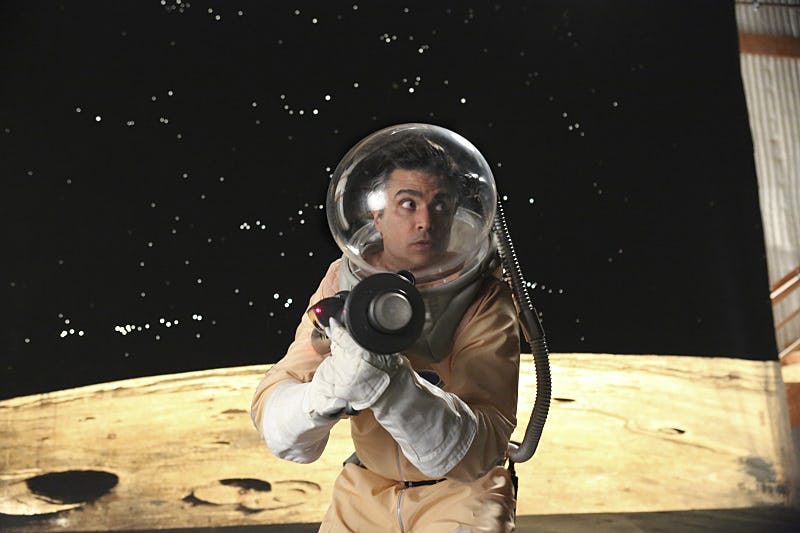 From the award-winning acting to the innovative and uniquely charming narrator, there are a lot of reasons to love Jane the Virgin. Whether you're Team Michael or Team Rafael (or undecided), I think there's one thing we can all agree on: Rogelio is one of the series' best characters. All Jane the Virgin fans are Team Rogelio (or, as I'm sure the Tweet Master himself would prefer, #TeamRogelio). After all, he's practically perfect in every way and is consistently one of the funniest and most genuinely moving characters on a very funny and genuinely moving show.
Of course, there are a lot of wonderful things about Rogelio, but you know what's one of his best traits of all? His telenovela tendencies — his penchant for vanity and dramatics often means that his soap opera persona is something that follows him on and off screen. Whether it's his inability to hold a space gun correctly or a truly vehement hatred for peach, there's no mistaking Rogelio for anything but the star that he is. So, with that in mind, pull up a chair, and grab some popcorn. Here are some of Rogelio de la Vega's most telenovela-worthy moments.
When He Took His Craft Seriously
He knows how to add weight to a sentence with one single word.
When He Explained The Honor Of A Paloma Award
Rogelio doesn't need to pretend to be humble.
When He Likened Himself & Jane To Jon Voight & Angelina Jolie
Except he would be the much more famous one, of course.
When He Flaunted His Twitter Stats...
...And Then His Twitter Know-How
Maybe we should add #RogelioMyBrogelio to all Jane the Virgin-related tweets from now on.
When He Vehemently Gave Rafael A Piece Of His Mind
This looks like something straight out of The Passions of Santos.
When He Got Ready For A Spa Day
A sentence only a celebrity could utter so casually.
When He Compared Himself To A Lucky Charm
Hey, he's not wrong.
Which Can Only Be Topped By The Time He Compared Himself To Kanye West
It's worth noting that Jane is North West (and Xo is Kim Kardashian) in this comparison.
When He Listed His Wardrobe Specifications
He has to draw the line somewhere.
When He Dramatically Protested Being Labelled... As Dramatic
HOW DARE SHE.
When He Was Prepared For Tears
All of those telenovela-induced tears can take a toll on your complexion.
When He Revealed What The "D" In "de la Vega" Stands For
Let's not forget that Rogelio went from playing a president to a space detective. He clearly earned that name.
When He Was Rendered Completely Speechless
Because sometimes the most dramatic thing you can say is nothing at all.
When Xo Tricked Him Into Admitting He Wasn't Ready For A Baby
Even all those years of acting couldn't stop him from expressing total shock.
When He Sported A Fedora
What's more relevant than a lavender-accented fedora accompanied by hand motions?
When He Turned On The Charm
He really knows how to test a girl's willpower, huh?
But let's not forget, no matter how much we love Rogelio for all of his humblebrags, peacock-worthy preening, and telenovela-esque reactions, we also adore him for being incredibly sweet just as often.
Images: Danny Feld/The CW; talesofnorth (6), gilmoresgirls (3), janethevirgin-gifs (4), hendrix-dawkins (3), ronweasley, chrisevans/Tumblr