All These Things Are Returning To 'Fuller House'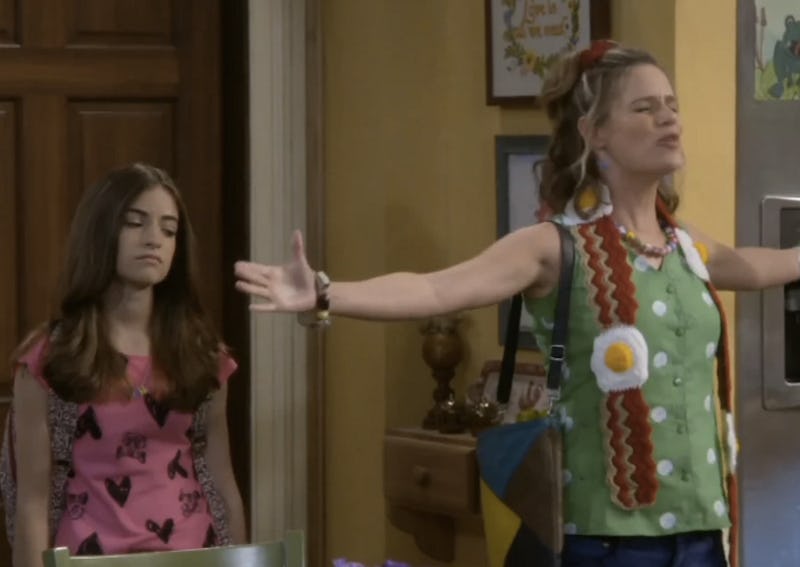 Guys, I know you're psyched to return to the early '90s with Netflix's Fuller House arriving on February 26, and the good news is., well, the return should be pretty seamless. Ellen Degeneres recently sat down with stars Candace Cameron Bure, Jodie Sweetin, and Andrea Barber to talk about the series, and they brought with them the full-length trailer for Fuller House. The tagline? "The more things change, the more they stay the same." And boy, is that accurate, because the trailer feels like one big throwback to the original Full House.
Not in a bad, outdated way (mostly). The cast is definitely in-on-the-joke that the family sitcom was very of-its-time. Still, there's a collection of things that are carbon copied from the OG show, things that will make you feel like you're really coming back to your childhood home. It's a good feeling. It's a familiar feeling. And it's coming to your Netflix account momentarily, so get pumped.
Anyway, for your consideration, I organized all the things you should expect to come back with this newer, fuller house. Watch the full-length trailer below, and then enjoy our recap of all the things we've missed in the past two decades.
1. Zoom-In Shots On The Full House
You can spot that iconic red door from a mile away
2. Kimmy Barging Into The Tanner's Kitchen During Breakfast
I wonder if this has just been a constant for the past 20 years.
3. Kimmy Barging Into The Tanner's Life During Always
The Tanner sisters put up a united front when it concerns Kimmy moving in to "help." "Kimmy, you do not need to do this," D.J. says. "I agree with you, D.J., you do not need to do this," Stephanie concurs. Somehow, I get the sneaking suspicion this will not be enough to get her out of the full(er) house.
4. Kimmy's Wardrobe
Apparently she's still stuck in the '90s. Scrunchies in your mid-30s would definitely reinforce that idea.
5. Group Hugs
Probably with soft piano music playing in the background.
6. John Stamos Still Looks Good
So does everyone else, but he brings it up so we can notice specifically that he looks good, you know?
7. Familial Drama Due To A Lost Parent
Time will only tell if we will watch the characters develop due to this tragedy for nine more seasons.
8. A Sibling And A Best Friend Inexplicably Moving In Because Their Main Person Needs Help Raising Three Children
Like, this is literally the same plot as the original but gender-swapped, and I love it.
9. That Theme Song
Carly Rae Jepson does this one, I know, but make no mistake, it's the same "everywhere you look" nostalgia.
10. So Many Catch Phrases
We have "have mercy," "how rude," and "cut it out" within five seconds, but it's OK because I think they're doing it ironically.
11. Awkward Dancing In The Living Room
And just about everywhere else. It may not seem like it, but this was kind of Full House's M.O. Brownie points if they're doing it all to Tiffany.
It's been too long. Again, make sure to be ready for the Tanner's (and Kimmy's) return February 26. I'll bring the scrunchies.
Images: Netflix; Giphy (11)