The Full-Length 'Fuller House' Trailer Has Arrived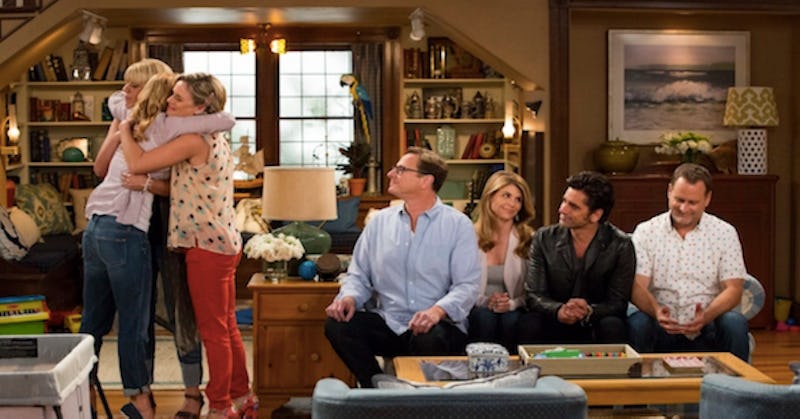 Since Netflix announced Fuller House, everyone has been eager and waiting for a bigger look at the new episodes. The teaser trailer that initially came out for Fuller House featured a cute puppy that we all wanted to adopt (just me?!), but it only made us all want more of the forthcoming show. Thanks to the Netflix gods, who never keep us waiting for long, we can finally indulge in way more Full House goodness, and examine all the clues they've given us so far about the sequel. So what can we learn from the full-length Fuller House trailer that debuted on Ellen?
Perhaps the most exciting thing about the new Fuller House trailer is how funny it is. While the first teaser featured only a dog along with the voices of some of the cast members, this trailer features actual clips from brand new episodes of Fuller House. And the Tanner family are most definitely not going to disappoint hardcore fans of the show (even though Mary-Kate and Ashley Olsen will not be reprising their roles). With dance moves, gatherings around the family dinner table, and countless nineties references, Fuller House has all the makings of a Netflix staple.
Some of the best moments in the Fuller House trailer remind viewers why the show is so great — it's about family, and supporting the people you care about through the hardest times. Fan favorite D.J. is mother to three boys, and recently widowed. Faced with the incredibly difficult task of raising three children alone, D.J.'s sister rallies round and offers her support by moving back into the family home. Having D.J., Kimmy, and Stephanie living under the same roof, with their own children, is sure to create lots of crazy scenarios.
The quotes featured in the trailer also give us a lot to look forward to, as well as hope that the Fuller House reboot understands how beloved the original show still is. As John Stamos announces, "Damn we all still look good!" And they most certainly do.
Some of the funniest moments in the trailer come courtesy of Kimmy who, upon moving back into the family house, drops her bags and announces, "Home, sweet, home!" Kimmy then proceeds with her own rendition of "U Can't Touch This," while sister Stephanie berates her, "You're stuck in the '90s." Which is the best way to sum up Fuller House — stuck in the '90s in the best way.
With not long to go until Fuller House is finally on Netflix (it drops on Feb. 26), the new trailer is enough to get us all excited about having something awesome to marathon watch. We can also all breathe a sigh of relief, as it looks as though the reboot has been done exactly right. Watch the full trailer right now while you wait.
Images: Netflix (4)