10 Tricks To Styling Wet Hair Without Damaging It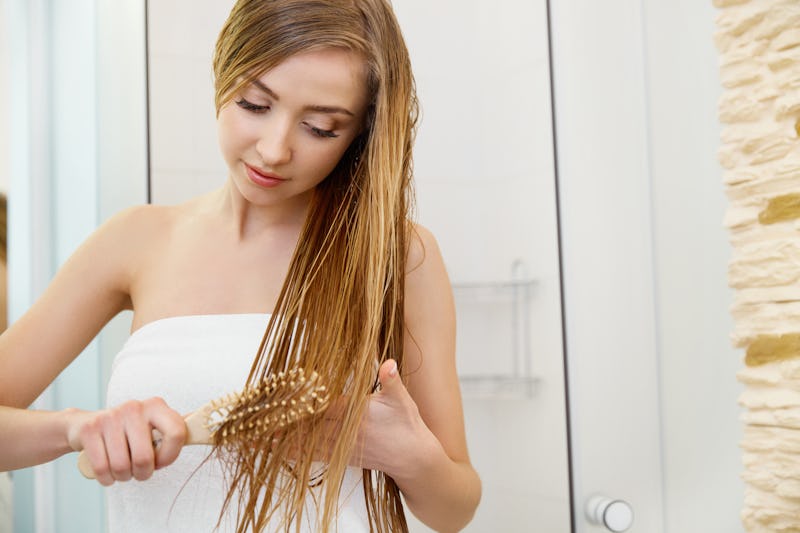 You're standing in that steamy shower, and your head is tilted back as the water comes rushing out of the faucet. You belt Adele, and you feel invincible (and it's definitely not because you sound like Adele). It's the soothing therapeutic effects of that warm water running through your hair: The luxurious comfort of the perfect shower. Nothing could ruin this moment. Nothing, that is, until you emerge, and your sopping wet starts dripping down your back.
Your instinct may be to grab the blowdryer right away, but not so fast! There are all kinds of sneaky ways that you can damage your hair without even realizing, especially when you style wet hair. Take it slow, and enjoy the aftermath of that amazing shower. Instead of turning the blowdryer on full blast, grab your Turbie Twist and snuggle under some blankets. Alternatively, you can clip your hair back, and wait for your heat protectant to set in.
Your hair is susceptible to breakage when it's wet, so it's important to be delicate with your tresses in the moments just after a shower. When it comes to getting ready after you wash, these are the 10 tricks to styling wet hair that you'll want to remember. After all, it would be a shame to ruin your good mood with breakage.
Prep With This Castor Seed Oil-Infused 'Elasticizer'
Philip Kingsley Elasticizer Pre Shampoo Treatment , $83, Amazon
One of Audrey Hepburn's favorites, the Philip Kingsley Elasticizer uses castor seed oil to help your scalp stay hydrated, which prevents hair loss and protects your mane from the damage that comes with washing, drying, and styling. Use this treatment twice each month before washing your hair to help prevent breakage.
Detangle Knots with the Hairbrush Specially Crafted for Wet Hair
M y Wet Brush Paddle Brush , $11, Amazon
This brush made to tame wet hair is your best defense when it comes to gently detangling fragile strands. Its thin, flexible bristles won't tear and snag at wet hair, and its sturdy handle gives you an easy grip. One user even said the brush cut her de-knotting time in half. So when run-of-the-mill brushes tug at wet hair and cause damage (you've seen how much hair ends up in your brush), invest in your hair and upgrade your pre-styling hairbrush.
Retain Moisture and Replenish Skin with This Leave-In Conditioner
Paul Mitchell L eave-In Conditioner , $14, Amazon
This Paul Mitchell Leave-in Moisturizer infuses your hair with Hawaiian awapuhi and ginger to keep it healthy and nourished, instead of dull and dried-out. Massage into damp hair, and the hydration will also moisturize your scalp to keep it free from dry irritation. You usually lotion your face and body after a nice hot shower, anyway, so it makes sense to use the conditioner that hydrates skin, too.
Wrap In the Best-Selling Microfiber Drying Towel
Turbie Twist Microfiber Hair Towel , $13, Amazon
The Turbie Twist is the best-selling hair drying towel because its snug microfiber fit actually stays in place while it soaks up excess water. By holding hair back and drying it simultaneously, your getting-ready routine moves that much faster. When there's no floppy towel falling off, there's no chance of pulling wet, sensitive hair along with it.
Use These Salon-Grade Clips for Air-Dried Style
Sectioning L-Clips, $12, Amazon
Clip hair back before blowdrying with these professional-grade styling clips that are curved to fit the contour of the head. The extruded aluminum L-clips have a stainless steel spring that grips hair and will last for years. Pro tip: Make sure you air-dry a little before blowdrying. The less heat on your wet hair, the better.
Use A Tried-And-True Protectant To Prepare Your Hair For Heat Styling
Thermal Protector Hair Spray , $14, A mazon
The InstaNatural heat thermal spray uses organic argan, castor, and sunflower seed oils to soothe frizz and replenish your hair with vitamin B5 for extra shine. The formula gets to work repairing damage your hair already has, keeping it strong for the next heat treatment. You wouldn't go out in the sun without sunscreen, so why would you blow your hair dry without a heat protectant spray?
Use A Ceramic Ion Dryer To Evenly Distribute Hot Air
Remington Ceramic Ionic Hair Dryer , $31, Amazon
The ceramic technology of this Remington Silk Ceramic Ionic Hair Dryer evenly distributes heat to your hair for a gentle, healthy blow dry. The four-times-longer life means it won't conk out on you, while a silk protein-coated grill keeps your hair soft and manageable. This is the blowdryer that won't fry the hair you've tried so hard to maintain.
Switch to This Vented Round Brush for Hot Styling
Olivia Garden Healthy Hair Thermal Brush , $11, Amazon
Metal brushes can heat up and damage hair while you blow it dry, but this Olivia Garden vented round brush will allow hot air to flow around your hair, escaping through the vent holes to shorten blow dry time. The antistatic, antibacterial brush is crafted from bamboo wood, which makes it stronger than your average detangling tool.
Seal in Shine With This Lavender & Sage Finishing Spray
Finishing Spray Natural Hold by Biosilk , $10, Amazon
Seal in shine with Biosilk Finishing Spray, which is infused with coconut oil to fight frizz and keep your hair smooth all day long. The lavender and sage extracts give a fragrant, light hold to your hair that lets it breathe, and users said it holds style in place without getting stiff. This finishing spray means you won't have to keep brushing your hair throughout the day, and that leads to less damage over time.
Use these Classic Scrunchies to Keep Wet Hair Crease-Free
Goody Ouchless Scrunchie , $6, Amazon
Refrain from tying back wet hair, but if you must, use the ouch-free scrunchies that are classics for a reason. These ones won't press dents into your hair, and this eight-pack is snag-free, which keeps your wet stands free from breakage.
Bustle may receive a portion of sales from products purchased from this article, which was created independently from Bustle's editorial and sales departments.
Images: Fotolia (1), Amazon (10)