7 Shower Mistakes That Ruin Your Hair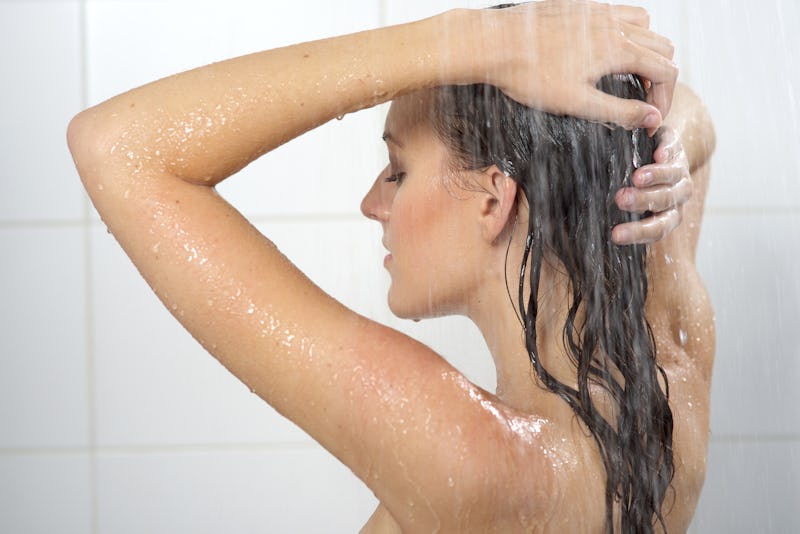 There's nothing better than a long hot shower at the end of a stressful day, provided you're not falling prey to the most common shower mistakes people make. These hair washing mistakes can actually cause serious damage to your strands, which puts a bit of a damper on the whole routine. After all, isn't your aim to emerge from the shower feeling fresher and cleaner than 2001-era OutKast?
No matter how many hours you log scrubbing or deep-conditioning your tresses, it turns out there are simple shampoo mistakes you might be making that could be throwing everything off. How to wash your hair correctly is more of an art than a science, but by keeping a few key tips in mind, you can guarantee yourself luscious locks for years to come. And it doesn't start and stop in the shower.
How you prepare your hair for a soak is just as important as the nourishing products you apply during the shower, and what you do as soon as the towel comes off can absolutely make or break your delicate strands (made even more delicate when they're fresh-from-the-shower wet). Ahead, the seven steps you can take to ensure your hair stays healthy and damage-free.
Mistake #1: Skipping Weekly Hair Masks
Even if you think you don't need it, you do: Everything from seasonal changes to hot tools can stress out your hair, so give your locks some love.
Solution: Use a Hydrating, Best-Selling Hair Mask
Professional Series Argan Oil Mask, $12, Amazon
If your showering routine doesn't include a weekly hair mask, you need to get on it: stat. This Argan Oil hair treatment is Amazon's number-one best seller because it promotes your hair's natural growth and turns dull, lifeless hair into silky, beautiful tresses.
Mistake #2: Brushing Wet Hair
Don't do it! Your post-bathing ritual is just as important as what's happening inside your shower. Water actually weakens your hair's bonds, so running a brush through when it's wet and defenseless will leave you with way more breakage and damage than if you waited 15 minutes for it to dry.
Solution: Use a Hairbrush Crafted With Wet Hair in Mind
Goody QuikStyle Brush, $9, Amazon
For the lady who knows it happens anyway, choose this wet-to-dry hairbrush that uses its microfiber sponges to soak up 30 percent of your hair's drippage while detangling hair. Not only is the microfiber antimicrobial, its thoughtful side vents mean air still gets to your hair while you brush.
Mistake #3: Conditioning Your Roots With Unneeded Chemicals
You should be applying your conditioner from the middle of your hair to the tips, while steering clear of roots. (Your scalp makes enough oil naturally to keep the roots moisturized, so adding conditioner there on top of it is overkill.)
Solution: Use A Nourishing Conditioner
Silk18 Conditioner, $13, Amazon
This best-selling conditioner contains the 18 amino acids naturally derived from silk itself, all packed into one place to make your hair shinier and easy to manage.
Mistake #4: Using Outdated Heat-Styling Tools
If you've been tight with your blowdryer since high school, it's time to graduate.
Solution: Upgrade Your Tools To Avoid Damaging Your Hair
Below are a few top-selling items to add to your toolkit!
Hot Air Brush
John Frieda Salon Hot Air Brush, $30, Amazon
If your damp locks take after the curly waves of a Victoria's Secret Angel, you can still style quick curls with this titanium ceramic coated hot air brush. This 500-watt hot air brush dries your hair, letting its antistatic bristles detangle and volumize your tresses without causing damage.
Hair Dryer
XTava Allure Ceramic Hair Dryer, $36, Amazon
Update your hair dryer while you're at it to the Rolls-Royce of hot tools. This one has three different heat settings you can toggle between in seconds, while negative ions quickly dry and seal moisture into your hairs' cuticles. Bonus: A detachable concentration nozzle fights back frizz.
Mistake #5: Keeping the Same Old Hair-Washing Routine
Some people rarely wash their hair, some wash theirs every night, and others claim it's every other day or the highway. But as long as you're addressing your hair's unique needs, there's no need to adhere to a strict schedule.
Solution: Use the Shampoo Specified for Your Hair
Fine Hair
Redken Cerafill Defy for Normal Hair, $37, Amazon
If your hair is fine and gets oily quickly, use the shampoo that won Allure's 2015 Best of Beauty Award for fine hair. This one's Zinc PCA removes the impurities that clog hair pores, while the ceramides strengthen hair and plump the hair shaft for full locks.
Curly Hair
Shea Moisture Coconut Hibiscus Curl & Shine Shampoo, $11, Amazon
If your hair is prone to dryness and breakage, one of the best-rated shampoos to try is Shea Moisture. The creamy, detergent-free formula won't dry out frizz-prone hair, and it's formulated with silk protein and neem oil, which are known for promoting healthy hair growth. Plus, the smoothing effects will clear your hair of tangles — freeing up your curls to regain their bounciness.
Heat-Damaged Hair
Triple Thread Hydrating Shampoo and Conditioner, $28, Amazon
This shampoo and conditioner duo for heat-damaged hair is a necessity if you're battling with a straightener or curling iron every morning. The hydrating formula strengthens dry, damaged hair with keratin, which repairs weakened hair follicles for completely rejuvenated hair — right at the root. It's safe for color treated hair, and it's completely sulfate-free.
Mistake #6: Not Brushing Before You Shower
Before hopping into the shower, you should really give your hair a brush through. Not only is tangle-free hair easier to clean, but by removing the broken strands from your head beforehand, you won't be fishing them out of a clogged drain later. Score!
Solution: Detangle With a Best-Selling Brush
Crave Detangling Brush, $11, Amazon
This number-one selling hair detangler features conical, super-secure bristles, which gently and painlessly work away knots. Their special design separates hair sideways, which means you're less likely to pull knots downward. When you're not yanking down, you're not ripping hair out along with it.
Mistake #7: Using Sulfates for Deeper Cleansing
Sulfates are added to shampoos and conditioner because of their deep-cleansing lathers. But oftentimes, these harsh agents aren't needed, and they can even strip your scalp of natural oils and nutrients (making it overproduce oil to compensate). Skip the chemicals to see if your hair doesn't get its kick back.
Solution: Use a Sulfate-Free Reparative Shampoo
For hair that's been subjected to dehydrating chemical treatments, this top rated sulfate-free shampoo can restore your hair to its former glory. This formula moisturizes hair with a nourishing mix of argan oil, avocado oil, and jojoba, while vitamin E and essential fatty acids soothe any irritation on the scalp.
Bustle may receive a portion of sales from products purchased from this article, which was created independently from Bustle's editorial and sales departments.
Images: Fotofolia (1), Amazon (10)