The 9 Mistakes That Make Greasy Skin Worse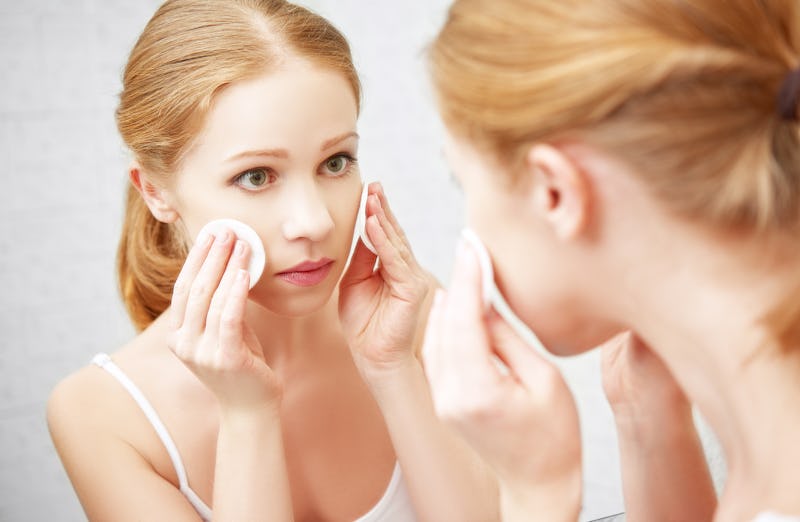 If you find yourself ducking into the bathroom several times a day to deal with oily skin, it's time to change the way you monitor your skin. No, that doesn't mean sneaking peeks at your compact mirror, instead. Your shiny skin can stem from a bunch of different causes, from plain old hereditary genes to abusing your relationship with the sun. (That's right: Baking away your skin's natural oils can actually worsen the problem — get a bronzer, already!)
Your first step will be to cut out bad habits that may be causing greasy skin. Throughout this process of trial-and-error, you'll want to keep track of your skin's oil levels while consciously choosing products made to stop shine. Oily skin doesn't have to be something you put up with every day, but you'll have to find the source of your symptoms in order to kick it for good.
Depending on what's causing these issues, there are plenty of solutions to keep shine away. From a restorative overnight mask to a vetted mattifying primer that keeps skin grease-free all day, we've found the nine bad-habit-fixers that have helped people with oily skin get back the complexions they want. Whether you're working to balance your skin's natural oil levels or fighting against acne-related shine, there's something here that can help.
Stop Forgetting to Prep: Start with This Shine-Stopping Foundation Primer
Bare Escentuals Oil Control Primer, $20, Amazon
This top-rated instant matte finish primer is free of the silicones and oils found in everyday cosmetics that leave your skin feeling greasy by lunchtime. One user said the tone-evening effects of the primer completely minimized her redness, while another said applying this primer before her foundation kept her normally oily skin completely shine-free all day.
Don't Cake Over Shine: Use This One-and-Done Oil-Control Powder
Stila Pressed Powder , $28, Amazon
Select the translucent powder that actually absorbs oil, instead of just sitting on top of it. Its finely milled powder creates a matte complexion that won't get shiny around 3 p.m., and that means no need for continuous, pore-clogging touch-ups. Pressing on layers of makeup only serves to further block pores from oil that is trying to escape, and that only aggravates the issue.
Don't Let Oil Sit: Wipe Away Shine with the Number-One Release in Blotting Paper
Momoup Blotting Paper , $10, Amazon
The newest (and number one) release in oil blotting paper on Amazon is this 100-percent Japanese mino-washi paper. Not only can you tear off the exact amount you need (no more wasting a whole sheet just for the tip of your nose), but the antibacterial fine pulp powder will absorb grease without smudging makeup. Excess oil should be wiped away — not caked over.
Don't Settle for Weak Face Wash: Target Grease with Vitamins A, C, and E
Lab Series Oil Control Face Wash , $23, Amazon
This morning and night facial cleanser is specially formulated for oily and acne-prone skin, but it's not your run-of-the-mill face wash. Packed with vitamins A, C, and E, the foamy mix means no more lathering by hand — it gently removes grime and grease without damaging delicate pores.
Resist Stripping Skin: Try A Gentle Microdermabrasion Scrub
Lavo Facial Scrub, $25, Amazon
Stop stripping skin of healthy moisture every night with a lackluster scrub. This powerful, paraben-free scrub's natural pineapple and papaya enzymes carefully clean away dead skin cells, leaving complexion fresh and hydrated from aloe vera, chamomile, and vitamin E. It's crafted without the little plastic beads that tear at delicate skin, meaning its aluminum oxide crystals work at a microscopic level, instead.
Don't Give Up on Moisturizer: Use A Seaweed Mattifying Cream
The Body Shop Seaweed Mattifying Cream, $17, Amazon
This non-clogging moisturizer is ideal for shiny and combination skin and because of its oil-free formula. The intensely renewing hydration actually comes from harvested seaweed in Ireland, which contains oil-balancing technology that won't cause breakouts. After you've washed and applied toner to your face, your skin needs the cream that replenishes washed-away moisture. (Bonus: All of these ingredients are Community Fair Trade-approved.)
Tanning Doesn't Dry Up Oil: Use An Oil-Free Bronzer Instead
Shiseido Oil-Free Bronzer , $38, Amazon
Instead of baking in the sun, even out skin tone and get a healthy glow with Shiseido's luminous oil-free powder, which produces an airbrushed finish that lasts all day. While the sun might temporarily cause oily skin to disappear, your body reacts by going into hyperdrive — pumping out even more oil to compensate for the lack of moisture. In the days to come after tanning, you'll find your skin even shinier than before. Avoid all that with this bronzer, which is adapted to suit oil-prone skin.
Stop Skipping Sleep: Indulge In An Overnight Hydrating Mask
Laneige Water Sleeping Mask , $26, Amazon
If you're not getting the full eight hours your body needs, this overnight sleeping mask can make up for lost time. By intensely hydrating skin with its fresh, light formula one or two nights a week, this moisturizing mask will leave grease-prone skin feeling rejuvenated and revitalized. It dries as soon as you apply it, and one user said this mask gives her oily skin just the right amount of moisture, in addition to a fresh-smelling scent.
Don't Be Lazy With Brushes: Use A Cleanser For All Your Beauty Tools
Coastal Scents Makeup Brush Shampoo Cleanser , $10, Amazon
Because many people's oily skin can be linked back to acne, it's best to stop shine at its source. Use this concentrated gel shampoo cleanser to keep dirty brushes and unwashed foundation sponges from irritating skin and causing acne-related shine. Safe on both real and synthetic brushes, the cleansing lather will rid your tools of all germs and bacteria that cause greasy, oily skin down the road.
Bustle may receive a portion of sales from products purchased from this article, which was created independently from Bustle's editorial and sales departments.
Images: Fotolia (1), Amazon (9)