The Top 10 Places To Find A Valentine In Your City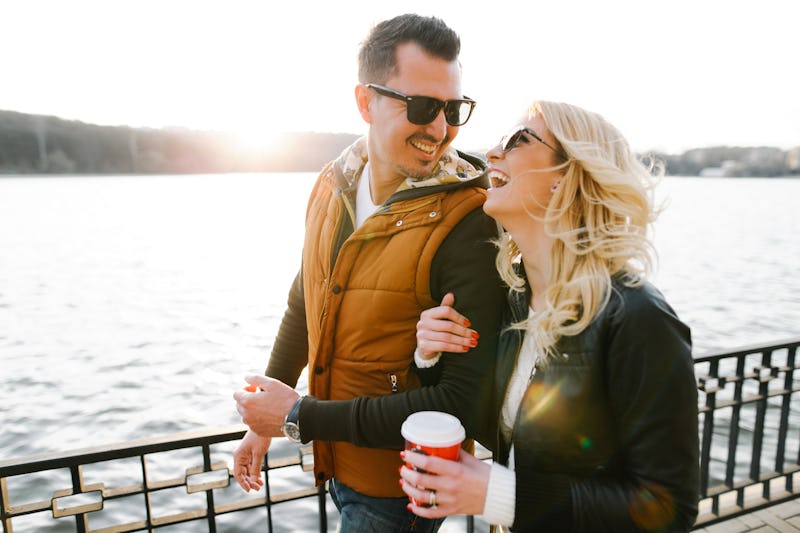 Dating apps have become one of the most popular methods for finding love. Yes, even at finding love in a city. Take Happn, for instance, an app that uses geo-location technology to connect people who are nearby (or at least within 800 feet) each other to potentially connect and find love – or sex, at the very least. This app alone has been downloaded over 12 million times, with almost 13 percent of its users residing in the United States, despite only being launched in February 2014 (and launched in September 2014 in the U.S.). Happn has mentioned they expect to reach as much as 30 million users by the end of 2016. That's a lot of love!
Based on the many connections they've made on their app, Happn has located the top 10 places to find love in our nation, just in time for Valentine's Day. As you'll see, all 10 of the areas are commuter hot-spots and host many trendy restaurants, music venues, theaters, shopping spots, and are known to be quite busy. Essentially, these results prove that the more options you have to choose from, the more likely you are to make a match.
From East coast to West, these are the most popular locales for finding love.
1. Boston: Downtown Crossing
As one of the most bustling areas during the week, it's no surprise that Downtown Crossing is the most popular Boston location for finding a potential match. Known for it's restaurants and trendy fashions, Downtown Crossing is known to cater to commuters who work downtown, meaning most Happn dates probably take place in a downtown pub after work.
2. New York City: Midtown Manhattan/Grand Central
This result suggests more than New Yorkers match on Happn in New York. A popular tourist locale, Midtown Manhattan is host to many tourist attractions – Broadway, The Empire State Building, restaurants and bars, and perhaps most revealing, Midtown Manhattan is home to the Diamond District. (Get it? Because diamonds.) Also known for hosting many commuters, Grand Central Terminal is one of the world's most visited tourist attractions in the city.
3. Chicago: River North Gallery District
Known for it's nightlife, entertainment venues, art galleries, and popular restaurants, the River North Gallery District is very much dedicated to art and design, with many upscale, interior design shops spattered amongst the city's many high rises.
4. Miami: South Beach
Of course it is! Have you ever been? One word: Beach.
5. Seattle: Union Square
Big for business, Union Square features award-winning buildings (at one and two Union Square; known for big money), a variety of luxury retail locations, "intimate outdoor spaces" (their words), and restaurants as far as the eye can see. Seattle singles: head here if you're looking for love!
6. San Francisco: Theater District
San Francisco's historic theatre district is much like the other popular Happn locales. This neighborhood, like the others, boasts theaters, restaurants, and many music venues and shops. In other words: it's artsy. It's yet another known hotspot for commuters. Evidently, commuters across the nation are spending their subway/cab/train commutes on Happn.
7. Los Angeles: Santa Monica Place
Outdoor shopping (of the up-scale, I-could-never-afford-this-stuff variety) and being just steps away from the beach is the formula for a match made in heaven for those both visiting and residing in Los Angeles.
8. Austin: Sixth Street
Texas' best known street, Sixth Street is probably most renowned for being the hub of Austin's live entertainment scene, with venues hosting almost all genres of music including: jazz, blues, and country to rock, hip-hop, beat, progressive, metal, punk, and so on. Sixth Street is also known for good grub, featuring regional staples as chili, ribs, and Tex-Mex plus steak, seafood, cajun-cooking, and deli.
9. Dallas: Uptown Dallas
Uptown Dallas is fancy-shmancy. Here, you'll find luxury residences from high-rise apartments to luxury houses, townhomes, and other things I can only dream of affording. (This also means you can find yourself a rich man! If that's what you're into.) It's also known for Dallas' hottest bars as well as "home-grown" retail. Apparently, there are no malls!
10. Philadelphia: Center City West
Like Uptown Dallas, Center City West is an upscale downtown area containing the city's shopping, financial, and museum districts. Popular attractions include the Philadelphia Art Museum, Fairmount Park, and the Benjamin Franklin Parkway. Also, a lot of singles looking to match, apparently.
Want more of Bustle's Sex and Relationships coverage? Check out our new podcast, I Want It That Way, which delves into the difficult and downright dirty parts of a relationship, and find more on our Soundcloud page.
Image: Fotolia; Giphy