Britney Spears' 8 Best Music Video Hairstyles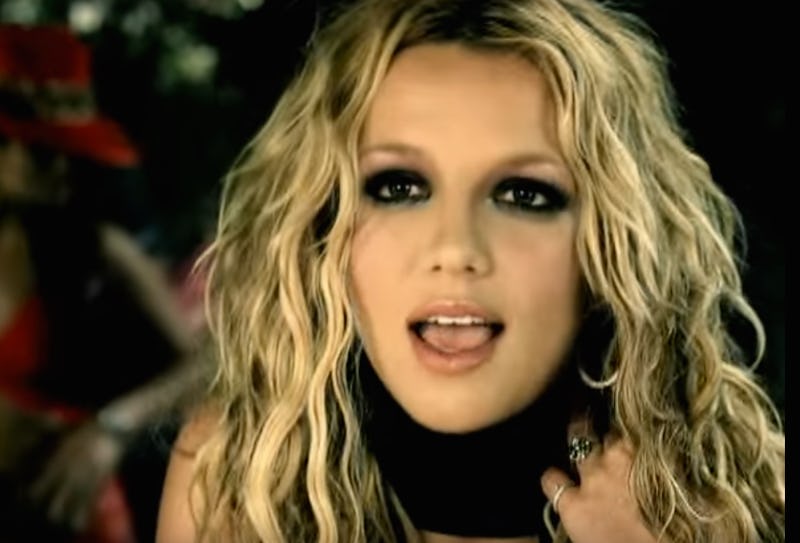 I'm a diehard Britney Spears fan, and when I was younger, she was my source of inspiration for all things style and beauty. Though her style isn't, and never really was, exactly fashion-forward, no one can deny that Brit Brit's hair and makeup game was seriously strong. Especially in her music videos. In case you've forgotten, let's revisit some of the best hairstyles from Britney Spears' music videos. Each video was so different than the last, so she gave us plenty of inspiration to work with over the years.
Waiting for a new Britney video to drop on TRL basically sums up middle school for me. She always wore the cutest outfits (with a crop top, no less), her dancing was on point, and she had seriously enviable makeup. But her hair was an entirely different story. Britney was never the "mermaid hair" type. She didn't have perfect, flowing curls and voluminous blowouts — instead, she kept her styles a little bit more edgy, moveable, and real. You know the whole "undone bedhead" thing? Yeah, Britney did that before Alexa Chung, y'all. She wasn't afraid to try out funky styles, and she somehow managed to look like the cool girl and the sex symbol all in one. But like, of course. She's Britney Spears.
It's hard to narrow it down, because she has so many next-level moments, but here are eight of the best hairstyles from Britney Spears' music videos. Let's be honest — you probably tried to recreate all of them.
1. "I'm A Slave 4 U"
This was arguably Britney's first "mature" video, and her hairstyle totally reflected her shift towards the sexier. I mean it obviously looked great, but what I love so much is that it's the kind of style you can do if your hair, like, hasn't been washed in two weeks. This isn't a style for freshly washed, soft and flowy hair. See, dirty can be totally hot!
2. "Stronger"
When Britney crimped her hair, it looked way cooler than Lizzie McGuire.
3. "...Baby One More Time"
I know the braided pigtails are classic, but this is my favorite hairstyle from the video. You wouldn't wear the pigtails in real life — I mean, even Britney was mocking them, but this half up ponytail seems to say, "I'm cute and girlie," but I'm still here holding a basketball and can shoot hoops around y'all. Take that.
4. "Boys"
When did mermaid hair replace these wild and crazy curls, because they're everything. Also, her highlights look ah-mazing in this video.
5. "I'm Not A Girl, Not Yet A Woman"
This might be one of my favorite styles. Even though this was filmed over ten years ago, the style is still totally modern, thanks to her textured, piecey layers. I'd actually bring this picture in as inspiration to my stylist now. No shame.
6. "Circus"
We rarely get to see Brit Brit channel old Hollywood, so this glam moment goes down in video history.
7. "Crazy"
The bangs! The curls! That green crop top! This video was everything you wanted to be when you were going out clubbing. (Which of course you were doing, because you were eight.)
8. "Oops! I Did It Again"
The struggle of trying to copy that crazy hair part was really, really real.
Want more style tips? Check out the video below, and be sure to subscribe to Bustle's YouTube page for more hacks and tricks!
Images: YouTube