'Wrong Swipe' Shows A Scary Side To Dating Apps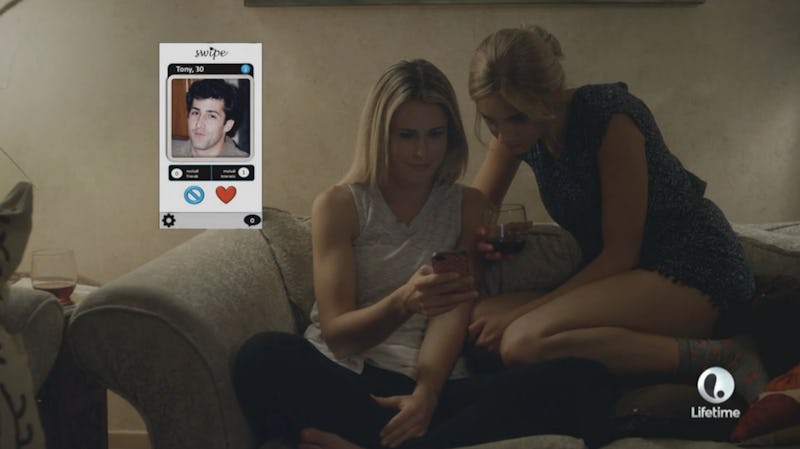 Online dating is a love hate relationship. Part of it is fun, swiping through a batch of strangers with the potential of meeting someone you connect with. Then there's the darker side to online dating, sometimes linked to privacy invasion and possibly stalking. Just in time for Valentine's Day, Lifetime is diving into the potential perils of online dating with Wrong Swipe, specifically the dangers that come with a particularly clingy "match" on the fictional dating app "Swipe." Much like Tinder, Swipe uses your phone's GPS to find potential matches for you, which is where Anna meets Pete, a charming man with a possible dark side. Before she knows it, Anna is being stalked by someone through the app. So, is Lifetime's Wrong Swipe a true story, bound to make you erase all data from you phone?
Fortunately, Wrong Swipe is not based on an actual dating horror story that has occurred in real life because of dating apps. In the film, the stalker goes to great lengths to terrorize Anna, possible even willing to "kill for love." Even though that sounds on-brand for Lifetime, the idea of online dating apps sometimes leading to inappropriate (and unrequited) horror stories has occurred in reality, though they do not match the story of Wrong Swipe specifically.
It seems like a long time coming that Lifetime would take on a dating app story, but if ever a time, it's Valentine's Day. What's more terrifying than unknowingly subjecting yourself to danger by looking for love? The story isn't based on a true story — thankfully — but there are some stories that are eerily similar to Anna's story in Wrong Swipe. One story, specifically, was told on Bustle, about one writer's experience with a Tinder match that turned very dark very quick.
In "I Had A Tinder Stalker, And Here's What It Was Like," the writer found herself matched with one particular woman who took a very quick liking the the writer, despite the writer ending their quick relationship. The Tinder match would follow the writer to her place of work, on the subway, and even show up at her apartment until the police became involved in the situation.
In a 2014 article, Tech Times wrote that it was discovered that hackers were actually able to pinpoint Tinder users by their location within 100 feet of their actual location, something most users were probably not aware of. Still, before things could take a bad turn, Include Security alerted Tinder of the problem, and now the hole has been plugged.
Even though our culture tends to use the phrase "stalker" lightly, Wrong Swipe, and real life stories similar to the movie, will probably have you rethinking that.
Images: Lifetime; Giphy