12 Galentine's Day Quotes For The Ladies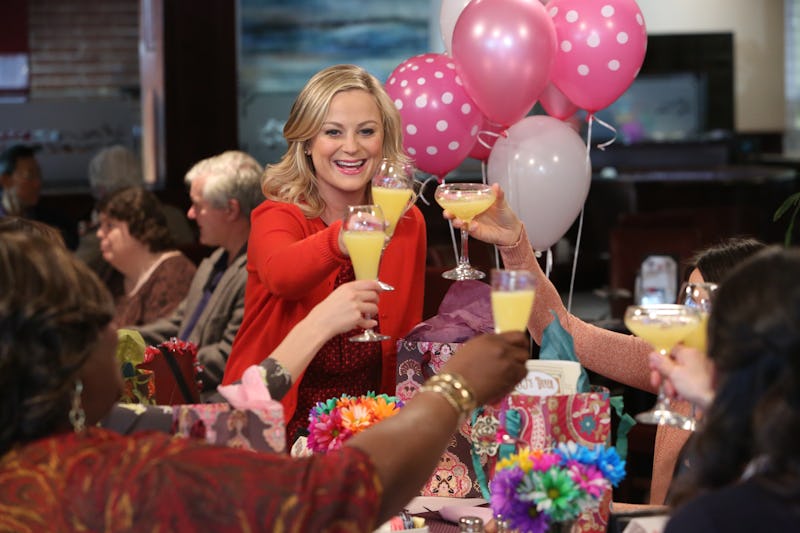 Ever wish there was a day where you could just celebrate your girlfriends for all the amazingness that they bring to your life? Well, your wish will come true (at least in the world of Parks and Recreation) on Feb. 13, when you can toast your lovely lady friends with these wonderful Galentine's Day quotes all day long. What's Galentine's Day you ask? Let me let the fictitious woman who started it all explain it:
"Oh it's only the best day of the year. Every February 13th, my lady friends and I leave our husbands and our boyfriends at home, and we just come and kick it, breakfast-style. Ladies celebrating ladies. It's like Lilith Fair, minus the angst. Plus frittatas."
Yup, that's a Leslie Knope quote, straight from one of the funniest television series ever made, Parks and Rec. While there may be some things about Leslie Knope that are a little off the wall, I have to say, girl got it right with this. Feb. 14 can be all about your significant other, so let Feb. 13 be all about those who won't leave you even if he does... your lifelong besties. Chicks before dicks, you guys. Always.
1. "You know when I feel inwardly beautiful? When I am with my girlfriends and we are having a 'goddess circle.'" — Jennifer Aniston
2. "I don't know what I would have done so many times in my life if I hadn't had my girlfriends." — Reese Witherspoon
3. "If you can find a group of women, any age, who are supportive and kind and love you, that's the best. I have a group of girlfriends that I would lay in front of a bus for. They've picked me up through really, really bad times and I can definitely say I've done the same for them." — Katie Lowes
4. "We're getting ready to take over the world. My group of girlfriends — we're renegades." — Lisa Bonet
5. "I have a reputation for being cold and aloof, but I'm so not that woman. I'm passionate. I love my girls, being with my girlfriends, getting involved with issues that affect other women and children who are suffering." — Annie Lennox
6. "Whether you're throwing up or breaking up, you want your girlfriend right there! I don't trust women who don't go to their girlfriends." — Drew Barrymore
7. "I think that it's really important to have good friends. Nowadays, you can text 24 hours a day and be in constant contact, but every once in a while, it's nice to just get out with your girlfriends and have fun." — Amanda Schull
8. "I don't know about you, but my girlfriends have been my girlfriends forever, and they're my sisters and my family." — Elizabeth Olsen
9. "Oh my God, my girlfriends are everything to me. They celebrate with you, they cry with you, they hold you when you need to be held. They laugh with you. They're mean with you! They're always there, and it's just a priceless thing to have." — Jennifer Lopez
10. "The only people you can really share certain things with in secret are your girlfriends." — Sherry Knight
11. "I still have friends from primary school. And my two best girlfriends are from secondary school. I don't have to explain anything to them. I don't have to apologize for anything. They know. There's no judgement in any way." — Emma Watson
12. "Men come and go — God knows they certainly have in my life — but girlfriends are forever. I have a lot of girlfriends but only a few very, very close ones." — Alana Stewart
Photos: NBC, Giphy (4)