Yoga Girl Has An Adorable New Goat Sidekick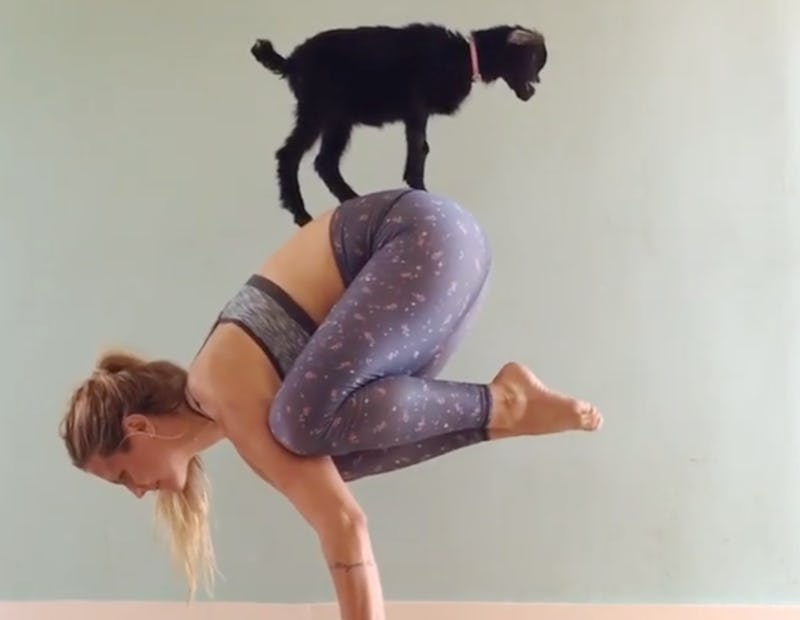 You may already be familiar with Rachel Brathen; the Swedish yoga celeb, aka, @yoga_girl, has a published book and a devoted following of 1.8 million on Instagram. But her inspirational yoga and lifestyle account just got a thousand times more adorable: Meet Penny Lane, Yoga Girl's pet goat. We've seen hilarious videos and pics of pets doing yoga before, but those have mostly been limited to dogs and cats. And although I love those ridiculous fur babies, it turns out that, in the competition for our planet's Supreme Cuteness Overlords,* baby goats win. By a MILE.
Brathen, 27, lives in Aruba, where she and her husband run an animal rescue. This past Christmas, they adopted Penny, a tiny black baby goat with an adorable underbite. "All she wants to do is sit on our laps and watch TV and climb things … and chill on the couch looking cool with her underbite," Brathen wrote in an Instagram post. "WHY DID IT TAKE SANTA THIS LONG TO GET US A BABY GOAT FOR CHRISTMAS? I'm going to be a weird goat lady now. Apparently having one goat is equivalent or eight or nine cats or so."
Penny the Goat also appears to be an aspiring yogi, if Brathen's Instagram feed is anything to go by. Many of her posts now include Penny in the background or climbing all over her. A couple of videos even show Brathen moving in and out of yoga poses with Penny on her back. I'm not sure who I find more impressive — Brathen for maintaining her focus with a goat crawling on her, or the goat for keeping her balance. I think they both might be my new yoga gurus.
Check out more of Brathen's photos at @yoga_girl. And you can follow Penny the Goat on her own Instagram feed, @penny_thegoat, because we're living in a magical future world in which goats have social media accounts.
* I want to know where this competition occurs, please, so that I might attend and worship.
Images: Rachel Brathen/Instagram