Rainbow Rowell, a YA Graphic Novelist?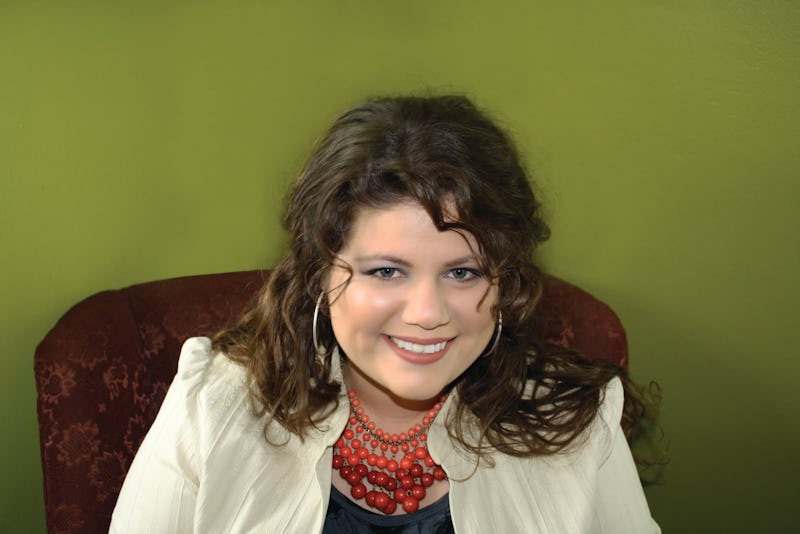 In exclusive news Thursday morning, Entertainment Weekly announced that Rainbow Rowell has signed a two-book deal to write graphic novels with First Second. This news comes on the heels of the YA author's Printz Honor award for her novel Eleanor & Park . Rowell's most recent book, 2013's Fangirl, is also quickly becoming a fan favorite, and she is expected to release her next novel, Landline, this summer.
Though there's no word yet on the theme or plots of these upcoming graphic novels, the exciting news isn't complete yet. Critically acclaimed and fan-beloved Canadian graphic novelist Faith Erin Hicks is part of the deal — she has signed on to illustrate at least the first of the two graphic novels. Hicks is a mainstay in the comic world, having written and illustrated several of her own graphic novels, including the recent spooky coming-of-age story Friends With Boys, and staying active in Internet communities. (Her movie review of Catching Fire in comic form is a recent favorite.)
Rowell herself is a comic fangirl, telling EW that she began inhaling them at age 14, when a boy on the school bus sent her home with his favorite titles. She says:
I'm so excited about it. I hope I'm good at it. If you can get good at writing comics by reading them, I'm going to be awesome.
Since the news broke, Rowell has been using social media to express her excitement about her upcoming collaboration — news she has been teasing her fans with before the EW report. In several tweets, Rowell says that both graphic novels will be new stories, not adaptation, but that she and Hicks are both busy with their personal work, so the comics may not be out for "a while." Nevertheless, both Rowell and Hicks' elation can not be contained.
Rowell brings up an important point in her emphasis on "female" in her tweet: Comics in pop culture have long been thought of as a "boys" club. In Eleanor & Park, Rowell has her female lead go on a rant about X-Men comics, which seems to echo the author's own personal feelings.
And while this perspective may have truth, there are female graphic novelists breaking into the genre every day, building stories aimed at young girls. Hicks herself is a great example, but there are several more — particularly in recent years. Here are just four worth a look.
'Drama' by Raina Telgemeier
Raina Telgemeier has been working in the comic book business for years, taking part in the graphic novel adaptations of Ann M. Martin's beloved Baby-sitters Club books. However, she broke out in the last couple of years with Smile — a young girl's story about an accident that harmed her two front teeth, spiraling her into embarrassing braces, headgear, and surgery — and even more recently with Drama. In Drama, as you would expect from the title, is about a diverse set of students putting on a school play.
'Anya's Ghost' by Vera Brosgol
Graphic novel master Neil Gaiman called Anya's Ghost a "masterpiece, of YA literature and of comics" — absurdly high praise from a king of the genre. Vera Brosgol proved she's no slouch herself with her debut story about a misfit girl who falls down a well and meets a best friend, who just happens to be a ghost. It should be noted, too, that Brosgol's novel was published by First Second, the same publisher with whom Rowell recently signed.
'Page by Paige' by Laura Lee Gulledge
Laura Lee Gulledge is able to pull her love of artistry not only onto the pages with her own illustrations, but into the pages as well, with her character Paige's drawings. Paige moves with her family to New York City, and finds herself without a sense of home or belonging, so she takes to her sketchbook to work out her feelings. The story, as you might expect, is semi-autobiographical, as Gulledge herself also had trouble transitioning to big city life, and thus created this graphic novel. Meta!
'Womanthology: Heroic'
If there's anything to prove that women can play with the men in the comic book space, it's Womanthology. With help from a Kickstarter campaign, over 140 women of all different experience levels came together to contribute to this graphic novel about... well, heroic women. There are experienced professionals, but there are also kids and teenagers who are graphic novel fans who got to add stories to this book, educating and inspiring the next generation of women comic book artists. Its sequel, Womenthology: Space , was released last year.