I Used THINX With No Backup For Three Periods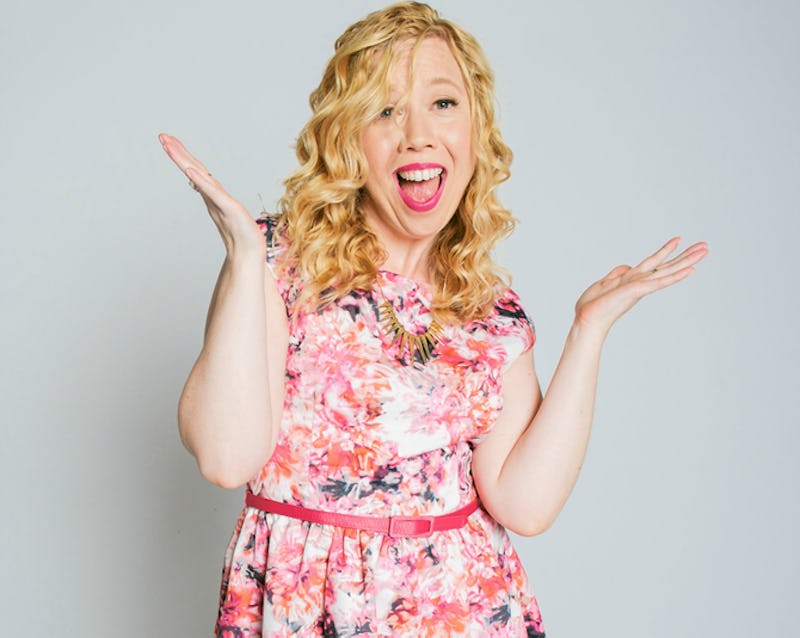 I will never forget the first time I switched from pads to tampons. I was at a junior high basketball camp, and I had a gusher. For days, I tried to stick it out with big, bulky pads taped to the inside of my underwear. But with all the running involved in basketball camp, my inner thighs were rubbed raw and the pad morphed into a lumpy mess. I caved, making the awkward transition from pads to tampons and never looking back. That is, until I came across THINX Period Underwear. These normal (cute, even!) pairs of underwear claim to be able to catch your period while keeping you clean, dry, and stain-free — potentially without even the use of tampons or a cup as backup.
It seemed too good to be true, so I decided a test was in order. I bought two black pairs of their hiphugger undies, which claim to hold two tampons' worth of blood, and one pair of black sport-style undies, which hold one and-a-half tampon's worth.
THINX Hiphugger, $34, THINX; THINX Sport, $32, THINX
On the first day of my next period, I pulled on my new pair of hiphuggers. No tampon, no pad — just the THINX undies. I was free-bleeding and nervous. Like, check-my-butt-in-the-mirror-every-hour nervous, because on heavy days, I've had to change my super tampons every three hours.
Ten hours later, I was dancing up and down. The underwear worked. In fact, the underwear more than worked; the one pair lasted 10 hours! On a day when I would have normally gone through three to four super tampons, I just wore one pair of hiphuggers. In that moment, I decided to do a real test. I would wear the three pairs of THINX underwear for my next three periods. I wouldn't use tampons or pads of any kind to supplement them. Then I'd give an honest report on my experience. Here's what I learned.
1. They Really Hold Up, Even On Your Heaviest Days
My two pairs of THINX hiphuggers survived nine "super" period days, with no backup, over three months. In fact, they more than survived. They rocked it. Sometimes they only lasted 10 hours before I started to feel damp. However, most of the time, they lasted a full 12-14 hours. At first, I couldn't figure out how that was possible — especially since I was used to changing my super tampons every three to four hours. But I couldn't deny the evidence.
2. Washing And Drying Them Isn't As Hard As You Think
THINX's website says to soak the THINX undies in cold water, then run them through the delicate cycle of your washing machine, and then let them line dry. Now, I only had three pairs. If I wanted them to last all seven days, I was going to have to wash them a couple times during the week. Add in my sweaty runs, and I was washing them every night.
Personally, I found that if I soaked them in cold water for five to 20 minutes then threw them in the delicate cycle, it would take them eight hours to dry on my drying rack. So I washed two pairs between dinner and bed (while wearing the third), then the two clean pairs were ready to wear the next morning. Not bad — though I began salivating at the thought of how easy it would be with seven pairs.
3. I Don't Have To Remember Tampons Anymore
Like all the underwear you've ever owned, you have to wash your THINX undies. But the work of throwing them into the washing machine has paled in comparison to the freedom from the tampon box. Sure, during my first period testing THINX, I worried about having a backup pair of undies with me, or bringing a tampon — but I never needed them. If I wasn't going to be gone from my apartment for more than 10 hours, I was in the clear, even on my super days. So I stopped worrying about buying, having, carrying, or swapping tampons. It has been true mental and physical freedom. Plus, no more worry or risk of toxic shock syndrome!
4. I Can Wear Them When I'm Running
My basketball career never took off, but my running career did. I was a high school New England Cross Country Champion, and I continued to run in college. As an adult, I've continued the running routine. So I needed to know that these underwear were going to hold up. (And let's not forget that I secretly wanted revenge for my horrible basketball camp period trauma.) THINX came through for me. After my regular five-to-seven-mile runs, I didn't have any leakage issues. I didn't ruin them with my sweat (and trust me, I sweat), and I didn't stretch them out. Take THAT, basketball camp!
5. They Actually Keep Me Clean And Dry
Once I slipped THINX on, I didn't feel a thing. I didn't feel like I was sitting in a puddle of my own blood, even after 10 hours. I didn't feel like I was wearing a diaper, or even a pad or pantyliner. I felt clean and dry, like I was wearing any pair of hiphugger underwear. Even better, this clean and dry feeling has continued, despite multiple washes and uses.
6. They Are True To Size
It's always been a gamble to shop online for clothing. Will the item really run true to size? I've been a size 10 most of my life, so depending on how things are made, I vacillate between a size eight and a size twelve. Based on the THINX sizing options, I had a choice between the size six-to-eight mediums or the 10-12 larges. I decided to purchase the two hiphuggers in the large and the one sport style in the medium.
The first time I put on the large hiphuggers, they felt snug. Not too tight, but snug. Since then, they've loosened a touch to feel like I'm slipping on a normal pair of underwear. But they haven't stretched out — they've kept their shape and absorbency. The medium sport pair also fit — however, the cut of the underwear was higher than I would have liked. It may have been designed that way to be cute, but personally, I attribute it to the fact that I had ordered them a bit too small.
Fortunately, THINX has also provided measurements for each pair. If you haven't measured your hips in the last three months, do it. Doing so hasn't always brought up my favorite number, but you'll be happy when your period underwear fits!
7. They Make Me Feel Like A Do-Gooder
The underwear is pricey (the hiphugger model is $34 a pair, though you can get a discount for buying in bulk). Fortunately, when I made the investment, I knew it wasn't only benefiting myself and the company.
When you purchase a pair of THINX underwear, a part of that purchase goes to their partner organization, AFRIpads, in Uganda. The organization has trained women to sew and sell washable, reusable cloth pads, turning local women into entrepreneurs. This has allowed girls to purchase an affordable and sustainable pack of pads, keeping them in school every day of the month. I felt good about my investment because I was supporting the work and education of other amazing women.
8. They're In It For The Long Haul
So far, I have been thoroughly impressed with the quality of the THINX undies. I used my three-pack for three months straight. This meant using each pair at least six to eight times, if not more, depending on how frequently I exercised during the week. They've passed my test, and I'm proud to announce that I just ordered enough to give me a full week's set. I can't wait to get them in the mail. I've decided it's worth the investment, and look forward to washing them only once a week!
Want more women's health coverage? Check out Bustle's new podcast, Honestly Though, which tackles all the questions you're afraid to ask.
Images: THINX (2); Molly Rider (6); Kat Harris Photography (1)