7 Teas For Hydrating Dry Skin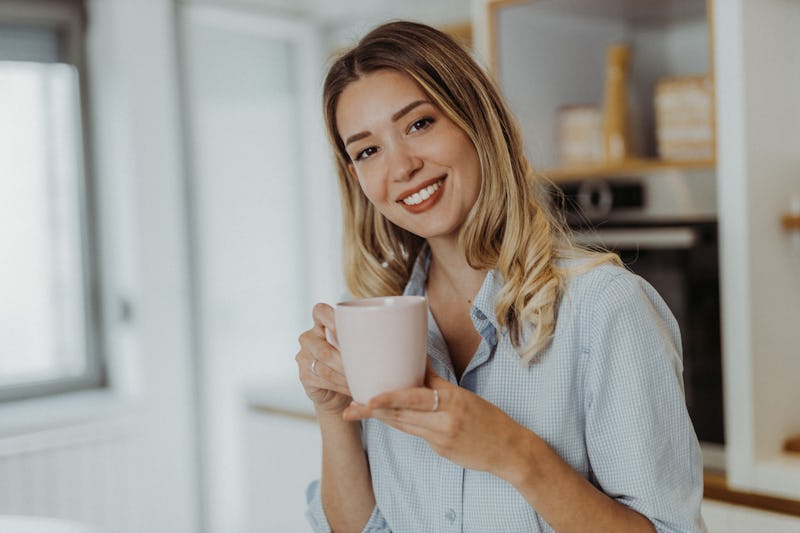 milan2099/E+/Getty Images
It's no secret that winter weather can be harsh on your body, and sometimes it takes more than just a good moisturizer to keep your skin from getting dry and itchy. When you're looking for a way to warm up and give your skin a boost, consider sipping one of the teas for hydrating dry skin below. Who knew loving on your skin could taste so good?
Word to the caffeine lovers out there: Sadly, coffee will not have the same nourishing effects on your skin as tea. Even though coffee has beauty benefits worth acknowledging (who would ever turn down a skin-brightening face mask with ground coffee?!), sipping it too much can cause damage. Specifically, one too many cups of coffee can lead to dehydration, inflammation, and collagen loss. Bummer.
When you need a coffee detox, teas can be a great alternative. And the teas below feature specific ingredients known for their skin-hydrating abilities. Pair a cup of tea with a DIY moisturizing face mask and your skin will be hydrated and glowing in no time.
Just because gray winter clouds are hiding the sun doesn't mean your face can look and feel bright and healthy!
Kenko Matcha Powder, $29, Amazon
According to MyBeautyBunny, green tea can potentially cause "increased elasticity, less roughness, and higher moisture content [in skin] ... Green tea has amazing anti-inflammation properties as well, so drinking it can also benefit people with psoriasis, eczema and rosacea."
Guayaki Yerba Mate (12 Pack), $37, Amazon
Women's Health Mag shared, "[Yerbe Mate] is loaded with antioxidants, which help prevent and repair skin damage caused by free radicals ... It contains a long list of vitamins, minerals, and antioxidants, including vitamin B, vitamin C, manganese, potassium, and zinc." I think I know what I'll be sipping next.
Yogi Skin Detox Tea, $7, Amazon
Yogi Teas' makes a "Skin DeTox" tea packed with burdock and yellow dock root to alleviate dry skin, along with rose petal and hibiscus to help clear skin. Noms.
Traditional Medicinals Chamomile Tea, $7, Amazon
As seen in MyBeautyBunny, chamomile "has natural anti-inflammatory properties, and is wonderful for red, dry skin and eczema."
Traditional Medicinals Nettle Tea, $8, Amazon
Herbalist Susan Weed told Livestrong that nettle leaf tea is "rich vitamin and mineral content, including most B vitamins, vitamin K, selenium, zinc, chromium and boron, [which] firms and clears the skin." Yes, please! P.S. Fresh nettle leaf can be poisonous so don't go picking any, but dried nettle leaf is totally harmless to touch and you can sip safely!
Harney & Sons Pumpkin Spice Rooibos, $8, Amazon
With it's full, earthy flavor, rooibos is a popular caffeine-free tea choice, and also has major skin benefits. It's packed with alpha hydroxy acid and zinc, both of which can help smooth out dry, uneven skin.
Traditional Medicinals Dandelion Tea, $7, Amazon
Sweet and grassy, dandelion tea has antibiotic properties that can help soothe the itching and irritation associated with psoriasis.
Images: milan2099/E+/Getty Images; Courtesy of Brands