The Machos Are Back! And They're Showboating!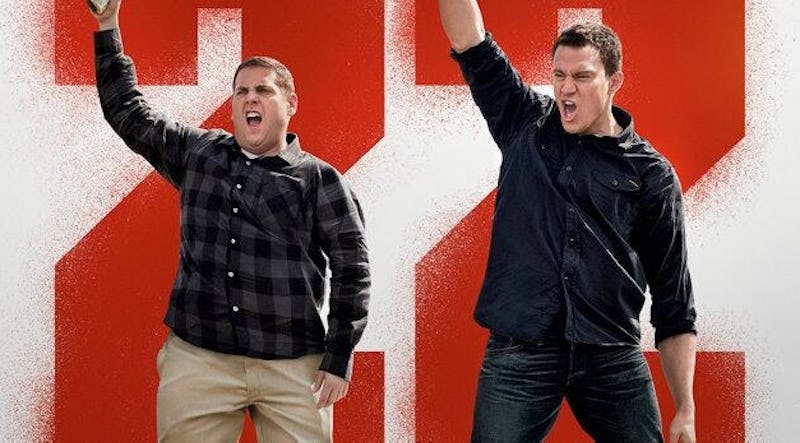 Alas, this is not a day in which we're getting another stunt like that time Channing Tatum tried to replicate the Jean-Claude Van Damme splits. But it is a day marking the release of the official 22 Jump Street poster, and, well, I guess that's something?
22 Jump Street doesn't come out until June 19, but the promotional team's gotta find some way to fill the time until the actual press tour kicks into gear, so poster it is. It's about as much macho showboating as you'd expect, with Tatum and Jonah Hill standing on a very expensive car and waving guns in the air.
In case you missed it the first time around, here's the film's synopsis:
After making their way through high school (twice), big changes are in store for officers Schmidt (Hill) and Jenko (Tatum) when they go deep undercover at a local college. But when Jenko meets a kindred spirit on the football team, and Schmidt infiltrates the bohemian art major scene, they begin to question their partnership. Now they don't have to just crack the case - they have to figure out if they can have a mature relationship. If these two overgrown adolescents can grow from freshmen into real men, college might be the best thing that ever happened to them.
I'm gonna go out on a limb and say they can and will mature by the end of the film, but y'know, not enough to rule out a threequel.
You can see the full poster below, followed by the trailer. Meanwhile, I'm still waiting for somebody with photoshop skillz to see the potential of mocking this up with a certain legendary actress under the name 22 Jump Streep.
Image: MGM