I Used a Vibrator Today For the First Time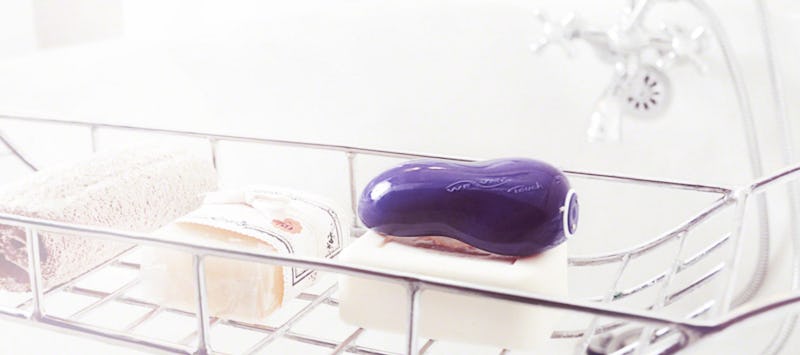 The year is 2003. I'm watching the underrated spoof flick Not Another Teen Movie, and it's the scene where the protagonist Janey is watching She's All That starring Freddie Prince Jr. Janey grabs her terrifying, foot-long vibrator, turns it on, and eases it under the covers. As soon as she starts getting off — with the standard bedpost-clutching, eye-rolling, moaning — her dad and little brother enter the room, followed by her grandparents, who are carrying her birthday cake. It gets worse. Her local priest pops in, bringing along several young children with whom she volunteers. The scene ends with her dog tugging away the sheets, which inexplicably causes her cartoonishly writhing vibrator to shoot up into the air and, of course, land tip down in the cake, splashing icing on herself and her wholesome visitors.
I never really thought this would happen to me if I used a vibrator. But for some reason, I never got around to buying one — until the spring of junior year in college, which marked the beginning of my first "Books over Boys" era (when I vowed to stop caring about boys and replace them with books). Naturally, I needed an "intimate massager" to help me ease through the transition. So, I went on Amazon, treated myself to the third cheapest model I could find, and waited. And waited. A month later, the vibrator still hadn't come. Supposedly, it got "lost in the mail." This was not part of God's plan, I decided, and resumed pleasuring myself the old-fashioned way.
Fast-forward to 2014, and I've once again vowed to replace the time and energy I devote to boys with literature, art, and chocolate chip scones. It felt absurd to me that, as a 23 year old who writes publicly about sex, I had never used a vibrator. It was time to try again. I settled on We-Vibe's Touch, which was the least terrifying to me of all the models. Rounded, relatively small, and not shaped like a confusing creature, I figured this would be my perfect first-time love toy.
We-Vibe Touch, $51, Amazon
The vibrator arrived and I signed for it, eyeing the disinterested USPS guy. He knows right?! He knows what it is. I nervously tore open the package and prepared myself emotionally, which involved turning off MSNBC, taking a few deep breaths, and eating a slice of pizza. I eyed the instructions and, dammit, it had to charge for 90 minutes first.
One episode of The Wendy Williams Show — and a half hour of pacing — later, I grabbed my new purple friend and settled in bed. I applied a little of the personal lubricant, which came in the package, and turned on the buzzing. My initial reaction? Mmmm.
What made this particular toy pretty perfect for a first-time user like myself was its delightful versatility: the curved, spoon-like shape of the tip gave me a bunch of options for how to position the toy on or near the clitoris — initially, I had to do some exploring. There were eight different vibration modes, from "pulse" to "cha-cha" to my personal favorite, "wave," which provided intense, undulating vibrations. Even the lowest vibration setting was amazingly powerful and brought me to orgasm.
Also: Holy Jesus. Holy Jesus, yes.
The toy came with a "discreet carry bag" so I can theoretically bring it with me wherever I go — I won't say I'm quite ready to bring this show on the road, but honestly, anything could happen.
My initial hope was to eventually graduate from this simply-shaped, clitoral massager to one of the more monster-like ones — such as the new "Ultimate G" vibrator, which promises "third level orgasms" — but I don't know if that will be necessary.
And, I'm nowhere close to abandoning my trusty fingers. There are still many benefits to taking care of things manually — clearly, you have way more control over your hands than a handheld machine. Plus, you don't have to take the time to repeatedly press a button to scroll through vibration settings, nor do you have to charge your fingers. Also, if you're masturbating in your bedroom and a priest happens to enter, it's much easier to terminate the whole operation when there isn't an unwieldy phallic object involved.
When it comes to getting off, I am pro-choice — I firmly believe that women should have as many orgasm-inducing options at their disposal as possible. Which is why I'm so, so glad I got over my stupid vibrator complex.
Now, if you'll excuse me…
Images: We-Vibe