8 Drink Ideas For Your Oscars Party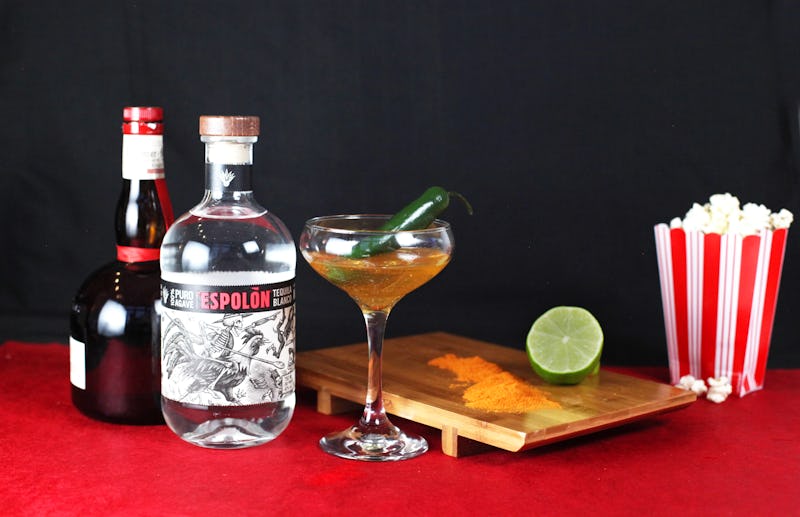 The Oscars are fast approaching, and with just a short stretch left until the Academy rolls out the red carpet, you may be using your procrastinatory energy to plan your Oscars party. Before you make up your mind to ply your guests with two buck-Chuck (god love him), you should probably check out these genius Oscars party drink ideas from Minibar, an app that will deliver beer, wine, and even liquor to your door within one hour. That's right people, we've got a full bar of grownup drinks to celebrate the best movies of 2015.
While the attendees at the Oscars have to sneak their drinks in tiny flasks and booze tubes (I mean, I'm guessing — weirdly, I've never been invited), you and your guests can live it up right out in the open, like it's the Golden Globes. There are cocktails celebrating everything from the witty space-nerd drama The Martian to the hard-hitting Rocky universe reboot Creed. Pick the drink for your favorite Oscar-nominated flick, cheers, and hope your movie gets the glory it deserves.
But the best part is, you don't even have to go to the store to pull of this feat. Minibar will bring the good stuff to your door, assuming there is someone over 21 present to sign for the delivery, that is. So, let's check out the menu.
1. The Chris Rocktail
The perfect combination of well dressed sophistication and penetrating juvenile humor, this simple drink combines Cristal champagne and rock candy for garnish. Just pour into a champagne flute and enjoy the hilarity.
2. The Revenant
This drink is served ridiculously cold, much like Iñárritu's latest Oscar contender of the same name. And the best part is that no animal carcasses of any kind are required to produce this cinematic beverage.
1/2 cup of Rogue Dead Guy Ale
2 tbsp. bourbon
1 tsp. Southern Comfort
1 tsp. maple syrup
Mix ingredients into a cocktail shaker. Pour into a frosted Old Fashioned glass, and garnish with blackberries.
3. The Martian Sunset
You can go ahead and get really excited about the science behind this twist on the popular tequila sunrise. You can also make these blended with ice, so that it's as cold as the nights on Mars, if you're feeling ambitious.
1 1/2 oz. Malibu Coconut Rum
1 oz. Anejo Tequila
4 oz. pineapple juice
Splash of lime juice
Dash of Grenadine
Mix rum, tequila, and juices in a cocktail shaker. Pour into a martini glass. Then pour in Grenadine until it changes color. Let separate, and serve.
4. The Brooklyn
You'll fall in love with this. It's the simplest cocktail on the list. First, you take a shot of Jameson, then chase it with a swig of Brooklyn Toasted Lager. It will remind you of those late nights out in 21st Century Brooklyn.
Brooklyn Toasted Lager
1 oz. Jameson Irish Whiskey
5. The Bridge of Spies Double Crosser
This cocktail might not look all that exciting at first glance (like a certain Oscar movie), but it brings a strong performance to a classic genre (you're welcome, Tom Hanks).
3 oz. Double Cross Vodka
Oranges
1 oz blueberry syrup
Thyme
Muddle thyme, oranges, and blueberry syrup into a cocktail shaker, and then add Double Cross Vodka and ice. Shake and strain into a martini glass, and garnish the glass with three blue cheese-stuffed blueberries and oranges.
6. The Big Short
Holy cow, this cocktail is a stiff one. Much like its cinematic inspiration, you'll learn a lot about the world you live in after just one taste. I recommend saving all talk of collateralized debt obligations and mortgage backed securities until after at least one of these bad boys.
1 oz. Fireball Whiskey
1 oz. Bacardi Rum
3 drops of Tabasco hot sauce
7. The Mad Max: Fury Road
If you're looking to jump right into the drinking without any waiting around or exposition whatsoever, have yourself a glass of this desert-friendly adaptation of the margarita. Plus, Tom Hardy seems like the kind of guy who likes his margaritas spicy.
1/2 oz. agave nectar
1 pinch Cayenne pepper
2 oz. Espolon tequila
3/4 oz. lime juice
1/2 oz. Grand Marnier
Garnish with chile
Mix liquid ingredients in a cocktail shaker with ice. Pour into a glass and sprinkle with Cayenne pepper. Garnish with a chile.
8. The Creed Punch
Get it?! The Creed Punch?! That one gave me a good dad joke-style chuckle. But honestly, this drink sounds so delicious, somebody should go up on stage to accept that Creed just won the whole Oscars right here, right now.
1 bottle of Brut Champagne
6 oz. brandy
6 oz. cointreau
2 cups sparkling cider
Slices of oranges
Slices of pineapple
Don't forget to let the fruit marinate in the punch before serving in a punch bowl over ice.
For more ideas, check out Bustle on YouTube.
Images: Courtesy of Minibar