11 Books A Stars Hollow Book Club Would Read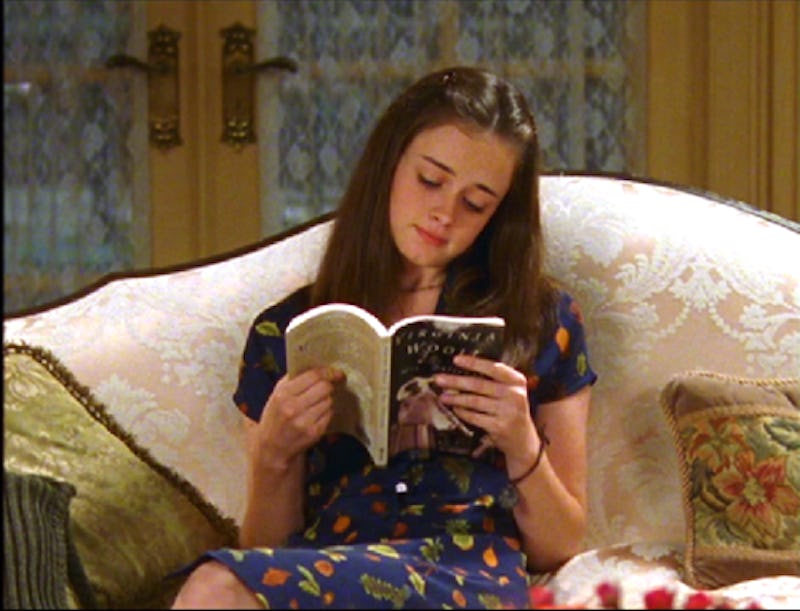 With news of the Gilmore Girls revival in a whirlwind around us, everyday brings new insight. Jess, Dean, and Logan are back, but Melissa McCarthy is not (cue ugly crying). It's a mix of emotions that can only be remedied by binge-watching all the seasons until it's finally back.
Or! Of course, you could always pull a Rory and speculate what the folks of Stars Hollow might be reading these days. We know Rory was the reader, obviously, but who's to say she was the only one? I'm sure Taylor likes some good historical fiction, Miss Patty surely likes a steamy romance every now and then, and Sookie would totally devour a quirky comedy. Actually, between Rory's love of books, and Stars Hollow's obsession with all things discussion, it's pretty surprising we were never given a book club episode of our favorite small town show.
Luckily, there are people like me who can't help but think about these things. The outbursts, the insane tangents the Stars Hollow book club would go off on? It would be hilarious. Plus, that's not to mention the amazing food Sookie would no doubt bring. Sign me up! Since I'll never (to my immense disappointment) live in Stars Hollow, I put together a list of the books I think my fictional friends would read (and definitely argue about). Here are 11 books the Stars Hollow book club would definitely read.
Chosen By: The Group
Gossip, drama, hilarity, and a mystery all rolled into one? Liane Moriarty's bestseller would be a unanimous choice for the Stars Hollow gang. Lorelai and Rory would be on board for the sarcasm of Madeline and her daughters, every one could find something to laugh about — Even Taylor and Luke, though they'd never admit it. This is a great book for a fun discussion, and would no doubt be a hit in Stars Hollow.
Chosen By: Rory Gilmore
Rory will try to bring the group back down to reality when the discussion tangent goes too far, and her selection will come as no surprise. A classic, she would argue, as everyone else rolled their eyes. There's no better place to start Virgina Woolf than Mrs. Dalloway, and because it takes place all over the course of one day, it's the perfect length for a book club read. This one might even strike a chord with special book club guest Emily Gilmore. Her life is actually pretty similar to Mrs. Dalloway's, when you think about it!
3. Hausfrau by Jill Alexander Essbaum
Chosen By: Miss Patty
This book has everything that would make it a hit with Miss Patty: an affair, family drama, a headstrong woman that just got a little lost. Hausfrau would be a surprise hit for the rest of the group, too, because the storyline moves quickly and the writing is gorgeous. There would be plenty to discuss with this one too, given the nature of it, and the unlikable characters throughout.
Chosen By: Sookie St. James
This book will come as no surprise to anyone who knows Sookie. A close-knit small town, a book named after food, and is full of characters a lovable as she herself is. Because she won't be in the revival, this is a must-read for Sookie fans everywhere. It would be a hit for the Stars Hollow book club for obvious reasons, from the small town focus, the quirky characters, and of course, the amazing recipes.
Chosen By: Lane Kim
Of course Lane will choose a book about an amazing girl in a band. Though she lived out her dream to be a musician as best she could throughout the series run, Lane can never get enough music — what better way to share that with her fellow Stars Hollow readers than through Kim Gordon's Girl in a Band? Lorelai will be on board because any powerhouse woman is already her jam, and even the guys would find a new favorite in this one, I'm sure of it.
Chosen By: Kirk
Kirk would for sure have a completely outlandish choice, and The Library at Mount Char would be the perfect book for him to share with the book club. The first sentence of the summary of this one could almost be used to describe Kirk himself: "Carolyn's not so different from the other human beings around her. She's sure of it." The Library at Mount Char is a novel about a missing God, a library with secrets to the universe, and people who are pretty sure they know what it means to, you know, be a person. It's totally up Kirk's alley, and after some warming up, will find a spot in the minds and hearts of the rest of the town too. Kinda like Kirk.
Chosen By: Paris Geller
Not to be outdone by Rory's highbrow pick, Paris would no doubt choose something thought-provoking too. Chimamanda Ngozi Adichie's TED Talk turned short work of nonfiction would be an easy choice for Paris, and she would without any question, dominate the conversation of that particular meeting.
Chosen By: Luke Danes
Don't be fooled. I know, the cover looks like it comes straight from the opening credits of a Gilmore Girls episode. But alas. Richard Russo's Pulitzer Prize winner is set in a small town in Maine, and features Miles, a guy who runs the town diner, and all the quirky characters that come through. It has as much heart and wit as Gilmore Girls itself, and Luke would argue all night that he totally didn't pick it because it focuses on a guy in a diner. But of course, everyone would know better.
Chosen By: Lorelai Gilmore
Lorelai would take the longest to decide which book to read because, like, it's a lot of pressure, having everyone read something you picked out. It would be a coffee-fueled book club meeting, but Lauren Fox's Days of Awe would strike a chord with Lorelai, with its focus on a mother who is just trying to figure things out as she goes. There might be a wet eye or two in the bunch, and not just Lorelai!
Chosen By: Taylor Doosey
He's a war re-enactor, and he stands by it, even in the snow. Did you really think he would choose something unrelated to a war? Luckily, Tim O'Brien's The Things They Carried is a beautifully heartbreaking collection that will get everyone engaged — that is, if they can get a word in.
Chosen By: Dean Forester
Let's face it, Dean would come to the book club to impress Rory, and his choice would totally reflect that. Pride and Prejudice is a classic, and he wants to look like he knows his stuff. It's also one of the most romantic books of all time, which is a bonus. It'll work because it'll get everyone talking — even if it's not just about the book.
Image: Warner Bros.