Will Jess & Dean Be Rivals Again?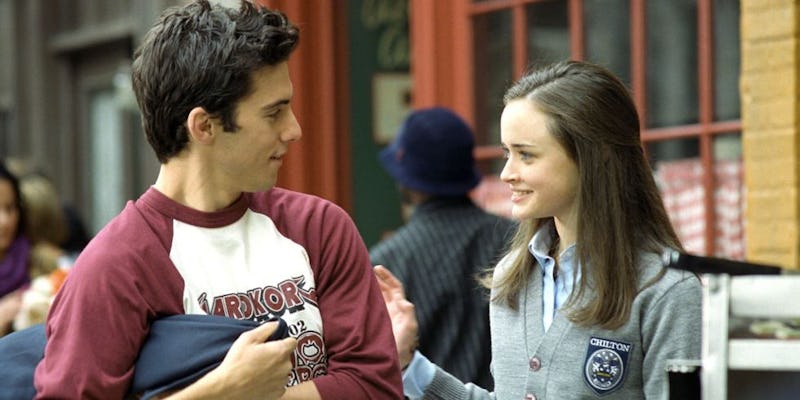 There are few love triangles that people are as passionate about as the one between Dean, Rory, and Jess on everyone's favorite small town soap Gilmore Girls. The ironic part of the continued passion for this love triangle is that, at the end of the day, Rory ended up with neither Jess nor Dean. Technically, Rory ended up totally single when Gilmore Girls ended, but that was only after denying the proposal of her final boyfriend on the show Logan, a guy for whom there is little love for from fans. Now that Netflix is reviving Gilmore Girls for a new season on the streaming site, fans had to wonder if a romantic triangle would come back into play. It turns out that's even more likely than we thought, because Dean, Jess, and Logan are all coming back to Gilmore Girls — and there's a real chance that a rivalry could be brewing.
Gilmore Girls fans know that while Rory's college guy Logan brought some "meh" romantic drama, the real love stories were always between Rory's two high school love interests. Dean was Rory's first love, the guy that you totally wanted to bring home to mom mostly because he projected the perfect level of earnestness. Then there was Jess, Luke's "bad boy" nephew who charmed Rory with his love of books and aloof nature. Jess wasn't always perfect (hence the "bad boy" title) but he did respect Rory and connect with her on a deeper level. Of course, Rory and Jess' intimate connection sparked when Dean and Rory were very much together, thus the commencement of the infamous love triangle.
So will Rory find herself in the middle of yet another love triangle when Gilmore Girls hits Netflix? I wouldn't be surprised if the Netflix revival brought back old tensions — especially now that these former romantic rivals are sharing the screen with one another after so many years. Dean left the series in Season 5, whereas Jess didn't appear in Season 5 at all. However, Jess did return for two episodes of Season 6, and shared a kiss with Rory before Rory returned to her (not as interesting) Yale boyfriend Logan. It's been forever since we saw Dean and Jess duking it out over Rory, but maybe the stars have finally aligned in Stars Hollow for one less battle for Rory's heart. According to creator Amy Sherman-Palladino, Rory will be single but dating when the series picks up again, which might be one big hint at Rory having a few potential suitors on the horizon — perhaps suitors plucked from her past.
Of course, Rory shouldn't have to put up with two dudes fighting over her — she's perfectly capable of choosing a suitor without all of the complications. Still, we can't pretend that a Netflix revival isn't about giving the fans what they want — and what most of us want is a proper conclusion to the Dean/Jess question. That includes this fan: in my mind, there were only ever two good options for Rory, and it's hard not to hope that the show will dust off this love triangle. As for Logan? Well... a cameo is really all I need.
Images: WB; Giphy