Why People Are Giving Cannabis To Pets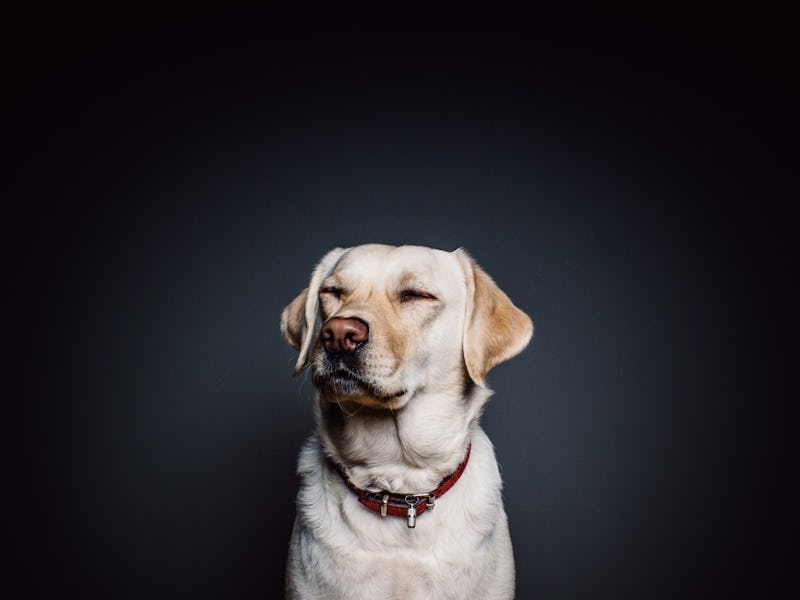 When her border collie, Ruby, was diagnosed with advanced and inoperable brain cancer, Dina M. was devastated. "I could see how unhappy she was. She became inactive and didn't want to eat," Dina tells Bustle. "I couldn't just stand by and let her suffer." The painkillers weren't working. But as a recent cancer survivor herself, she knew what might help her dog: cannabis.
Though Dina had originally been a skeptic of medical marijuana, when she had cancer herself, she says that, "cannabis made the difference between fighting for my life and actually living. I went from being incredibly weak, having seizures, unable to handle the pain of bright light or touch and being unable to hold down food, to starting to enjoy music, pets, foods, and sunlight."
Though Ruby's cancer was terminal, Dina imagined cannabis might offer her pet similar relief. "After my own experiences, I started wondering if cannabis might ease her pain, if nothing else. I knew that dogs have cannabinoid receptors, although the dosing is a fraction of what humans use." She did her research, and since she was still growing marijuana at home at the time as a medical patient, she made a very low dosage THC-infused olive oil for Ruby. "I put a few drops on her favorite snacks, and hoped for the best."
The results, she says, were immediate and dramatic. "She regained her mobility, her appetite, and her affection. We started back up on our walks, and resumed our post-work cuddle time. She became playful and relaxed, carrying around her toys and exploring the house like she used to. While her cancer was too advanced to cure her, I'm thankful that cannabis gave her back her enjoyment of life while she was still here. What a gift — to not have to just stand by helplessly when someone I loved was hurting."
Just like us, dogs and cats have cannabanoid receptors that respond to CBD, so it follows that they would also respond to its potentially medicinal properties. Unfortunately, there isn't much research to be found on pets and cannabis to back that hypothesis up. A study published in 2013 in the Journal of the American Veterinary Medical Association found that cat, dog, and horse owners who used cannabis to manage their pets' pain and terminal illnesses reported that the treatment worked better for the animals than traditional prescription pain-killers, but that's hardly definitive.
Some traditional veterinary practitioners are skeptical. "There is no evidence to support its use [on pets] for any indication," David Bruyette, medical director at VCA West Los Angeles Animal Hospital, recently told LAWeekly . "Studies are simply not there to suggest it has any proven positive effects." Other vets have come out in favor as CBD as a potential treatment for sick pets.
It's important to note that while Dina did give her dog an oil with THC, most medicinal marijuana companies now marketing to pet owners are producing CBD oils with only a small amount of THC — meaning the animals aren't usually "getting high"off of them. (The small amount of THC is needed for appetite stimulation, to fight the cancer, and to bind to the receptors.) CBD is one of the over 60 types of cannabinoids found in cannabis, and while it doesn't produce a high, it contains several potentially medicinal properties. According to a 2013 review published in the British Journal of Clinical Pharmacology, CBD was found to do all this (and some proponents of medical marijuana claim, more):
But even in states where medical marijuana is legal, vets are not allowed to prescribe cannabis to treat pets. According to Alison Ettel, founder of the medicinal cannabis company Treatwell, the law for owners treating pets exists in a "legal grey area." While an animal can't get a medical marijuana card, Ettel says the human with a card can act as a "caretaker" for the animal, and purchase the product that way. The law in California, where Treatwell operates, implies otherwise: "Section 11357, relating to the possession of marijuana, and Section 11358, relating to the cultivation of marijuana, shall not apply to a patient, or to the patient's primary caregiver, who possesses or cultivates marijuana for the personal medical purposes of the patient upon the written or oral recommendation or approval of a physician."
Dale Gieringer, California Director of the marijuana legalization advocacy group NORML, tells Bustle that "you could technically be charged for illegal possession for giving pot to your pet. It's possible you might also be liable for some kind of animal cruelty charges if you did something too outrageous." NORML adds that it is not currently doing advocacy on behalf of pet owners seeking to buy cannabis legally for their pets, but that the organization has also not heard from anyone who's gotten in trouble over it.
Treatwell is one of the leading purveyors of cannabis tinctures aimed specifically at treating sick pets, in states where medical marijuana is legal. ("Loosely interpreted, the human acts as a 'caretaker' for the animal but the human still needs to have a valid recommendation first before purchasing," Treatwell's website states.) They offer cannabis dog treats and tinctures for both dogs and cats, all of which are non-psychoactive. While most people who buy her products are treating terminally-ill pets, the treats can also be used for suppressing cat and dog seizures, anxiety, and mild pain.
"Over a three month period, we saw that tumor shrink down to the size of a walnut, then after six months, the tumor completely disappeared."
Treatwell originally only developed medicinal products for humans, until one owner came in with their dog, Cheyenne. According to Cheyenne's vet, he would have to be put down.
"Cheyenne had late stage cancer with a massive tumor the size of a soft ball on his front left leg. We started him off with very small amounts of 1:1 [CBD tincture] to ingest and slowly but steadily increased the dosage, just as we would with a human," Ettel says. "Over a three month period, we saw that tumor shrink down to the size of a walnut, then after six months, the tumor completely disappeared. The vet had originally predicted that Cheyenne wouldn't live another month." Over nine years later, Ettel says that Cheyenne is still alive, with no signs of cancer.
This kind of recovery is not unprecedented. There are numerous stories out there of human patients going into remission following medicinal marijuana use, and cannabis is known to have an effect on the immune system. In fact, a recent study conducted by a team of scientists at St. George's University of London found the two most common cannabinoids in marijuana, tetrahydrocannabinol (THC) and cannabidiol (CBD), weakened cancer cells and made them more susceptible to radiation treatment, and found "dramatic reductions" in fatal variations of brain cancer when these specific cannabinoids were used in conjunction with radiation therapy. It follows, then, that since animals have cannabinoid receptors, they might occasionally see similar recoveries. Unfortunately, Ettel says there are no studies specifically on pets and cannabis that exist to back this up. So instead, she points to her huge amount of anecdotal data.
Another memorable story for Ettel is Massimo, a young sheltie who was suffering from early onset severe arthritis. "He used to love to run along the water as a pup," Ettel says. "A couple years later, the pain was so intense for Massimo that he couldn't even make it for a walk around the block. We started giving him small doses of 20:1[CBD] tincture twice a day and the improvement was astounding. In a couple of days he was walking longer walks, and in a week, he was running along the beach again."
Clearly, something is working. Ettel says that since she launched, she now even has veterinarians coming to her on the down-low, asking about alternative cannabis treatments for pets. "We've treated vets' own personal animals — not just their patients. We even worked on a pig!"
But treating pets with cannabis is not without risk, and it's important that people thinking about treating their pets this way do their research. If you simply give a sick pet an edible or a puff, not only can they not consent to getting high, they could get really sick and upset. And even if you simply give them too high a dose of non-psychoactive CBD, things could go badly, since pets metabolize cannabis differently, and need much, much less than we do to get the same medicinal effects. Beyond that, legally speaking, you could be liable for anything that happens to your pet.
"You should never give pure THC to an animal. There is no need," Ettel says. "Even when we work with cancer patients in animals, CBD and THC combined is all they need to help with their cancer."
Images: Pexels; Dina Muchnick; Alison Ettel