'Parks and Recreation' Just Destroyed Us Perfectly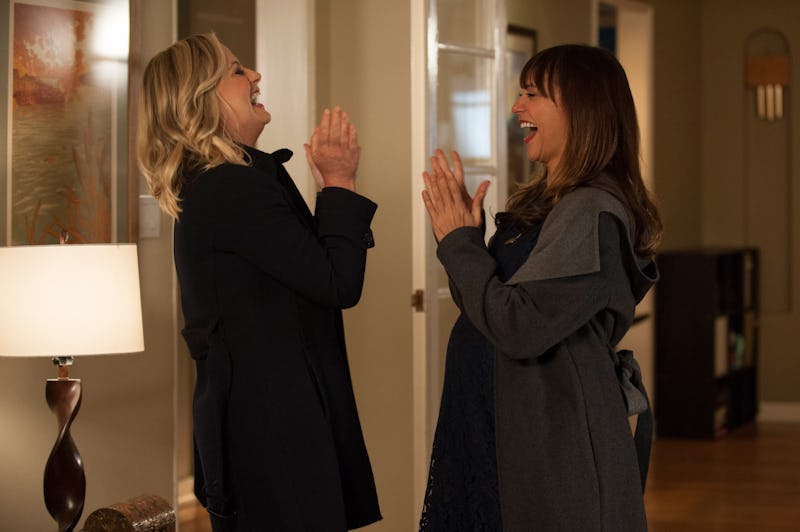 If you're having trouble reading this article, I'm willing to be that you just watched Rashida Jones' and Rob Lowe's final episode of Parks and Recreation, and you're experiencing a very real deluge of tears at the moment. The seemingly short 22-minute episode was literally the best TV goodbye we have ever seen. Okay, that was a Chris Traeger "literally," but "Ann and Chris" was a truly wonderful episode of television.
And while, for most Parks and Rec fans, any display of emotion on the pleasantly sentimental sitcom could send our hearts into fits of overflowing warmth and affection, this occasion was just a bit different. It was more emotional than the time Leslie damned the City Hall rules and kissed Ben in their tiny park. It was more touching than the time the entire parks department (and Ann) pledged their services to Leslie's grassroots City Council campaign mere hours after her campaign managers had deserted them. And it was even more touching than the time Ann worked tirelessly to help Leslie throw her surprise wedding to Ben. This was so much more because this emotional moment felt all too real.
Rather than reaching for some outlandish plot, the mission was simple. (And no, Leslie's "Every Holiday in One Room" goodbye party and her array of Ann & Leslie scrapbooks — including the intriguing "Thoughts on Sam Waterson" edition — are not outlandish, if you know Leslie Knope.) Leslie simply wanted to round out her and Ann's beautiful, tropical fish of a friendship with the thing that brought them together: the lot behind Ann's house. When one petty government employee stands in her way, Ann becomes her partner in crime one last time, lifting Leslie's drooping spirits up once more so that together, they can cut down the red tape between them and the ceremonial and totally unofficial groundbreaking on The Lot Formerly Known as The Pit.
They accomplish their goal, still dropping juicy little jokey tidbits — like the fact that Ann once escaped a Perd Hapley kiss on the mouth when Perd Hapley offered to put his mouth on her mouth at the end of a meeting of two people that is called a date — but all the while getting at the root of their friendship: their ability to support each other to accomplish greatness. Or, to accomplish things that are sort of hard to accomplish, which is pretty great if you think about it.
By episode's end, we find Ann and Leslie sharing one last moment without interruption — it's solely their own. Donning "Kickass" construction helmets (a slight improvement on the "Kick" and "Ass" hats Leslie once made them for a Pit-related celebration), they promise to stay on the phone for every State of the Union Address and every Oscars. Leslie thanks Ann for making her better and they share a moment of joy without the pain of Ann's actual departure, so that when Band-aid ripping time hits the next day, all that's left to say is "I love you."
There's no drawn-out goodbye. It's short and sweet, and, in a quick moment, Ann and Chris are off to their new life, while Ron offers to ease Leslie's wounds the best way he knows how: with breakfast food.
The moment is simple, unadorned, and completely understated. It's a real goodbye — the sort of goodbye we've experienced when siblings went away to college or close friends took new jobs in distant cities. It's not a farewell that feels permanent — because, after all, Bloomington is not all that far away from Pawnee — but it's one that marks the end of an era.
And for a show that's created the closest possible thing to viewer-character friendships, there was no better way to end the privilege of knowing Ann & Leslie as two peas in a pod the way we have for the past five years. It hurts to say goodbye, but Parks and Rec did the best possible thing by tucking all the feelings of love and friendship into a neat, humble package like the finely crafted wooden box Ron gives Chris as a going away present.
We certainly never wanted to see Ann and Chris go, but if they insisted on leaving, this was literally the most perfect way to say goodbye.
Images: NBC