Vanessa Bayer's Rachel Green Impression Is Amazing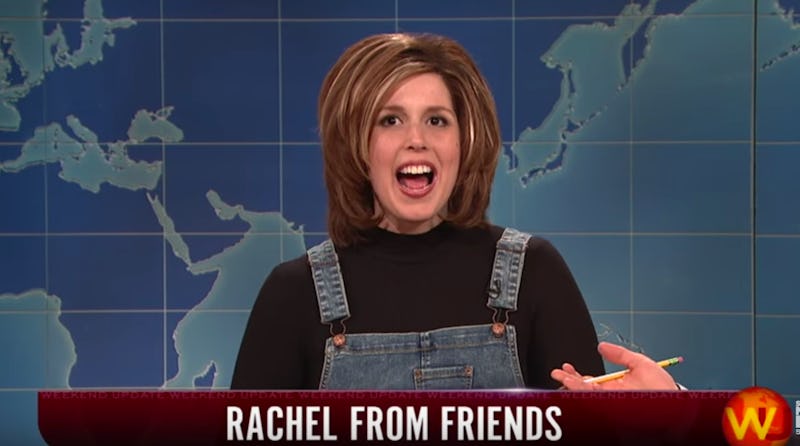 If there's one group of pals on television that sitcom fans feel an intimate connection with, it's the crew from beloved '90s sitcom Friends . Now that the show is streaming on Netflix (as opposed to being available on almost every single network in reruns) fans of the '90s NBC series can spend as much downtime as they like with the six Manhattanites — it's no wonder that many fans know these characters' quirks just as well as some of their actual friends. That's why Saturday Night Live star Vanessa Bayer's impression of Rachel Green from Friends absolutely slayed: Bayer knows Rachel just as well as we all do.
Bayer stepped into Rachel's shoes on Saturday Night Live's Weekend Update this past Saturday, and with one quick glance at the screen you might assume that you had accidentally clicked on an old episode of Friends. Bayer's Rachel impression channels the TV icon on every level, and that includes her famous haircut (affectionately named The Rachel, though Jennifer Aniston herself stated that she could never be conned into sporting that cut again) and Rachel's '90s uniform of black shirts under overalls. But while it's easy to don a wig and some unfortunate fashion decisions, Bayer really succeeded in achieving Rachel's "constantly surprised" vocal inflection. Check it out:
Rachel's up-talking might not be something you noticed while watching the series, but go back and re-watch some of Rachel's interactions, like this scene from this amazing Vine clip — the impression is ridiculously uncanny. Of course, the impression isn't the only thing that Bayer got right about Rachel: the scene also points out some very funny truths from the series, like Rachel's disappearing baby and the friends' inability to accept outsiders like Phoebe's boyfriend of the week. In fact, it's not the first time that Bayer has done an amazing impression of Aniston's character: Bayer dished out her best Friends impression on Jimmy Kimmel Live in July of 2015:
Something tells me this woman is watching a lot of Friends on Netflix — so here's hoping that Monica, Phoebe, Joey, Ross and Chandler will stop by Weekend Update next.
Image: NBC