This 'Full House' Reunion Had a Surprise Guest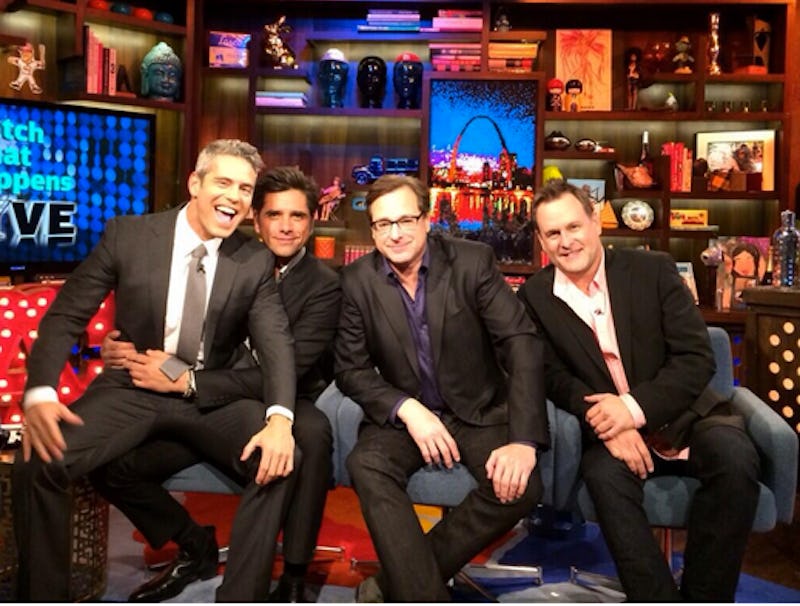 Bravo exec Andy Cohen's late-night show, Watch What Happens Live, is hilarious, unscripted, and drinking is encouraged — so naturally, it's perfect for Bob Saget, John Stamos, and Dave Coulier, who are the three toasts of New York City this week while promoting their Super Bowl Dannon Oikos Yogurt commercial. On Thursday, another Full House reunion happened on Watch What Happens Live — but with a twist. Who better to play a trivia game with than special surprise guest Candace Cameron Bure, DJ Tanner herself?
The guys were genuinely surprised and thrilled that she came on the show, and were asked Full House trivia questions that they got right except for one: How did Michelle get to be a princess at Disneyland? Nobody seemed remember that she butted Stephanie in line, rubbed the genie's lamp on Aladdin's float in the parade, won and became a princess, and angered many viewers and her TV family in the process. But maybe I'm just a freak for knowing that.
Stamos was also asked about his relationship with Lori Loughlin, who played Aunt Becky.
We had great chemistry, we just had bad timing. She was married, then she got divorced, then there was about a week period that it could've happened, and then I met my ex and I went that way, Stamos says. But she's just the model of a perfect person, a beautiful person and we're still great friends. We just don't have sex, but we're great friends.
So you're saying there's a chance, Uncle J? I'd never wish divorce upon Aunt Becky, but life is long, and I wouldn't hate it if they got together. Just sayin'.
Coulier also let the audience in on a fun fact. Friends took over on the Full House lot after the show ended, but while the show was still on, Coulier used to slingshot his underwear up into the rafters of the set. When they visited the Friends lot years later, his underwear was still there. Are Dave Coulier and Uncle Joey one and the same? I think so.
Can the guys keep doing their press tour forever? Because the world would really love it. Thanks.
You can watch the guys on WWHL below:
Image: Giphy; BravoSuperFan/Twitter