7 Types Of Lingerie Every Woman Should Own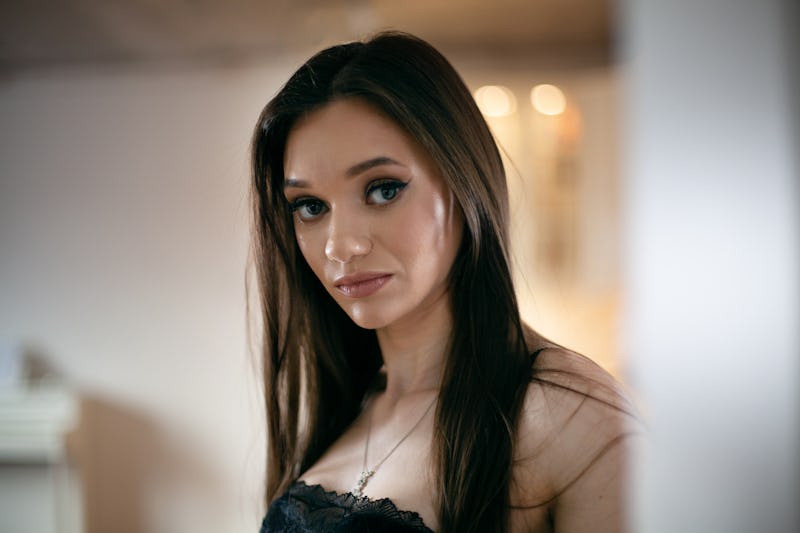 Julija Erofeeva/Moment/Getty Images
There are certain essential pieces of fashion that arguably belong in every woman's closet, like a simple pair of ballet flats or a perfect white T-shirt. But often left off of these lists of wardrobe basics are must-have types of lingerie. This, in my humble opinion, is a huge oversight because good lingerie is the foundation to any outfit, and pairing the right kind of lingerie with the right ensemble can elevate your look (not to mention your confidence) in a big way.
I used to be the kind of person who totally wrote off fancy and frilly lingerie, primarily making decisions about what underwear to wear based on what was clean. It's only been within the last several months that I've truly understood the appeal of lingerie, especially the ruffled kind. Wearing the right type of lingerie under your clothes can make a huge difference in the way you carry and present yourself. Plus, there's so much more to lingerie than simply matching pretty bras with lacy underwear. And once you start down the rabbit hole, it's pretty easy to convince yourself that every frilly nightgown is an essential.
So if you're looking to refresh your underwear drawer, or just want to see if you have all your bases covered, here are seven types of lingerie that every woman should own, from everyday essentials to some things that are a little more special.
1. Neutral Slip
Free People Seamless Low Back Mini Slip in Nude, $30, Free People
Also check out: Calvin Klein Full Slip, $33, Amazon
Cacique Sheer Embroidered Chemise, $54.50, Lane Bryant
Try: Cosabella Ceylon Slip, $122.50, Amazon
I've never been a huge fan of shapewear, but sometimes I just need to wear something under my clothes to ensure that my underwear isn't totally visible under a sheer or white dress. Enter the neutral slip, made of a light cotton or silk, and preventing you from accidentally showing the world your nipples if that's not your thing.
The neutral slip doesn't have to be form-fitting in order to cover the bits and pieces that might need covering, which is why I prefer it to a pair of Spanx. Even though it might not be the sexiest piece of lingerie in your underwear drawer, it's definitely a worthwhile item to keep around because when you need a neutral slip, you really need it.
2. Colorful Babydoll
Torrid Lace Racerback Chemise, $38.50, Amazon
Check out: In Bloom by Jonquil Camilla Chemise, $54, Amazon
The Angel Satin Halter Slip in Galaxy Grape, $59.50, Victoria's Secret
On the other end of the spectrum is the colorful babydoll, which might be one of the least practical pieces of lingerie out there. It's not like you can wear this underneath a T-shirt or anything. But it's a surefire way to feel sexy, especially in the bedroom. If you're looking for something comfortable to wear to sleep that's still got a bit of glamour, opt for one of these bright babydolls.
3. Slinky Robe
Joanna Hope Satin Wrap Gown, $57.50, SimplyBe
Also consider: Oscar de la Renta Pink Label Long Robe, $68, Amazon
ASOS Chiffon Robe with Lace Cuff in Wine, $48, ASOS
Check out: Jockey Women's Robe, $33, Amazon
Few things feel more luxurious than putting on a silk or satin robe after a long shower or bath, or while you're getting ready in the morning. Throwing on one of these robes is a quick and easy way to make even the most boring part of your routine feel a little bit more glamorous.
4. Playful Romper
Lace Trim Satin Plus Size Teddy in Teal, $39.95, Hipsandcurves
Try: Eberjey Enchanted Pajama Romper, $89, Amazon
Body By Victoria Supersoft Crochet-trim Sleep Romper in Black, $48, Victoria's Secret
Also check out: Splendid Slouchy Short Romper, $78, Amazon
These sleep rompers will be just as comfortable as wearing an old T-shirt and a stained pair of shorts to bed, but they just look a little bit cuter. They're fun and flirty without being too intimidatingly sexy.
5. Lacy Bodysuit
Out From Under Valencia Halter Bodysuit in White, $44, Urban Outfitters
Also check out: Hanky Panky Zip Me Down Bodysuit, $68, Amazon
Hanky Panky Open Gussett Teddy in Black, $79, Nordstrom
These bodysuits can certainly be worn alone, but if you're feeling daring, throw a pair of high-waisted jeans over a bodysuit and wear it out to the bar. No one will know from looking at you that you've got nothing on underneath.
6. Black Thigh-Highs
Glamory Thigh High Backseam Stockings, $12.95, Hipsandcurves
Also consider: Dreamgirl Plus Lace Top Thigh High Stocking, $15, Amazon
Wolford Satin Touch 20 Stay-Up in Black , $47, Amazon
A simple pair of black tights is every fashionista's best friend: They're versatile, add warmth, and dress up any outfit. But if you're looking for a slightly sexier option, try out a pair of black thigh-high stockings. When paired with a mid-length hemline, they look exactly like regular black tights but feel a little sexier.
7. Matching Silk Pajamas
Journelle Hepburn PJ Set in Nori, $200, Journelle
Also check out: Betsey Johnson Satin Pajama Set, $32, Amazon
ASOS CURVE Chiffon Trim Satin Cami and Short Set in Grey, $45, ASOS
Try: Fishers Finery 100% Silk Cami and Boxer Set, $59.99, Amazon
In the strictest sense of the term, "lingerie" refers to all sorts of intimates, and really, not all lingerie has to be low-cut in order to make you feel sexy. Few pieces of sleepwear are more classic than a matching set of silk pajamas. They're a more glamorous option than sweatpants while being just as comfortable.
Don't neglect your underwear drawer anymore, and make sure your lingerie is as stocked with self love-inspiring garments as the rest of your wardrobe.
Want more undergarment inspiration? Check out the video below, and be sure to subscribe to Bustle's YouTube page for more hacks and tricks!
Images: Julija Erofeeva/Moment/Getty Images; Courtesy Brands