7 Swim-Proof Makeup Products For Spring Break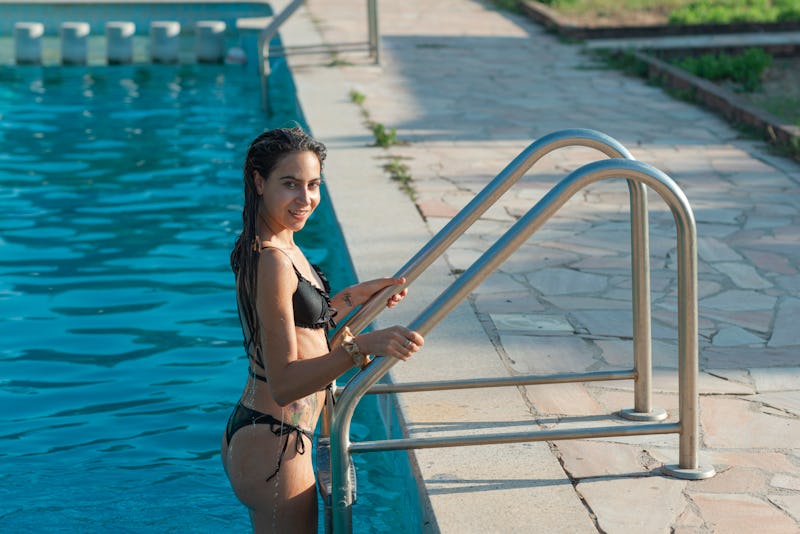 Francesco Carta fotografo/Moment/Getty Images
You may be out on vacation for Spring Break, but it's time for your makeup to go to work. Between sun rays and pool days, your skin needs to look great and stay healthy. Here's the best swim-proof makeup for spring break so you can keep your face on no matter how hard you party.
There's a misconception that if you plan on hitting the pool, you can't wear any makeup. No, ma'am! With waterproof formulas and SPF-packed foundations, there is no reason why you can't take a dip with your glammed up face on. Plus, SPF products protect your skin while keeping you looking fresh. What's not to love?
Primers, shadow sealants, and long-wearing formulas are everywhere these days. You can find a range of water-friendly products in different colors and formulation options, from the drugstore to your favorite high-end department store. The makeup helps you look ready for your Instagram close-up, of course, but it also acts as a barrier between your skin and sun exposure, wind, sand, and sweat.
Below are some of my favorite swim-proof products for your spring vacation. If you're skiing, hiking, or volunteering this break, these will stand up and stay on no matter what you're up to.
Aqua Matic Waterproof Glide-On Eye Shadow in Iridescent Turquoise, $21, Make Up For Ever
Stand out pool side with a bright pop of aqua.
Lancôme Effacernes Waterproof Protective Undereye Concealer, $28, Nordstrom
Look wide awake no matter how hard you partied the night before. Thanks a million, concealer!
MAC Pro Longwear Waterproof Brow Set, $16, Nordstrom
No one will know what your bare brows look like, thanks to this waterproof brow product.
Guerlain Cils d'Enfer Waterproof Mascara, $30, Sephora
This is a totally waterproof mascara formula that doesn't flake or fade onto the skin.
Maybelline Color Tattoo 24Hr Leather by EyeStudio Cream Gel Eyeshadow, $7, Amazon
Highly pigmented, these cream shadows stay on with one swipe.
Benefit Cosmetics The Big Easy Liquid to Powder Foundation, $38, Sephora
With tons of SPF in a matte formula, this foundation will help your skin stay blemish and sunburn-free on vacation.
Photo Finish Foundation Primer SPF 20 With Dermaxyl Complex, $42, Sephora
Primer helps any product stay on longer, and this one will also add an extra layer of SPF for safe sunning.
Images: Francesco Carta fotografo/Moment/Getty Images; Courtesy of Brands