18 Unique Ways To Use Rice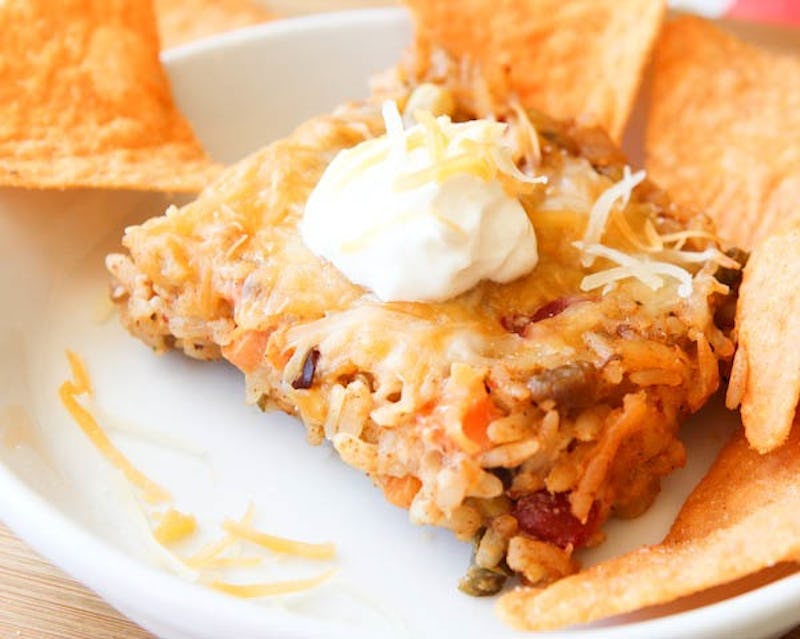 It's no surprise that across cultures, rice has been a staple food for thousands of years. And thanks to the popularity of this humble grain in different continents, there are so many different ways to enjoy it, meaning that we have plenty of unique rice recipes to enjoy. Fried rice (especially breakfast fried rice) is always great, but there are many more ways to enjoy this affordable ingredient.
You can make instant rice taste better with the addition of herbs, broth, and other quick-fixes, but if you go the extra mile, you can make it taste even more gourmet. Try thinking outside of the box with original dishes like fried rice croutons, or go traditional with crispy-on-the-outside, cheesy-on-the-inside Italian rice balls. If one thing's certain, you're bound to not view this grain the same way ever again once you realize exactly how much it can do.
From taco casserole to a tropical-inspired Caribbean plate, these 18 healthy and easy recipes will take a pot of rice to the next level, whether you prefer brown rice, jasmine rice, or any other variation of the pantry staple. Save that go-to fried rice recipe for a rainy day, and try something new for dinner.
1. Horchata
This refreshing Mexican drink is actually made with rice. A Beautiful Mess shows how to make it at home, whether you'd like to spike it or make it kid-friendly.
2. Fried Rice Croutons
A Cozy Kitchen makes the most delightfully crispy croutons for this coconut curry carrot soup. Who knew it could be done?
3. Vegetable Fried Rice Frittata
Make your leftovers work for breakfast. Averie Cooks uses frozen fried rice in this recipe, but takeout from the night before will also work.
4. Turmeric Rice With Coconut Curry
A hearty bowl of vibrant turmeric rice, along with creamy coconut greens, makes for an aromatic dinner. Naturally Ella proves that healthy food doesn't have to be boring.
5. Broccoli Cheese Rice Casserole
Looking for a small but mighty appetizer? A Spicy Perspective downsizes a cheesy casserole for maximum cuteness.
6. Caribbean Mango Pork And Tropical Rice Plates
Jasmine or basmati rice gets a sweet twist thanks to coconut milk, while fresh lime gives it some zing. Half Baked Harvest pairs it with gingery pork and plantain chips.
7. Arancini
Stuffed with mozzarella, parmesan, and peas, Natasha's Kitchen's take on traditional Italian rice balls makes the most incredible appetizer. Serve them with marinara sauce for dipping.
8. Vegan Broccoli Cheese Dip
Yes, it's totally possible (and actually pretty easy) to make a cheesy-tasting vegan dip. Cara's Cravings gives it some texture with brown rice.
9. Spanakopita Rice
Mimic your favorite Greek dish with this rice version by Five and Spice. Feta, spinach, and chicken make a filling savory combo.
10. Cajun Packets
A Beautiful Mess' Cajun packets can be made easily when you're camping — but you don't need a campfire to make them yourself.
11. Rice Hoecakes With Succotash
Rice is folded into cornbread to make these crispy hoecakes. A Cozy Kitchen pan-fries them before topping them with plenty of vegetables.
12. Cheesy Taco Casserole
Make taco night a whole lot cheesier with Averie Cooks' recipe. It may not be your traditional variation of rice and beans, but it's a good one.
13. Cauliflower Cakes With Brown Rice
Naturally Ella's cauliflower cakes can be served at any meal of the day. Oats, brown rice, and cauliflower make these patties healthy and filling.
14. Slow Cooker Jambalaya
Everything tastes better when you throw it in a slow cooker, and this flavorful jambalaya by A Spicy Perspective is no exception.
15. Salsa Verde Chicken And Rice Tortilla Soup
This cozy Mexican-inspired soup by Half Baked Harvest makes a crowd-pleasing winter meal. Rice makes up for its lack of noodles.
16. Slow Cooker Cheesy Rice Wraps
Sometimes, what you really need is a soft tortilla with a cheesy filling. Taste and Tell's rice wraps are exactly that.
17. Arugula, Dried Cherry, And Wild Rice Salad
Branch out a little with some wild rice — it gives Cookie and Kate's salad a heartier base, while dried cherries bring in some sweetness.
18. Baked Rice Pudding With Rhubarb Sauce
Rice pudding is a popular dessert, but have you ever considered baking it? Five and Spice shows how to make it the ultimate comfort dish.
For more ideas, check out Bustle on YouTube.
Images: A Cozy Kitchen (3); A Beautiful Mess (2); Averie Cooks (2); Naturally Ella (2); A Spicy Perspective (2); Half Baked Harvest (2); Taste and Tell (2); Cara's Cravings; Cookie and Kate; Five and Spice (2)