Beth Ditto's Clothing Line Has Had Mixed Reactions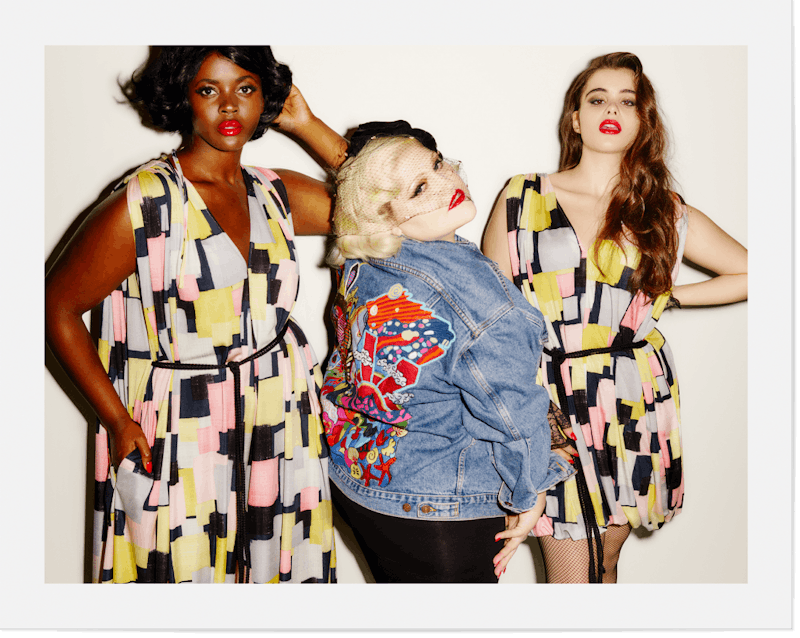 With the recent launch of Beth Ditto's clothing collection, the online plus size community has been buzzing with reactions to the beloved rocker's highly-anticipated independent line. Ditto, singer/songwriter of the indie rock band Gossip, has been an icon in the plus and body positive communities for a decade with her sassy, be yourself attitude and edgy style.
Ditto first gave us a little taste of what to expect from her new line when she collaborated with Jean Paul Gaultier on a corset T-shirt late in 2015. It was available in sizes 14 to 30 with some of the proceeds going towards the Girls Rock Camp Foundation. This was Gaultier's first time offering clothing up to a size 30, and it felt like a proclamation of the belief that fat women are not only beautiful, but deserving of high fashion.
Personally, the tee collab left me pretty excited for Ditto's independent line. Come launch day, the Internet discovered that the collection would be available in sizes 14 to 28, with items ranging in prices from $65 to $395, and hand-sewn in New York City. It was clearly heavily influenced by Ditto's love for vintage fashion. She told Vogue that it was also "shape inspired, [about] creating really good shapes that don't exist yet [in the plus world]."
When Ditto's collection finally launched, fans and fellow plus size babes took to Twitter to express their sentiments — sentiments that were creating some polarization due to both the collection's price point and size range. Ditto has not yet responded to Bustle's request for comment on the subject.
Blogger and plus size fashion expert Sara Sapora had a very positive reaction, celebrating the launch as a sign of progress that would further open up the selections available to the plus size community. She tells me via email that her initial reaction was, "Great! [It's] not for me, but [it's] great [...] We should be in an industry where there are enough styles and price points represented that people can pick and choose what works for them." She went on to stress, "Not everything made needs to be at the same price point. That should be the beauty of fashion: choice and options. Whether I want a $2,000 hand-beaded ball gown or a $49 jersey sundress, it's important to work towards a plus industry that offers women both of those options."
On the other hand, Patricia Sjuts, part of the Anastasia Beverly Hills Pro Team, tells me via social media of her concern with both the visual aesthetic and price of the items. "I was very disappointed not only with the price, but with the material and the cut of the clothing," she says. "I do not feel the clothing line accurately reflects the wants and needs of the plus size community. The clothing is shapeless and [the] prints are questionable. The pieces were designed to be timeless and considered investments [according to Ditto's site], but the prints and patterns do not reflect a sense of timelessness. I have seen all of these pieces before without the large price tag."
Her concerns were echoed by many others, like plus size style blogger Lydia Wolfe. "After her line launched, I was disappointed. At first [...] due to the prices," Wolfe tells me via social media. "Remember us poor fat babes are here. Remember that were more than willing to save up and buy your pieces, and support your designs and dreams, but we also have mouths to feed, and bills to pay." Wolfe also took issue with the visual aesthetics of the line, going on to say that, "The other letdown I had was how to me, there was no variety, no spark. [There were] patterns I've seen a million times and pieces that I don't think are flattering."
As for why the items are pricey, Ditto addressed the manufacturing process on her website. She "wanted to make pieces to last years. Beyond trends, beyond chain stores. I wanted to create something all its own, something just for us, made with love and consideration. Made ethically in the USA as a small company with no corporate input. Uncompromising, unapologetic, humane, and timeless. Go-to pieces designed to last."
Despite so many folks publicly expressing their disappointment with the high price point, the fabrics, the cuts, and the sizing (since the collection is not offered in a full plus size range up to a size 30 or above), many other plus size consumers were quick to come to the collection's defense. Plus size and lifestyle blogger and swimwear designer Gabi Gregg of GabiFresh expressed her frustration with all the negative feedback Ditto's collection was receiving via Twitter.
As for Steph Ross, a fashion designer and couturier, she tells me via social media, "I think that this collection is fantastic and reasonably priced for many reasons. One, she is funding this herself and hiring local New York seamstresses. You are not purchasing garments that are made in a sweat shop where the person assembling them gets paid slave labor wages." She goes on to add that in her experience, "Everyone wants quality, custom, and unique items without paying for the work. It takes time, considerable skill, and talent."
Plus size indie designer Shawna Farmer of Chubby Cartwheels knows the plus size fashion industry pretty well. She tells me via email, "When I saw the fabric and pieces were all constructed in the United States, I gained a lot of respect for her as a designer. Nowadays, I think people know that getting into the fashion design game, you have to know your audience. And you want to respect that audience, but you also have to respect yourself and make sure you get to make a living wage with your hard work too."
As a both a designer and a consumer, Farmer relates to both sides of the argument, adding that, "It's a fine line to walk when trying to appreciate the customer base (knowing that income levels are all across the board) while also trying to make sure you are keeping your business as ethical as possible. So while I was saddened to know I can't afford much of that collection, I very much understand why it costs what it does and I respect her for that."
Nicolette Mason, fashion and lifestyle blogger and body positive contributor for Marie Claire, responded to all the buzz with a simple yet poignant Tweet:
However, one cannot ignore the frustrations and concerns of the many disappointed customers who felt excluded from this line due to the higher prices. Without listening to the customer, there can be no available feedback in order to better know and understand what plus size consumers are actually looking for. Sara Sapora tells me, "I think its essential that brands keep a keen eye on what customers are asking for and what their shopping dollars reflect desire for." To that, plus size lifestyle blogger Corissa Enneking of FatGirlFlow tells me via social media, "When people who are helping you by creating that demand for your clothing, and leading the sociopolitical movement of fat activism, are speaking... you need to listen. Because these are the people who make your work possible."
But Ditto's main concern throughout the design process did seem to be equality when it comes to plus size fashion. She wrote on her website that she wanted to make "fashion for plus size women who deserve to love their bodies AND their clothes, who want access to the same high quality fabrics and craftsmanship everyone else has. Something beyond the über-cheap, disposable fast-fashion that's pushed on us."
At the end of the day, the online plus size community is building itself up from roots we've all helped create together. So much progress has been made over the years in regards to the plus size fashion market, and I truly believe it will only continue to grow.
Along the way, it's important to embrace and celebrate every step towards progress, choices, and selection, while still voicing individual wants and concerns. We all deserve the same rights and privileges as straight size fashion consumers. And Beth Ditto's collection offers us something unique, something different, something high quality, and something made ethically and proudly in the USA. Not everyone will be able to afford her pieces, and that's a shame. But the same is true of the straight size market and its thousands of varied collections at every price point imaginable. Ditto's line only enhances and adds to the choices available to us. To me, that's totally rock and roll.
Images: BethDitto.com