The New 'Daredevil' Season 2 Poster Is Brutal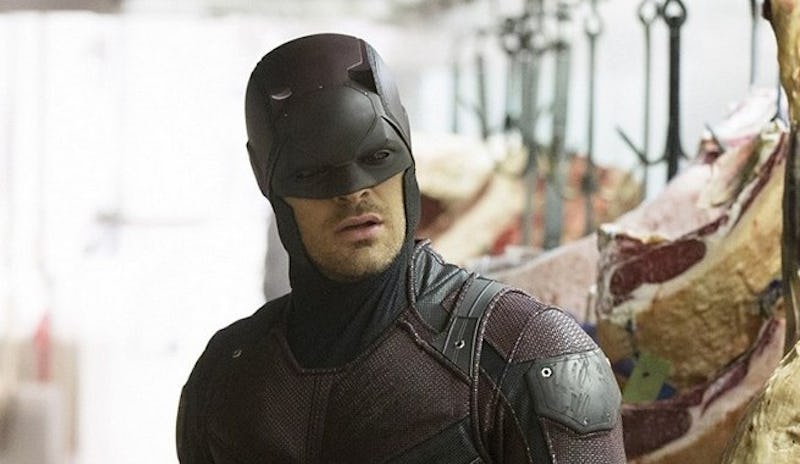 Things are starting to heat up in Hell's Kitchen. Following the release of the first trailer for Daredevil Season 2, Marvel and Netflix are now letting fans in on a little bit more of what they can expect from the blind superhero — With the reveal of their latest Daredevil Season 2 poster. And, from the looks of it, things don't seem to be as under control as Matthew Murdock (played by actor Charlie Cox) might like it to be. The poster shows us a distressed, newly-costumed version of the lawyer-by-day, superhero-by-night, and this time around, it looks like he is seriously being "punished" by those threatening the city. The Punisher (played by actor Jon Bernthal) is on the scene and already appears to be a major threat to both the control that Matt has against Hell's Kitchen's rising crime rates and his strength.
However, the poster not only gets us excited about what we might expect from the series moving forward, but it also adds on to what we already know about Season 2. While it can be assumed that The Punisher — also known as Frank Castle — is behind the Daredevil being (literally) tied up, we don't exactly know that for sure. Other characters who could be causing trouble in the second season include Elektra Natchios (played by actress Elodie Yung) and even Matt's trusty sidekick Foggy Nelson, who has been in recent disagreements with Matt's hidden identity. However, no matter what, the Daredevil is without a doubt facing some serious struggles in regards to both his role in the overall picture of the city and the amount of power he actually has.
And the poster to describe just that is just too perfect for words.
So, when can fans finally see if the Daredevil can break the chains around him? The action-packed second season will be premiering in full on Netflix as of Friday, March 18. However, before then, Marvel fans can also look forward to the release of the second official trailer for the show's second installment, which will be airing online Thursday, February 25. As for now, I will gladly be printing out this poster and plastering it on my wall. The excitement is all too real.
Images: Marvel Entertainment; Netflix