10 Books TBR While You Wait for 'Doctor Who'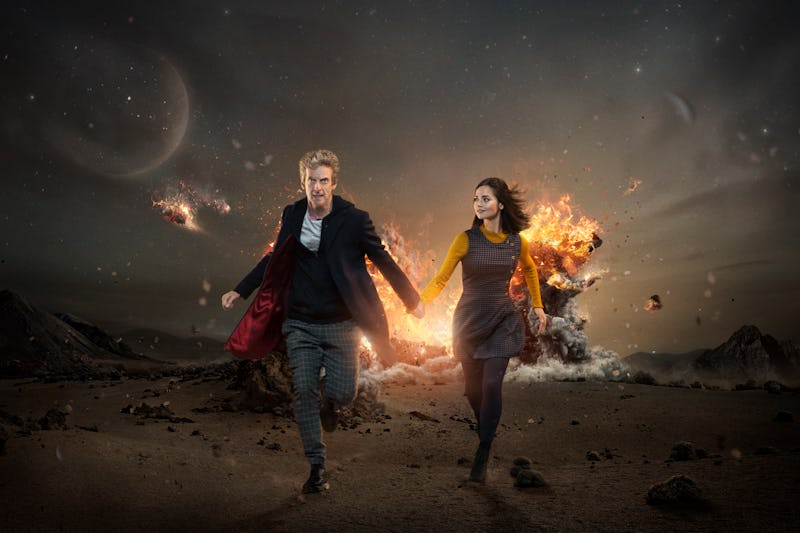 When I found out that we were going to have to wait until 2017 to get a new series of Doctor Who, I wanted to scream. And just to kick me when I was down, the show was dropped from Netflix. This is surely some sort of evil alien race's plot to make all of humanity go mad with boredom. (I'd suggest the Daleks, but this is far too sophisticated for them.)
Doctor Who is such a killer show. It's got everything a girl could ask for; adventure, history, romance, British people. And so much of it appeals to me as a reader, too — not just the universal themes that its story lines share with great literature, but also the literary callbacks it makes. Like the time when we found out what really happened during Agatha Christie's mysterious disappearance. Or when Charles Dickens got exposed to the supernatural. And who didn't go nuts for the two episodes literary treasure Neil Gaiman wrote?
Fortunately, the nature of literature means that the Doctor isn't the only one who can travel throughout all of time and space. So, if you're like me and you're going into serious TARDIS withdrawal, here's some fantastic books that will give you your fix. Allon-zy!
1. Doctor Who: The Stone Rose by Jacqueline Rayner
If you haven't plunged into the zillions of Doctor Whobooks out there, then that's a great place to start. With books that feature every regeneration of the Doctor, these will surely delight you. The Stone Rose in particular is a favorite of all of you Doctor/Rose shippers out there. Plus, pro-tip: If you're an audiobook lover, each book is read by the actor who plays the Doctor at the time the novel takes place. And who doesn't want more of that in their day?
2. Cloud Atlas by David Mitchell
Wibbly wobbly, timey wimey indeed, this masterpiece will make you feel like you're the Doctor. David Mitchell tells six stories, one half at a time, that all take place in completely different moments in time and space, from the 19th Century South Pacific to a post-apocalyptic future. Throughout it all, you as the reader are drawn to the threads that connect each seemingly disparate life, and what it all ultimately means.
3. The Lost Time Accidents by John Wray
Any Whovian is going to go wild for this adventurous read. When heartbroken Waldy wakes up one morning to find that he's been ejected from the flow of time, he must fight his way back to his own present. Just like with the TARDIS, you get to see every inch of time in this page-turner.
4. Kindred by Octavia E. Butler
The first science-fiction book by a black woman, Kindred is a classic that will easily turn Octavia E. Butler into one of your favorite authors. Dana, a black woman living in 1976 California is transported to antebellum Maryland, where she finds herself protecting a young slaveholder who would one day be her grandfather.
5. A Wrinkle in Time by Madeline L'Engle
Even if you're an "adult," you've got to fall into this classic and its four wonderful sequels. Meg's father disappeared while experimenting with the fifth dimension, and now it's up to her, her gifted younger brother Charles Wallace, and their friend Calvin to rescue them, all with the help of time travel and three quirky women.
6. Slaughterhouse-Five by Kurt Vonnegut
If you haven't read this classic yet, drop everything and pick it up. This is probably my favorite interpretations of time travel out there, and Vonnegut masterfully uses the conventions of time travel to comment on the nature of war. The story of a man who becomes "unstuck in time" after being abducted by aliens, this book will take your brain for an amazing spin.
7. The Hitchhiker's Guide to the Galaxy by Douglas Adams
Aliens. Spaceships. British humor. What more could a Doctor Who fan ask for? When the Earth is destroyed, Arthur Dent ends up on a space adventure he'd never dreamed was possible. You'll laugh, you'll laugh, and you'll laugh some more.
8.The Lathe of Heaven by Ursula K. Le Guin
Not only is Le Guin required reading for any person out there, but the premise of this book could easily be an episode of Doctor Who. A man discovers he has the ability to dream things into existence. When a psychotherapist tries to exploit this gift, the book twists and turns into an unstoppable story.
9. The Time Traveler's Wife by Audrey Niffenegger
This is one of my all-time favorites, and it will surely pull at the parts of you that ship River and the Doctor forever. Henry is a punk librarian who uncontrollably travels through time. As a result, he meets his future/present wife, Clare, for the first time when she is 6 and he is middle-aged. As the two piece a life together around Henry's condition, you won't be able to put it down.
10. Every Anxious Wave by Mo Daviau
This time-travel read is simply delightful. When thirty-something bartender Karl and his best friend Wayne discover a wormhole, they start selling it to people to go see their favorite bands in concert. But when Karl accidentally sends Wayne to 980 instead of 1980, things start to go awry. Then, Karl falls in love with an astrophysicist and the two start playing with events in their personal history, which as any Who fan knows, is a disastrous idea.
Images: BBC Worldwide Limited