How To Get Straight Korean Brows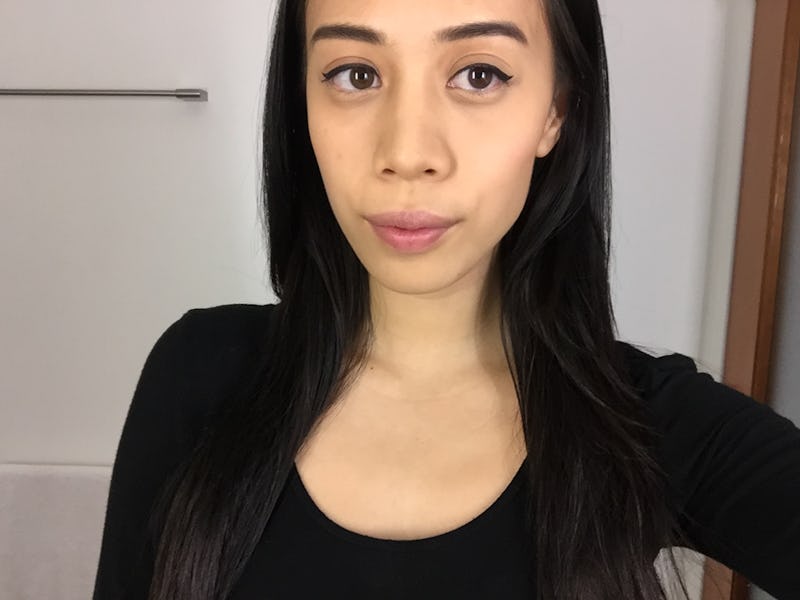 In case you haven't already noticed, Korean trends have pretty much taken over the beauty scene, from sheet masks to glass nails. What's not to love? Their skincare practices and products are arguably the best out there and their beauty looks are so cute and fun. One look I've been dying to try is their eyebrow trend, which is why I decided to learn how to get straight Korean brows without having to trim or wax off my eyebrow hairs.
This particular eyebrow style can be found on most young women in Korea for a reason I'm sure will not surprise you. According to Byrdie, straight brows are en vogue because "it has to do with the fact that soft, arch-less brows mimic the way your brows look when you're younger, therefore making you appear more youthful." A writer from xoVain supported this reasoning after she tried out the popular eyebrow shape, saying that it'll give you that "bright-eyed, bushy-tailed look you've always dreamed of."
I've always shaped my eyebrows with a soft arch, but recently, after seeing one of my friends rock the trend, I knew I had to try it. She looked amazing! Although it takes a lot for me to change up my eyebrows, seeing how nicely it looked really encouraged me to try out the look for myself.
If you've been wondering how to get straight Korean brows without having to wax or trim your eyebrow hairs, here's how to do it:
Step 1: Brush Your Eyebrow Hairs
I took an eyebrow brush and stroked my hairs outward. Some suggest to brush downward and trim off the bottom hairs, but I decided to skip that step because I didn't want to commit to having straight brows all the time. Make sure your brows are brushed through so that you can see where to draw the straight lines and fill in your brows.
Try Revlon Double Ended Brow Brush, $5.95, Amazon
Step 2: Use Concealer To Cover Your Arch
Like I mentioned, I have a slight arch in my brow. To cover it without shaving it off, I put a little concealer at the top of the hair strands and blended through. If you have more of an arch, add more concealer accordingly.
Try Maybelline Super Stay Concealer, $5.50, Amazon
Step 3: Fill In Your Brows With Pencil
It's super important to draw a straight line under and above your brow. Once you draw the line you can connect to the ends of your brows. Then, just fill in the missing areas with light strokes. It might seem weird at first, but trust your instinct and continue to follow through until you've created one long straight arch.
Try Maybelline Eyestudio Brow Define & Fill Duo, $6.99, Amazon
Step 4: Fill In Your Brows With Eyeshadow
I like to use a black eyeshadow to go over my eyebrows for a deep, but soft look. This way, the pencil line doesn't look too harsh and makes it seem a little more natural looking.
Try NYX Eyebrow Powder, $5.99, Amazon
The Final Product
What's my verdict? I actually really love the straight Korean eyebrow stye! I didn't think it would work well on my face, but to my surprise, the style definitely added a youthfulness to my look. In fact, it turned out way better than I expected.
If you're going to try out this eyebrow style, I would recommend committing to the look: Make sure you keep your lines straight and are generous with product when you fill in your brows. While it might feel weird and different, it's the only way you can really nail the thick eyebrow style.
Images: Danelle Sandoval