The One Sweater You Need For Spring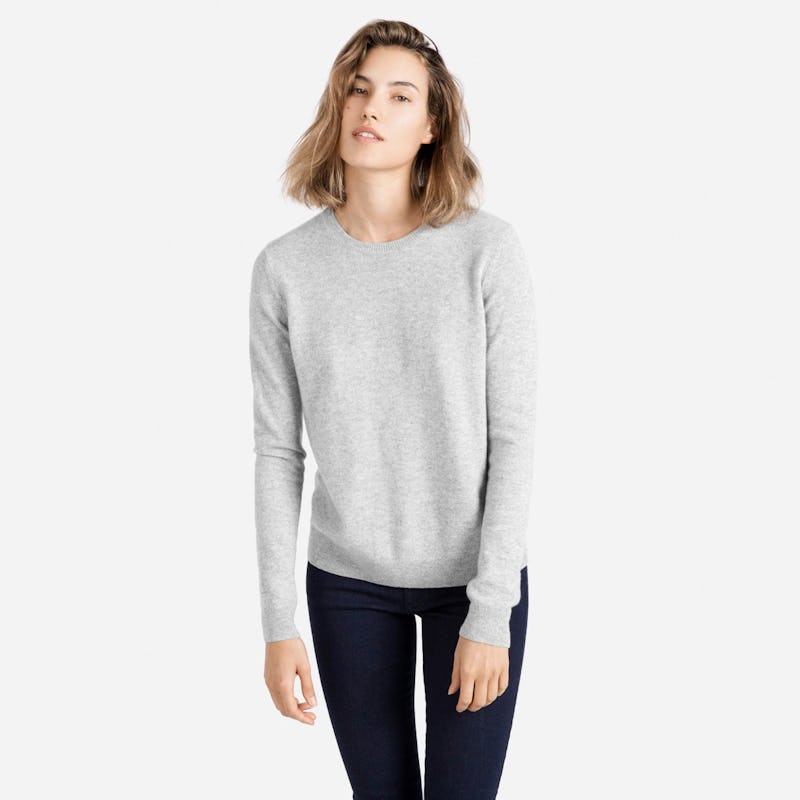 As if I hadn't said it enough: I'm sick of winter. I want sunshine, I want warmth, and I want to show some skin, but alas — we can't always get what we want. But with transitional dressing coming up, the one sweater you need for spring will be light enough to make you feel like summer is almost here. What is it? A super light cashmere sweater you can throw on over anything, since it's not warm enough to go sleeveless just yet. Trust me, I'm waiting for it.
Last week, it was so cold in New York City that there was actually a warning to not go outside. It was a cold blue situation, y'all. And this was all during New York Fashion Week, so I'm sure bloggers, celebrities, and style enthusiasts alike were putting fashion before comfort. Which means lots and lots of cold people. And normally, I like to explore the city at least one day of the weekend. But I made an exception and binge-watched The Jinx instead.
Point is, the weather is so unpredictable, I'm not actually sure when it's going to be warm enough to go sleeveless just yet. Some days, it reaches the 50s, but the wind feels like it's actually trying to bully you. And some days, it hits the single digits. So one thing's for certain: You've got to be prepared. Enter the perfect cashmere sweater, which easily comes on and off, and goes with absolutely everything. Trousers? Check. Skirt? Check. A layer above a summer dress? Check.
If you're in the market for a no-fail, go-to sweater that will stick by your side this spring, look no further than some of my favorites, below.
1. The Light Cardigan
MASS2 Sweater, $580, Fred Segal
It doesn't get more timeless than a sweater straight from Italy. This simple, yet sleek cardigan sweater from Maison Mère is made from the finest Italian cashmere and will put you in a Cinque Terre state of mind. Warm weather, here you come!
2. The Classic Cashmere
Everlane Cashmere Crew, $100, Everlane
See how versatile this is? Even with your favorite pair of denim, it instantly looks chic.
3. The V Neck
Uniqlo Women IDLF Cotton Cashmere V-Neck Sweater, $30, Uniqlo
With a crisp white button down underneath? Perfect.
4. The Bell Sleeves
ASOS CURVE Jumper With Wide Sleeve In Cashmere Mix, $51, ASOS
'Cause boxy silhouettes are our thanggg.
5. The (Removable) Turtleneck
Cashmere Convertible Turtleneck Sweater, $228, Madewell
Hold up — this turtleneck is removable? Yep, you read that right. This is perfect for transitional dressing. Add the turtleneck for the unbearably cold spring days, and take it off for the warmer days.
6. The Double Layer
Eileen Fisher Plus Cashmere And Silk Layer Sweater, $378, Bloomingdales
Double the layer, double the illusion.
7. The Long Cardigan
Babaton Beekman Sweater, $145, Aritzia
This sweater looks so comfortable. Can I just cuddle with this in my bed?
8. A Pop Of Red
6th & Lane Cashmere Boyfriend Sweater, $178, Lane Bryant
Love the little side slit detailing, too.
9. The Slouchy Fit
Weever Cashmere Sweater, $88, Reformation
Seriously, could this look be any classier?
10. The Subtle Color Block
Club Monaco Nicolette Cuff-Block Cashmere, $149, Club Monaco
This detail is so subtle, but completes the whole look.
11. Ultimate Comfort
J.Crew Collection Cashmere V-Neck Sweater, $198, J crew
But really, how cozy does this look?
12. Neutral Territory
Rebecca Minkoff Vero Colorblock Cashmere Sweater, $174, Shopbop
This tricky little sweater makes it look like you're wearing a crop top. Warmth plus a little optical illusion? Count me in.
I'm ready for warmth. I'm ready for sticky, smelly, yucky New York summers. I'll take the sweating any day over this arctic tundra. But until then, at least we've got these sweaters to keep us warm.
Image: Courtesy of Brands