Netflix's 'Love' Is Loaded With Guest Stars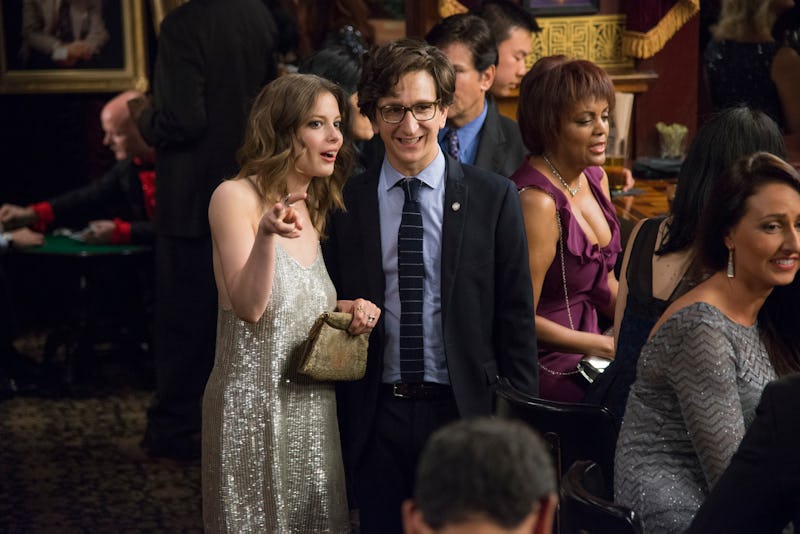 Judd Apatow productions like Netflix's newest original series Love, which he created with star Paul Rust and Lesley Arfin, tend to have a few things in common. They're not afraid to get crass, they're loaded with pop culture references, and they have no trouble getting some pretty interesting guest stars. This latest series is no different, collecting some notable faces that television and comedy nerds are sure to notice as they marathon the 10-episode season. Since it is a twist on the rom-com genre, the Love guests stars cover the familiar ground of former lovers, mutual friends, and co-workers of the main characters, and all are suited to the series' unique comedic voice.
Loveis features a few big-name cameos (including a divisive actor portraying a fictional version of himself), but more often than not, the show populates its world with actors that cause the audience to go "Oh! That comedian!" or "Oh cool, that guy from that thing is in this!" Apatow has long been a curator of up-and-coming talent, giving early roles to actors like Paul Rudd and Seth Rogen before their careers took off. If you're having trouble placing names with faces, don't worry — I've collected nine guest stars to look out for as you make your way through the new series.
Joe Mande
One of many comedians that flesh out the world of Love, Joe Mande appears in one episode and is a perfect fit for Apatow's world. Mande is most known for his appearances as a Pawnee citizen on Parks & Recreations, where he also served as a writer for three years.
Charlyne Yi
As one of Gus' friends, Charlyne Yi may not be the most recognizable of guests stars on Love, but she's one to pay attention to. The actor/comedian has sharpened her comedic skills on projects like Knocked Up and 30 Rock, and has also shown off her dramatic talents as the recurring role of Dr. Chi Park on House. She's also an accomplished writer, and her 2009 screenwriting debut Paper Heart happened to feature an appearance from Love star and creator Paul Rust.
Danny Strong
Though he only appears in a brief scene, you may recognize Danny Strong for his recurring roles in Mad Men and Girls, but you probably remember him for playing the nerd-turned-villain Jonathan in Buffy the Vampire Slayer or Doyle on Gilmore Girls. What you may not recognize him as, however, is an Emmy-winning screenwriter. Strong has written scripts for the political mini-series' Game Change and Recount, and created Empire. He also wrote the screenplays for both The Hunger Games: Mockingjay movies.
Mädchen Amick
Mädchen Amick not only played Sherry Tinsdale in Gilmore Girls, but became famous thanks to her role as Shelly Johnson in the legendary series Twin Peaks — both of which are getting a reboot. If all her old series' keep getting brought back, Amick's career is going to have a very good future. In the meantime, you can also catch her on Love as the star of Witchita, the TV show set Gus works on.
Brett Gelman
This chaotic comedian plays the role of Dr. Greg in Love, but you probably know him from just about every comedy show on television. He's appeared on Fresh Off The Boat, Man Seeking Woman, and Comedy Bang! Bang!. Last year, Gelman got the chance to sneak onto a critically acclaimed drama when he guest starred in the Mad Men finale.
Kerri Kenney-Silver
Mickey's neighbor is one of the most recognizable faces in the series for fans of comedy, Kerri Kenney-Silver has been working in comedy for over two decades, having started working with legendary sketch comedy group The State. Since then she's appeared in Reno 911!, Wet Hot American Summer, and Party Down.
Rich Sommer
Having just finished playing one of television's greatest jerks as Harry Crane on Mad Men, Sommer appears as one of Mickey's former boyfriends on Love. Sommer played Harry Crane for eight years, and in that time also appeared on Ugly Betty, Elementary, and Wet Hot American Summer: First Day Of Camp.
Andy Dick
Andy Dick gives one of the best performances of his career in Love, in which he plays the role he was born to play — Andy Dick. He has been a staple of Hollywood for decades, either on the big screen, the smaller screen, or in the tabloids. He's most known for his role on classic sitcom NewsRadio.
Jesse Bradford
In a blink-and-you'll-miss-it appearance, Jesse Bradford shows up in Love courtesy of a FaceTime conversation. You may recognize Bradford from Romeo + Juliet, Hackers, and Bring It On, but you'll most likely recognize him from your childhood daydreams.
Love is packed to the gills with great supporting performances, creating the kind of full and fulfilling world that audiences have come to expect from Apatow projects. It's likely that any of Love's many up-and-coming guest stars could become the next Seth Rogen, but if not, maybe Jesse Bradford can be the next Seth Rogen, or the next Joseph Gordon-Levitt. Jesse Bradford just needs to be in way more movies and TV shows, honestly.
Image: Suzanne Hanover/Netflix