'Love's Gus Is A Familiar Apatow Character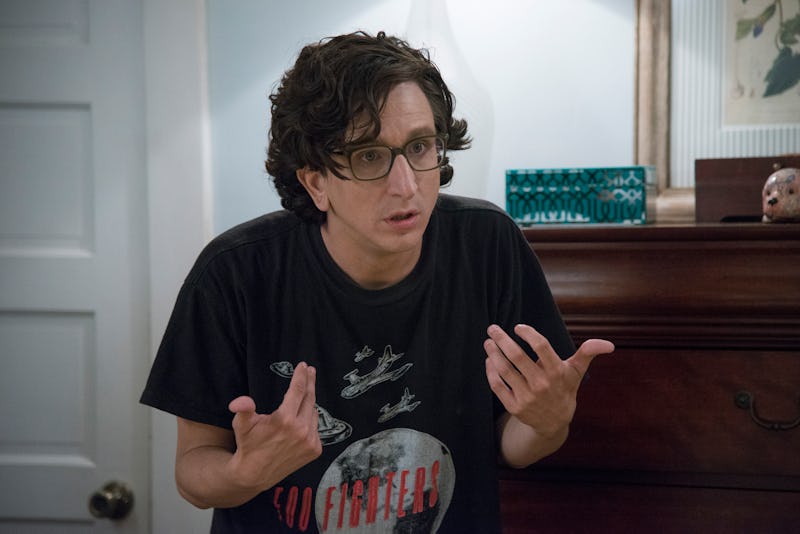 While Judd Apatow has moved slightly away from the bromance films of the 2000s that made him a household name, TV shows and films that the director is involved in usually are reminiscent of each other in some ways. His new Netflix series, Love, seems destined for comparisons to his other work, so should you expect Love's leading man Gus to be like other Apatow characters? While Apatow is a creator and writer of the series, the writer and director of films like The 40-Year-Old Virgin, Knocked Up, Funny People, and This Is 40, isn't the only person responsible for Gus' character. The man who plays Gus, Paul Rust, created and wrote Love along with Apatow and Girls writer Lesley Arfin, who Rust is married to in real life. So although you should expect Apatow's familiar brand of outrageous, comedic, and somewhat realistic love stories, he wasn't alone in creating Gus.
The Netflix series, released on Feb. 19, has a fairly basic premise of boy-meets-girl and romantic shenanigans follow. Rust is "nice guy" Gus, while Gillian Jacobs plays Mickey, a partier who uses booze, drugs, and sex as distraction from the real world. But Apatow claims that Love — like the emotion its title comes from — isn't going to be so simple. In the below featurette about Love, Apatow explained Gus and Mickey's characters by saying, "On the surface you'd think 'Oh, he's a nice guy and she's a woman with problems.' But as you get to know them, you realize that the nice guy is just a facade."
While many of Apatow's male characters wouldn't necessary fall in the "nice guy" category (as in, like every character Seth Rogen has ever played), it's not territory he is unfamiliar with. Steve Carrell's Andy in The 40-Year-Old Virgin is pretty much the dictionary definition of "nice guy," but Andy's development throughout the movie shows that there is more to him than just being nice — and he can make mistakes with the best of them, which is definitely something you should expect from Gus.
Along with this "nice guy" idea, the awkward, funny guy getting the more traditionally attractive woman they are intimidated by is a trope that Apatow has now made well-worn territory. (To his credit, this existed pre-Apatow.) There's Rogen and Katherine Heigl in Knocked Up, Carell and Catherine Keener in The 40-Year-Old Virgin, and Rogen (again — sorry, Rogen) and Aubrey Plaza in Funny People. And while I happen to find Jason Segel so hilarious and attractive that I would never say anyone is (forgive me for the following term) "out of his league," his roles in Apatow-involved projects, ranging from Freaks and Geeks to Forgetting Sarah Marshall, fit this mold as well with Segel typically being the lovelorn gawky guy — and Gus will continue this Apatowian trend when he begins to pursue Mickey.
On a more superficial level, Apatow's characters — male or female — often have Hollywood-centric, quirky jobs and Gus also falls in that category. For example, although a female character, Heigl's Alison in Knocked Up is a producer and host for E!. Even though Gus isn't an entertainment personality himself, his employment as a tutor for child actors on the fictional TV show Witchita is absolutely in the same vein as Apatow's other characters. It particularly makes me think of Jason Schwartzman's character Mark in Funny People, who stars on a successful TV show called Yo Teach!. Expect Gus to have to deal with obnoxious actor types like Mark (albeit younger) at his job — one such character even comes in the form of Apatow's daughter, Iris.
However, besides Gus living in Los Angeles and being an Apatow archetypal character, what will be refreshing about Love is that Apatow and Rust will have more time to develop Gus' character over the first season's 10 episodes than they would if Love was a movie. As Apatow told Bustle, "In a TV show you're able to show all the nuances. It's much more truthful because you don't have to tie it up with a bow." That being said, with more character development does not necessarily come more character maturity. And as with all Apatow projects, expect Gus to be a master in self-deprecating humor and responsible for a plethora of cringe-worthy moments. As The Hollywood Reporter described Gus, "he's insecure, deluded and dangerously passive aggressive." While Vanity Fair wrote, "Gus is the adorkable Eeyore we've seen in lots of Apatowian projects, neurotic and smart and particular."
However, if there is something that has always been slightly endearing to you about the realistic, but self-sabotaging and funny people (pun not intended) that Apatow has a hand in creating, then Gus in Love is worth giving a shot. As shown in a preview released by Netflix, one of the most relatable and telling lines of who Gus is comes from something he says himself. As he stares in the mirror, trying to psych himself up to "be a man," he says, "You're the man. You're ... like a man. You're close to being a man. [Deep exhale.] F*ck you, you piece of sh*t."
This "not a boy, not yet a man" statement mixed with an unhealthy, yet hilarious blend of self-loathing defines so many of Apatow's male characters. And though viewers are guaranteed to get more insight to who Gus is than with most Apatow movies, fans of the famous writer, producer, and director will find solace in knowing that you shouldn't expect Love's leading man to change that much after only one season.
Images: Suzanne Hanover/Netflix (4)