10 Tips For Choosing The Best Swimsuit For You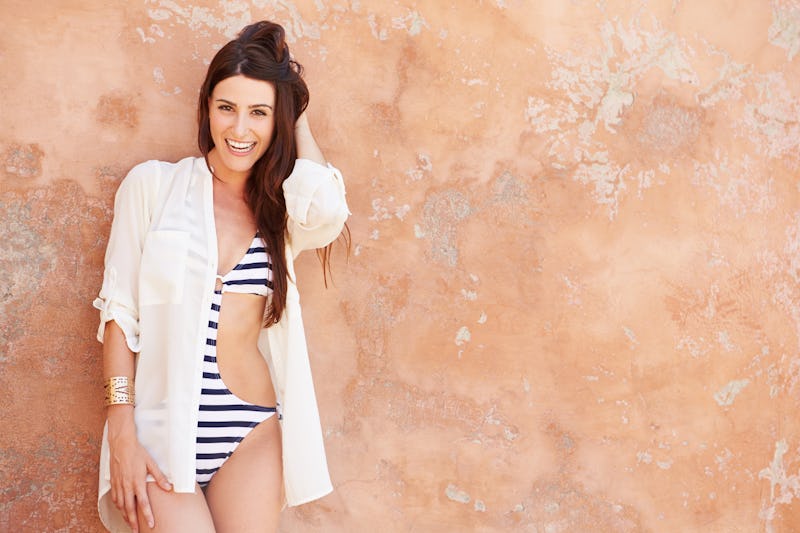 I don't know about you, but I'm tired of being told to prepare for swimsuit shopping season like it's the apocalypse — or to avoid it altogether like it's the plague. I'm also bored with reading the same go-to guides that try to compare my body shape to a piece of fruit and then suggest which swimsuits I must wear according to that said piece of fruit — big sigh.
Those things are leaving out two major things: One, that summertime is arguably the best season ever (and the only thing we, as women, should be stressing about in our chosen suits is which beach to hit) and two, choosing a swimsuit should be incorporate our interests, personalities, and even our style inspirations.
So, I've created a different kind of swimsuit guide for you that will include some ultra-fun looks for the season. If you're a hardcore beach babe who spends her afternoons riding the waves, then you need a cute wetsuit that will keep up with you. If you're a big traveler and are going on a destination vacation, then you need to find a swimsuit with an exotic print that will look amazing in all of your social media snaps.
Let's have a summer filled with to-die-for suits and zero stress. Deal?
You're Obsessed With Retro-Inspired Looks: Go With High-Waisted Swim Bottoms
You and Taylor Swift, both. This nylon leopard print high-waisted bottom is a fun print to mix with your favorite swim top. The best part about the cut of these bottoms is the secure fit (no wave-related wardrobe malfunctions) and its waist-hitting cut, which will look amazing on anyone. If you absolutely love Audrey Hepburn and Marilyn Monroe's swim style, then a high-waisted suit is definitely for you. (Pro tip: Add a pair of cat-eye sunnies, and you'll be the coolest babe by the pool.)
ZeroUV Flash Lens Cat-Eye , $11, Amazon
These sunnies will give your peepers 100-percent protection from damaging UV rays, in addition to adding a pop of color to any look you're sporting. The durable metal frames mean you can toss 'em in your bag and go, and with 10 affordable customizable frames and lens colors, you can pick a pair for every suit.
You Spend More Time Riding Waves Than Laying Out: Ride On With A Cute Wetsuit
This pastel palm-printed wetsuit onesie is made from recycled polyester and has a fierce front cut-out detail. It's durable enough to hold up under strong swells and cute enough to wear back on the sand with your girlfriends. It's the ideal piece for the girl always finds herself chasing the next big wave.
You Want To Show Off Your Amazing Curves: Swim Confidently In A Skin-Showing One Piece
Torrid Sheer Paneled Swimsuit (Sizes 1X Plus-5X Plus) , $88, Amazon
Walk out onto the beach feeling like a queen in the white one-piece bathing suit that shows off some skin through its mesh detailing. An invisible light underwire makes this suit perfect for anyone who also wants a little extra support. (Bonus: The straps are adjustable, so you can mix it up by creating a halter, criss-cross, or straight style).
You Love Graphic Tees: Make A Statement With A Bold Suit
Wildfox The Kitten Classic One Piece (Sizes XS-S) , $121, Amazon
This one's for all of the cool cat ladies out there. If you love making a statement with your wardrobe then this one-piece feline suit will be the purrrfect choice for you this summer. This one-piece is made in the USA, and it has an adjustable criss-cross back that makes it easier to customize the fit precisely how you want it.
You're A World Traveler: Choose A Suit With An Exotic Print For Your Next Trip
Jessica Simpson Venice Beach Swimsuit (Sizes 0X-3X) , $126, Amazon
Going somewhere exotic? This Jessica Simpson one-piece has a fun print that will make all of your under-waterfall pictures Instagram-worthy. Plus, this suit will give you great support with a soft cup bra and halter fit. You spend all year planning your next big trip anyway — why not make your swim style part of the process?
You Want To Mix and Match: Contrast Your Bikini Top With A Ruched Polka-Dot Bottom
Ruching details will give you a little extra oomph when you step out in a swimsuit that's covered in them. These low-rise bottoms highlight and embrace the curves that you love to show off come summertime, while and fans say they fit well, ship quickly, and cover way more than your traditional low-riding 'kini bottoms.
You've Been Working Over-Time On Your Abs: Celebrate With A Bikini Top That Includes Eye-Catching Detail
O'Neill Free Spirit Halter Top (Sizes XS-XL) , $48, Amazon
Those 30-minute core workouts are not easy: You go, girl. To show off the part of your body that's making you feel most confident, choose the sporty, stay-put bikini top with a unique lace-up detail that will keep up with all your pool and beachside activities. This top rocks a cool boho vibe, and it features a pretty criss-cross where it ties.
You're A Jeans & T-Shirt Kind Of Gal: Sport The Classic Swimsuit With A Subtle, Pretty Detail
Kate Spade New York Georgica Beach Swimsuit (Sizes XS-XL) , $151, Amazon
You're a classic girl when it comes to your wardrobe, and you want a swimsuit that stays true to your simple style. This black strapless one-piece by Kate Spade includes a pretty bow that lends a fun and flirty simplicity to the look that you'll love this summer. (Pro tip: Turn up the monochromatic look with eye-catching shades that take after your classic-with-a-twist style.)
Sunny&Love Vintage Cat Eye Sunglasses , $11, Amazon
This pair of glam reflective sunglasses will upgrade any suit or beachy look. Fans say they're high quality and that they're a great alternative to the more ubiquitous aviator style.
You're An Active Beach-Goer: Snag A Sporty Swimsuit That Can Keep Up With You
Adidas by Stella McCartney Performance Swimsuit (Sizes XS-L) , $90, Amazon
This sporty printed suit will keep you going from your morning beach run, to your midday beach volleyball game, to jumping in the water to cool off with your friends. It gives you the perfect amount of coverage to keep you active and shows just the right amount of skin in back to keep from getting stuffy. (Bonus: It comes with a special Stella McCartney swim cap for your next trip to the pool for some laps.)
You're A Festival Girl: Scope Out A High-Neck Shape With A Desert-Inspired Print
Lucky Brand Reversible Halter Swim Top (Sizes S-L) , $64, Amazon
This reversible high-neck halter swim top will save you room in your bag (you get two super cute looks in one swimsuit) and will put you in front of the fashion blogger's cameras. Plus, the adjustable tie back helps you adjust the fit comfortably. After all, every music-loving festival-goer knows the perfect swimsuit is vital for those scorching hot days in the crowds at Coachella or Firefly.
Bustle may receive a portion of sales from products purchased from this article, which was created independently from Bustle's editorial and sales departments.
Images: Fotolia (1); Amazon (12)