Every True 'RHONJ' Fan Knows This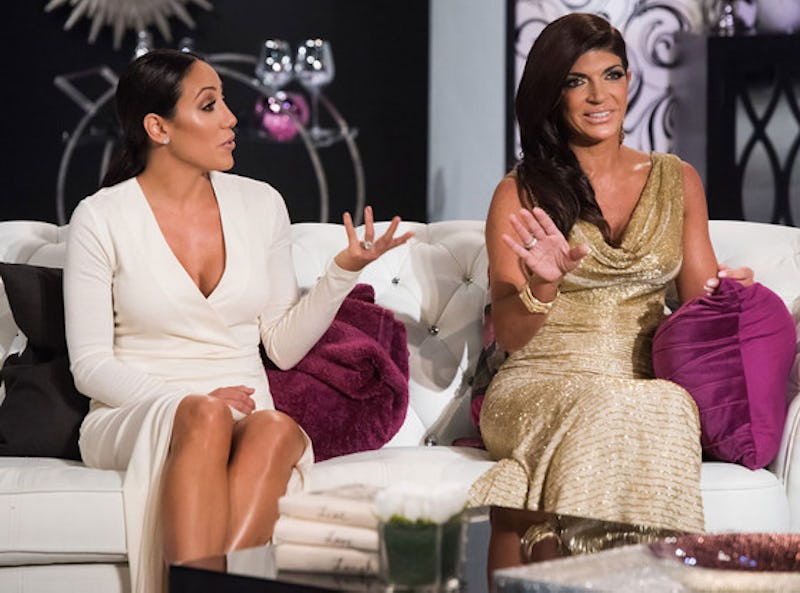 Oh, those Real Housewives. They seem to say just about anything that comes into their mind without really thinking about it. At least, it seems that way watching their shows, from the comfort of our own homes. And the Real Housewives of New Jersey are especially talented at laying down some pretty classic quotes. It seems like barely a minute can go by without one of them saying something super snarky or hilarious, whether it's to each other's faces or in an interview package. But only a few quotations have become immortalized in the fandom — they're the Real Housewives of New Jersey quotes that every true fan knows, if you will.
Not only does every true fan know these quotes, but one scan through the list, and they can probably hear them being said just like it was yesterday — intonation, the context, and aftermath of what happened next included. Because these quotes are at the center of the some of the show's most epic moments. They are the quotes that came when the women were in the thick of some fight, and they are also the quotes that started some the show's biggest battles.
These are the quotes that every true RHONJ fan knows by heart.
1. "You Guys Came On The Show To Take Me Down And Make Me Look Like A Villain."
The minute Teresa Giudice's family joined the show, this quote became her mantra. She was convinced that Kathy Wakile and Melissa Gorga had joined the show only to take her down.
2. "You Have Three Rolls: Blubber, Blubber, and Blubber."
These women's words get ugly sometimes, especially at the reunions. And this quotation comes from one of the show's ugliest moments, when Teresa Giudice hit below the belt and insulted Caroline's physical appearance in the middle of a fight.
3. "Karma's A Bitch, Really. Clink, Clink. Empires Fall."
Teresa Giudice's legal troubles was a topic nobody talked about much in Season 6 — but when word got out that Giudice was involved with Teresa Aprea's mother being accused of sleeping with her son-in-law, Aprea didn't hold back in calling the reality star out.
4. "How Do You Spell Bitch? K.A.T.H.Y."
Definitely one of Giudice's wittier moments, even if it did come at the expense of her cousin.
5. "I Don't Smoke. I Don't Drink. I Don't Do Drugs. I Buy Shoes."
This quote secured Dina Manzo as the best Real Housewife in all my heart.
6. "I Just Delete, Delete, Delete."
Teresa Giudice said this about her haters, and it really is a policy to live by.
7. "Do Not Speak Of My Sister."
Caroline Manzo said this infamously to Danielle Staub when Danielle denied trying to have Dina's daughter taken away from her. Of course, Dina wasn't there to defend herself, and Caroline wasn't letting anyone talk crap about her sister.
8. "Prostitution Whore!"
Maybe the most infamous scene in RHONJ history, this is part of the nonsensical diatribe that Teresa Giudice said to Danielle Staub before literally flipping the dinner table. If you can make out the rest of what she said in that moment, you are my hero.
9. "You And Your Christmas Pageant Dress Sit Back And Shut Up."
OK, the real version of this was a little more colorful, but it still doesn't detract from Caroline Manzo's stinging criticism of Teresa Giudice's reunion outfit the last time Manzo appeared on the show.
10. "A Woman Only Needs Two Things: Dunkin' Donuts And Oral Sex."
Teresa Aprea was definitely an undervalued edition to the RHONJ cast. With quotes like this, she was a total keeper.
11. "Do Not Bring Up My Family."
Another one of Teresa Giudice's heated moments, this is what she said as she lunged across the couch at a reunion to attack Danielle Staub — taking out an innocent Andy Cohen in the process.
What a fun little walk down memory lane. I can only imagine the quotes that will come from Season 7, because these women seem to keep getting wilder.
Image: Bravo; Giphy (11)