These Tricks To No-Heat Beachy Waves Are Genius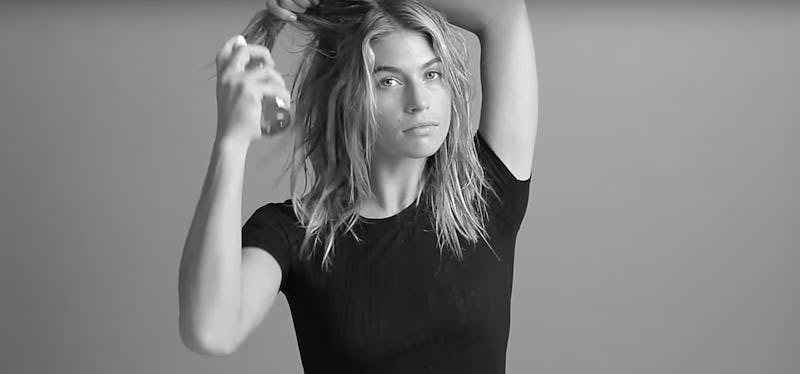 When the person responsible for giving the Kardashians their flawless locks is doling out advice, you're not going to want to miss a single word she says. Jen Atkin's favorite method for achieving no-heat beachy waves is just genius, and is coming at such a good time. Because who doesn't want to at least look like they've had the sea air blow through their hair this spring? Not everyone's got time to go on some tropical vacation over spring break, but you can still pretend you're on a beach somewhere with this super simple hairstyle.
Atkin not only has major celebrity clients, she also released her own line of haircare products, so clearly this woman knows what she's doing. She's made fabulous tresses her life's work, and I'd love to pick her brain because it'd be wonderful to have her hair knowledge. In an interview with Elle, she described a simple clip trick, which is her favorite no-heat method. And there's even a video tutorial to show you exactly how it's done. Yas.
She suggests using OUAI Wave Spray and Soft Mousse on damp hair, and then placing chunks of hair in clips all around your head. After allowing to air dry, release the clips to reveal gorgeous waves. Let Atkin show you how it's done in the video below and also check out six other ways to end up with curls, all while sparing your hair from heat.
Now, how easy was that? I love that this method doesn't require sleeping with your hair clipped, it can be just simply be done the day you want to wear it. I don't know about you, but I'm clipping my hair as we speak.
OUAI Wave Spray , $26, Sephora
Give your hair texture by enhancing your natural waves using this spray.
Also consider: Sally Hershberger Glam Waxes Texture Spray, $11, Amazon
OUAI Soft Mousse, $28, OUAI Haircare
This will give your hair plenty of bounce and none of the stickiness.
Also consider: SheaMoisture Coconut & Hibiscus Frizz-Free Curl Mousse, $10.99, Amazon
Now, you've got everything you need to achieve the perfect beachy 'do, the Atkin way. Check out some other no-heat methods you can try out — you know, just so you can mix up your spring break look a bit.
1. Twisted Braid Locks
Sleeping with your hair in these twisted braids will result in wavy gloriousness in the morning.
2. Overnight French Braids
Waking up to beachy waves is just the best feeling, isn't it? With this overnight french braid tutorial, you'll be able to do just that.
3. Scrunching
Ahh, yes. I'm sure you're familiar with scrunching. But, that's because if you've got the right products and hair texture, the scrunching method can really work.
4. Twisted Tendrils
Give your hair a twist before bed, pin it to your head and wake with perfectly twisted locks.
5. Heatless Headband Curls
Who knew you could use a headband to achieve such perfect curls?
Let's just pretend we're on a beach somewhere, shall we?
Want more beauty tips? Check out the video below, and be sure to subscribe to Bustle's YouTube page for more hacks and tricks!
Images: OUAIHaircare/YouTube, OUAI Haircare, Giphy (1)