Jen Atkin's Haircare Will Be Your New Obsession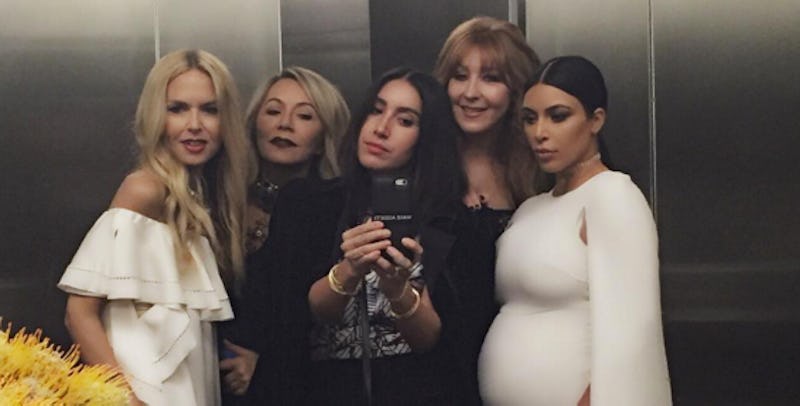 What do you get when you mix the Kardashians' go-to hair stylist with the world's top beauty ingredients? Your new favorite products, that's what. Jen Atkin is launching her own haircare line, and I'm willing to bet that these items will be liquid gold in a bottle. Between working with some of the top A-listers and creating viral cuts and styles, there's no doubt that Atkin has her work cut out for her.
If you think you haven't already been influenced by Atkin's amazing hairstyling skills yet, well, you're about to be. She's created some amazing looks on everyone from the Kardashians to Chrissy Teigen to Jessica Alba. Odds are you've already liked tons of her hair creations on Instagram, and in February you'll be able to get her expertise in your own home. She's spent two years perfecting her first haircare line, Ouai (pronounced "way"), so you know that it's going to be good.
Atkin actually travelled the world to find just the right ingredients to include, so you know that this is the real deal. According to PopSugar, the stylist frequently travels to United Arab Emirates to talk to women about what makes their hair so great."I talked to different women about hair in different countries . . . Dubai is insane — their hair is so good!" she told the publication.
According to Allure, the line includes a volumizing shampoo and conditioner, a treatment mask, soft mousse, and texturizing hairspray for women that want to look like the stars but don't have the time or a whole gang of stylists to help. Along with the haircare line, Allure hinted that the hair guru will be launching her own beauty supplements as well.
"We are all the girls who do juice cleanses, we go to SoulCycle, everyone's all about being healthy . . . but topical [treatments] aren't going to do it," she told PopSugar. "You have to change it from the inside."
So not only is Atkin the master of hair, she's really the master of all-around beauty. I guess the New York Times was correct in naming her the most influential stylist of the year.
February might seem like a long way away, but there are plenty of ways to take advantage of Atkin's hair inspo in the meantime. Her beauty blog, Mane Addicts, has tons of hair how-tos and tips. Here's a few of her top how-tos to try out while you wait for her line to arrive.
1. Kendall Jenner's Topknot
She might not have created this killer look, but her site tells you how to nail Jenner's messy topknot in just four easy steps.
2. Rooney Mara's Gold Accessory
After hearing from the hair master who created the look, the site assures you that it's not as complicated as it seems.
3. Elizabeth Olsen's Wrapped Ponytail
Mark Townsend's hair creation looked fabulous, and ManeAddicts gives you the Olsen-inspired step-by-step for perfecting the ponytail.
4. Willow Shield's Waves
Atkin's site lays out the five step process for achieving this look that's great for any holiday occasion.
5. Bella Thorne's Up-Do
Who knew you could get the perfect up-do in six easy steps?
6. Jaime King's Wrapped Pony
Ponytail creator Sascha Breuer told Atkin everything you need to know about nailing the artistic ponytail in five-steps.
7. Emily Ratajkowski's Curls
According to Atkin's site, these curls only took two steps!
If you haven't taken a look at all the insider knowledge on Atkin's site yet, you'll want to do that ASAP. I think it's safe to say that I'll be sending her a holiday card this year to thank her for all her hair expertise.
Want more beauty tips? Check out the video below, and be sure to subscribe to Bustle's YouTube page for more hacks and tricks!
Image: KimKardashian/Instagram