How To Master Negative Space Eyeliner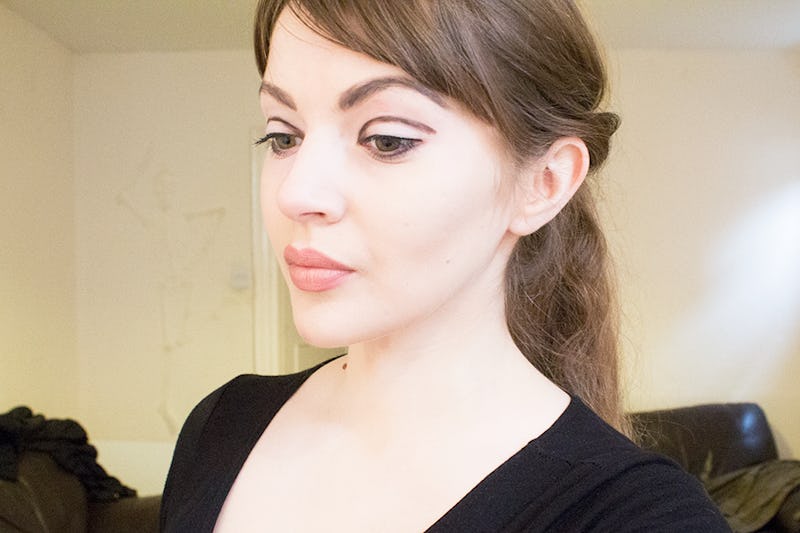 Eyeliner trends aren't always the easiest to work out. From bold, daring lines to nearly non-existent flicks, there have been a few tricky looks in eye makeup history. And this season's popular take on negative space eyeliner is no different. Forget about bright colors or glittery hues: The trend uses plain black ink and focuses on statement lines and wings. In many ways, it's an exercise in Graphic Liner 2.0. Only this time the look is less about the eyeshadow and more about keeping things clean and neat.
Take, Diane Von Furstenberg's recent New York Fashion Week show, for instance. The brand used gel liner in the crease of the lid to create an irresistible smolder. And let's not forget the Oscar de la Renta show, where models were given a sporty meets edgy twist with sweeping wings that had intricate cut-outs.
But if you're anything like me and the classic wing took you years to master, the idea of shaking up your liner routine and tackling some of these outlandish designs might feel a little daunting. After all, there's a fine line between rocking a new liner trend and re-living those old MySpace days where oversized swirls and double ended cat-eyes were a selfie must. With that in mind, I've put together three negative space liner looks that vary in wearability. And best of all, they're easy to create.
1. Subtle And Smudged
The first look is the easiest to wear out of the three. Taking inspiration from Diane Von Furstenberg's show, I started by drawing a thick, classic wing on the top of my waterline. For this, I used Topshop's Magic Liner as it gives even coverage and doesn't crack or peel off once it's dry.
Next, I used MAC's Fluidline and an angled eyeliner brush to apply a line of eyeliner in the crease of my lid. I started at the tip of the wing before working inwards and stopping just before the inner corner of my eye. Gel liner is a great alternative if you feel that liquid liner might look too dramatic, since it can easily be smudged out. Here I used the brush to sweep the gel liner upwards to create a soft and subtle shadow.
2. The Crease Of Your Lids
For the second look, I opted for something slightly more dramatic. With the same liquid liner, I traced my upper waterline, over-extending it slightly. This made my eyes appear bigger and more striking. I then used my gel liner and brush to trace the crease of my lid. This time around, I started right in the inner corner of my eye and drew the line parallel to the one on my waterline.
Personally, I think this one's great if you want to incorporate negative liner in with your everyday attire. Not only is it beauty-forward and a nod to Marc Jacobs' Fall 2016 show, but it really makes your eyes pop.
3. With A Wing
Finally, the most daring look of the three involves a wing and is an easier take on Oscar de la Renta's eye. I applied liquid liner along my waterline before flicking it upwards into a thin wing. I then used my eyeliner brush and gel liner to trace from the wing to the inner corner of my eye. If you fancy upping your liner-game in a big way, this style should definitely be a go-to choice. Add heaps of lashes and smudge the lines slightly before donning it during the ultimate bar crawl.
So, is it possible to pull off negative liner? With these three degrees of wearability, I'd say most definitely so!
Want more beauty tips? Check out the video below, and be sure to subscribe to Bustle's YouTube page for more inspo!
Images: Emma Matthews